Traveling in Tandem with a Chapina – Mark D. Walker
Traveling in Tandem with a Chapina – Yin & Yang of Travel Series
Share our similarities, celebrate our differences. —M. Scott Peck
Our Honeymoon Journey Through Mexico
You might think that my plans for the honeymoon with my Guatemalan bride, Ligia, would have revolved around staying at one of the elegant hotels located in the colonial capital of La Antigua Guatemala, or one of the first- class accommodations on the shores of picturesque Lake Atitlán surrounded by three imposing volcanoes.
We´d received a number of typical wedding gifts like blenders and a vacuum cleaner, but the best gift was from Ligia's best friend, Maria Rene — the use of her new, yellow VW Bug! We started out on our a three-week, 2,600-mile journey beginning in Guatemala then up through the Gulf of Mexico with a return via the Pacific side.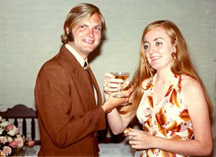 We headed up the Pan-American Highway to Huehuetenango in the Guatemala Highlands and then traveled over some very sketchy roads through the Cuchumatanes Mountains into Mexico. After seven or eight hours on the road, we arrived in San Cristóbal de las Casas, a historic colonial town mostly populated by Maya Indians, which, according to Ligia, really should be part of Guatemala. The next day we drove to what would become my favorite archeological ruin, Palenque with its unique tower-shape-like an observatory — the Maya did pay attention to the stars.
We continued our journey north to Mexico City which was a mega-city even back in 1973. After seven hours of traipsing through El Museo de Antropología, Ligia refocused our itinerary with, "Mi amor, we need to get back to the hotel early today if we hope to make it to the symphony orchestra performance this evening."
We also spent another peaceful afternoon on the terrace of the Chapultepec Castle which had been the site of a sacred Aztec place and the only royal castle in the Americas that includes an incredible view of Chapultepec Park and the city.
The next day we glided along on one of the colorful, flat gondola-like boats through the ancient canals of Xochimilco and then spent the rest of the day listening to local music, eating tamales and tortillas with a variety of tasty fillings, and whispering sweet nothings to each other.
On the last, but longest, leg of our trip, we headed north, toward Saltillo, Monterrey, and eventually Torreón. We were close enough to Texas to listen on the radio to English programs and Tex-Mex music, which Ligia detested. This provided a good opportunity to chat about the pluses and minuses of living in the U.S. Ligia's biggest concern was, "You mean we can't have any maids to cook and help out?" "No mi amorcita," I responded, "they're too expensive in the States." That was a big negative for returning to my homeland right away.
We drove through the vast northern desert until we reached Torreon, where we spent the night in the car next to the road. This did not impress my new wife, "We're sleeping where?" The oppressive heat woke us early the next morning, so we immediately headed south, through the beautiful city of Guadalajara, then Morelia, then farther south through Oaxaca. As the little yellow VW Bug glided along the pines in the hills above Oaxaca, we saw a large truck coming right towards us as he passed another truck, forcing us off the road, at which point I saw the sign on the door of one of the trucks — "Cuidado, Dinamita A Bordo!" [Be Careful, Dynamite on Board]. I let out a few descriptive expletives and Ligia a scream of terror, but, under the circumstances, we were fortunate to come out of it in one piece. By then, we were only a matter of hours from Guatemala; upon reaching the border and after a relatively quick security check, we were on our way to Guatemala City to start our new life together.
During this trip, I found out that my Guatemalan partner loved travel as much as I did, although she would have appreciated better quality hotels. We were able to sort out issues on our relationship during the long drives through the countryside and discuss future plans, including our next big trip.
Europe On A Very Few Dollars A Day
Four years, one child and one move to the U.S. later, Ligia and I decided on a trip through Europe. We packed our bags and headed back to Guatemala where we dropped off our daughter, Michelle, with Ligia's parents and then on to Europe for a four-month trek. We would cover 10 countries on that trip using public ground transportation almost exclusively, only flying from Portugal to England when our funds were depleted.
When I informed Ligia of my decision to hitchhike, she just looked at me incredulously and said, "En serio?" (Are you serious?) I remember that we got a ride outside of Dusseldorf, which took us all the way to Trier, Germany.
Towards the end of our trip, we arrived at the renowned Lake District in North West England. Unfortunately, it was very hot, and the roads were packed with cars, as it was vacation season, and nobody was picking up hitchhikers. I hadn't anticipated that all the hotels and hostels would also be packed; so, there we found ourselves, stranded on a roundabout with no way out. With that, Ligia totally lost her patience, "Bruto!" she yelled, and threw her wedding ring onto the ground. It took us over an hour but, fortunately, we were able to find it. Ligia calmed down and allowed me to come up with a new plan of action. I apologized (aka groveled).
Mi Amor, I don't know what I was thinking! I should have known that the place would be packed with vacationers and you couldn't just turn up and expect to find a place to stay! First off, let's get off this roundabout since everyone is staring at us. I'll find a bus and we'll head on down to find Michael and Sarah, the British friends I met in Bolivia years ago. They live on the south coast where it will be cooler. How does that sound?
"Okay," she responded, "but NO more hitchhiking. Period."
I did finally give up on hitchhiking, and our money had just about run out anyway, so we made our way home. In a moment of transparency, based on what I know today, I might have shared a list of reasons why Ligia might want to reconsider traveling around the world with me in the first place. Here's my "She'd Reconsider" or Yin & Yang Travel List:
He'll continue to travel as if he's alone.
He'll say you can pack whatever you want, as long as it will fit into a relatively small backpack.
He'll avoid trip planning, preferring to "go with the flow" to determine what to visit next.
He'll never suggest a night out because he'll want to get up at the break of dawn to start exploring the next day.
The Yin & Yang Travel List served us well for many years while living and working in Latin America and West Africa. After we returned to the States, Ligia convinced me to take several river cruises through Europe on the Elbe, Danube and Rhone Rivers. The cruises offer the advantage of only packing and unpacking once during the entire trip. Someone else will wash your clothes and the meals are five courses with a menu and local entertainers. Guided tours are organized daily making it next to impossible to get lost. We'd spend more than one late afternoon on the top of cruise boat watching the sun dip down behind one of the many castles lining the river.
After almost 25 years of marriage and three children, all of whom were born in Guatemala, we realized it was time to reintroduce them back to their native land. Our middle daughter Nicolle hadn't been back for close to 25 years, and her significant other, Ed, had never been there. Our son, John, hadn't been back for 20 years. Michelle, our oldest daughter, also hadn't been back to Guatemala for many years, but she had her hands full with five children. Nicolle and John, however, were available, so in 2013 we all headed to Guatemala together.
Trekking Through Guatemala with Our Kids
Traveling in Guatemala had changed radically since I was kicking around the Highlands in the early 1970s in the brightly painted "chicken" buses. When I had applied for a position as Peace Corps Guatemala Country Director several years prior to our trip, I was informed that Peace Corps volunteers were not even allowed into Guatemala City, the capital, unless in an official van, and some had curfews starting at 6 p.m. Local robberies and drug-related incidents had put volunteers at serious risk.
This definitely was not "my" Peace Corps, so past experiences traveling with Ligia had forced me to radically update my Yin & Yang Travel List, starting with my propensity to base all decisions on what is cheapest. In order to get everyone ready I recommended they read The Guatemala Reader: History, Culture, Politics, as it provides the most extensive source of background information about the country's culture and history. For my part, the first thing I did was connect with our old friend, Chati, manager of the Hotel Tolimán in San Lucas Tolimán, Guatemala, who would arrange a driver with a van to get us around.
Conrado was waiting for us at the Aurora International Airport in Guatemala City and we headed for one of the most beautiful lakes in the world, Lake Atitlán, via the south coast route through Escuintla. Although Guatemala City is filled with fascinating sights and its organization, cleanliness and some aspects of security have improved over the years, it's still a big, expensive city, so I decided to leave it for the end of our trip.
After leaving the airport, we zipped down the paved highway headed for the south coast, past endless dark green sugar cane plantations and innumerable Cebu cattle grazing on grass-covered hills, oblivious to the damp, sticky, hot air of the coast. Occasionally we'd pass under huge majestic Ceiba trees. Gradually we began gaining altitude through Patulul, which was not far from the coffee and cardamom plantation where I initially courted Ligia. Her family owned plantation (San Francisco Miramar), which was situated at the base of the majestic volcano Atitlán.
As we gained altitude, we turned off the air conditioning and opened the windows. A cool breeze entered the van. Ligia and I began telling stories of how we rode horses up the back side of the plantation into the "cafetal" during the Easter holiday when the hills were covered with white flowers and the sweet perfume smell engulfed us.
As we climbed up the Sierra Madre mountain range and caught our first glimpse of Lake Atitlán, our collective breath was taken away. German explorer and naturalist, Alexander von Humboldt, called it "the most beautiful lake in the world." Atitlán, the deepest lake in Central America, sits among the mountains and is bordered by three volcanoes and twelve Maya villages, some named after the apostles. The Maya people here are predominantly Tz'utujil and Kaqchikel, and still wear their colorful traditional attire.
The Hotel Tolimán was on the side of the towering volcano Tolimán and faced the lake. We would start each day on the second-floor patio with a traditional Guatemalan breakfast of eggs with black beans and sour cream, fried plantains, papaya with a piece of lemon, cantaloupe and, of course, a strong cup of Guatemalan Arabic coffee fresh off the slopes of one of the volcanoes. From the balcony, Ligia and I would finish our coffee as the kids pushed their kayaks off onto the lake below.
Conrado told us about the celebration of Corpus Cristi in the community of Patzún, known by few foreign tourists, but where over 20,000 locals came to town. When we arrived in Patzún the streets were covered with colorful sawdust carpets similar to those which fill the streets of La Antigua during Easter Week. The local women add to the collage of colors with their huipils (hand-woven brightly colored red blouses woven in strips with native dyes).
Flower Carpet. Patzún
As we entered the middle of town, which overlooked the Cathedral, many of the locals were leaving Catholic Mass, praying and singing as they walked over the sawdust carpets lining the streets. The Eucharist, known as the Blessed Sacrament, was placed in a monstrance and held aloft by a member of the clergy, but soon he seemed intermingled with a number of local Maya priests with statues and costumes. Eventually the procession returned to the church where Benediction took place. As we left, my daughter reflected, "What an amazing cultural mix between the Maya groups and the Catholic church!"
The next day we wound our way through the Sierra Madre Mountains to the Maya town of Chichicastenango, where the Sierra Madres meet the Sierra de Chaucus at more than 6,000 feet. Chichi (as it is often called in Guatemala) is the spiritual center of the K'iche Maya and includes the iconic, 400-year old Catedral Santo Tomás, which is built atop a pre-Columbian temple platform where Maya priests still burn incense and candles as part of their rituals. Each of the eighteen stairs that lead up to the church stands for one month of the Maya calendar and is covered with flowers, food and other things being sold at the market next to the church.
The market is filled with colorful Maya handicrafts — the wooden masks have been our weakness over the years and we just had to add to our collection. The masks are used in the traditional dances, such as the Dance of the Conquest. Pottery, condiments, medicinal plants, pom and copal (traditional incense that is constantly burning on the steps), cal (lime stones used for preparing tortillas), pigs, chickens and machetes round out the collection of items. Although my wife and children speak fluent Spanish and could bargain with the local merchants, I reminded them not to negotiate the price down too hard, though at the same time I didn't want to pay the highest "tourist" price for our purchases.
Later, we hiked out of town to the Cofradia of Pascual Abaj, which is an ancient carved stone venerated by the locals, and where Maya priests perform different rituals. The writing on the stone reportedly records the activities of a deity of the K'iche Maya king named Tohil (Fate). We didn't take any photos out of respect for the local priests. When we finally reached the top of the hill, the air was filled with the smell of copal as the priests added local items to the fire they worked and prayed over.
I passed on the cheapest pension in Chichi in favor of the venerable Hotel Santo Tomás, which was designed like a colonial convent. Once inside the hotel we passed by the large fountain in the center of the courtyard with sculpted lions at the base. The courtyard also had several large macaws perched on hanging stands, showing off their multi-colored plumage. The Guatemalan national instrument, the marimba, was being played in the background, which provided a traditional, very Guatemalan ambience, enhanced by all the colonial relics such as religious carvings, and colonial swords hanging on the walls in the hallways and inside the rooms. Each room was unique, and they all had fireplaces. The hotel was only a few blocks from the Cathedral and the marketplace, which is where most of the action took place.
That evening in the hotel we had dinner sitting next to the fireplace which generated a warm glow that permeated the entire dining area. During dinner we enjoyed several Gallo beers, the local favorite. Modelo is the other excellent local beer, but none could compare with my favorite of years ago, when Cabro was sold in two-liter bottles and provided the best excuse to sit down and chat with some of the local men. After dinner, the girls had to stop at the gift shop before leaving. There they found an excellent book on the German influence on the coffee culture, The History of Coffee in Guatemala by Regina Wagner, filled with historic black and white photos and maps of the coffee-producing areas.
The next day we returned to Lake Atitlán. On our last evening at the Hotel Tolimán a cold mist hung over the area making the fireplace in our room the perfect place to warm up and discuss the next day's plans. The following morning our van climbed the steep roads out of the lake area, then headed down the Pan-American Highway (highway in name only) bound for the former colonial capital of Guatemala, La Antigua, a World Heritage site. In Antigua cobblestone streets and streetscapes of pastel facades unfold beneath the gaze of three imposing volcanoes. The town is filled with colonial buildings, which are often right next to well-restored ruins from the sixteenth century.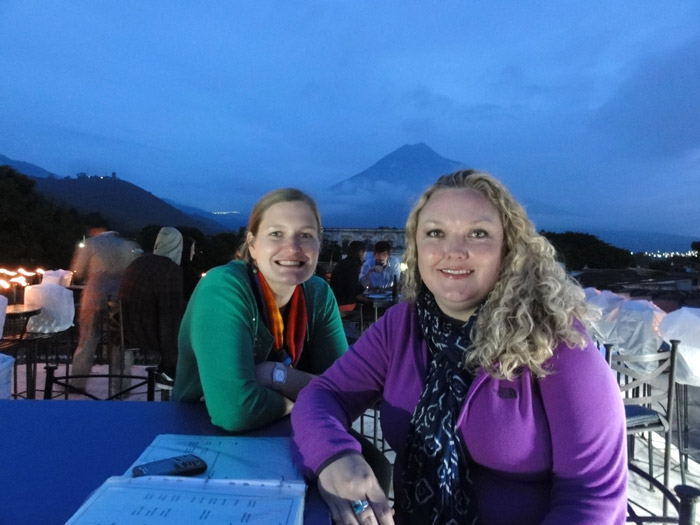 Angie and Nicky in La Antigua
I took the family to the dining area of the hotel La Posada de Don Rodrigo as it has the most spectacular open courtyard in town. It is filled with wrought iron, bright colored bougainvillea and other flowers, tinkling fountains and, of course, the iconic marimba being played the entire time. Local women in their traditional Maya dresses make the tortillas as you wait. Most all of us ordered the plato tipico, which includes a tender piece of grilled meat (carne a la parilla), black beans, rice, chirmol (a roasted tomato-spearmint-based sauce), avocado, cooked plantains with sour cream, sausages, and as many corn tortillas as you could possibly eat. All the servers wore traditional Maya clothing and some even pulled a few of us away from the table to dance the son, a traditional Maya waltz-like dance.
After dinner we strolled under the iconic Santa Catalina Arch and headed down the cobblestone street towards the historic baroque church known as La Merced. Its yellow and white colors make it unique in town and possibly in the whole country. After a long day sightseeing, we stopped in at one of the many local watering holes and had a few Gallos while watching Peru and Panama play a regional soccer game.
The next day the kids rented bicycles and eventually made it to the large cross on top of the high hill (Cerro de la Cruz) which faces the iconic Volcán de Agua in one direction and in the other offers a spectacular view of the historic colonial town.
Cousins. Guatemala City
With two of our three children in-country, it seemed like a great time to host a family reunion! We decided to host it at Las Orquideas, a restored hacienda on the highway between Guatemala City and La Antigua. We had grilled beef, rice, black beans, avocados and lots of Gallo. Ligia put together a collage of photos of our children at the entrance of the eating area, since many of their cousins hadn't seen them in over twenty years, and everyone seemed to have grown up!
Most of Ligia's family was from Guatemala City, but on her father's side they had to come from San Jeronimo in Baja Verapaz, where I met Ligia as a Peace Corps volunteer all those years ago. My favorite image of the event was when three generations of teachers — Christi (who taught for 60 years), her daughter Christabel (50 years), and Ligia (who has taught for over forty years) huddled together commiserating. Close to one hundred people attended the reunion, making it almost the same number who had attended our wedding so many years ago albeit I was told that only the "immediate" family would come.
After many hours of embraces and hugs with family members (some almost forgotten), the kids headed off together to an old bar in the middle of town. Several of the children had taken similar paths in life. The son of Ligia's cousin became a lawyer, as did our son, John. Ligia's niece, Vera María, worked for an international development group and our daughter, Nicolle, has been working for International Rescue Committee for 15 years. Nicolle expressed a real nostalgia for her native country, culture and family that developed towards the end of our trip. She hadn't stayed in touch with her cousins who were only children when we left but she was impressed that these "familiar strangers" had grown into "fantastic adults." Not only did she hold a similar career path, but they also had much in common in regard to their love of travel and music.
She went on to reflect:
These feelings were bittersweet because, while I appreciated rekindling those connections, it left me wishing I had been there to grow up with them. I get the sense that we would have made great musical discoveries together, attended more than a few protests and rallies as cousins and would have become great friends. The beautiful thing is that we will always have each other in our lives, and there will be future chances where our paths might cross again. But there is a bittersweet nostalgia of what you've missed over the 30 years of being away.
Today our three children have produced seven, soon to be eight, grandchildren, which will necessitate our updating the Yin & Yang Travel List for the next generation to reconnect with their Guatemalan roots.
About the author
Mark D. Walker
(MillionMileWalker.com)

Mark's passion for Guatemala started as a Peace Corps volunteer, followed by a career working for eight international organizations including MAP International, Make-A-Wish International, and as the CEO of Hagar, which works with survivors of human trafficking.

According to Midwest Review, his book, "Different Latitudes: My Life in the Peace Corps and Beyond,"amazon.com/Different-Latitudes-Peace-Corps-Beyondis a story of one man's physical and spiritual journey of self-discovery through Latin American, African, European and Asian topography, cuisine, politics, and history.

His most recent article, "My Life in the Land of the Eternal Spring"ragazine.cc//mark-walker takes place on a coffee plantation in Guatemala and was published by Wising Up Press as part of the Crossing Class: The Invisible Wall anthology.

"The Making of the Kingdom of Mescal: An Indian Adult Fairy Tale"revuemag.com/in-the-kingdom-of-mescal was published in the print Revue in April 2018.

Mark is a board member of Partnering for Peace and Advance Guatemala and was the recipient of the Service-Above Self Award from Rotary International. His wife and three children were born in Guatemala.
REVUE magazine article by Mark D. Walker