Churrasco a good Guatemalan BBQ for Father's Day
Summertime calls for outdoor cooking and delicious food and what a better way to celebrate Father's Day than with a scrumptious Guatemalan churrasco (BBQ).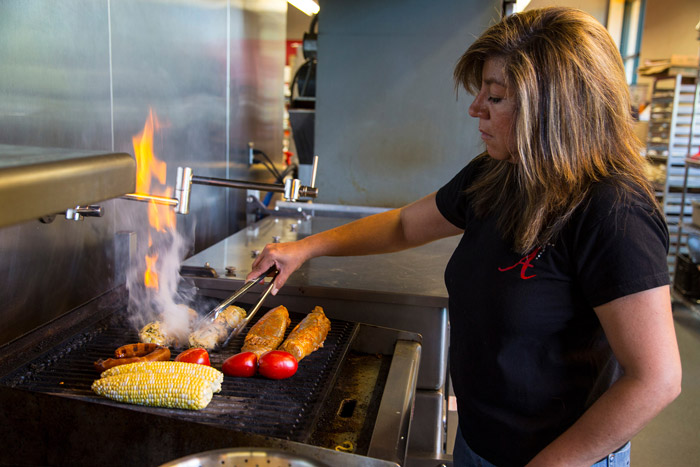 A good churrasco or parrillada can be as simple as grilling various types of meat paired with a few sides; however, a Guatemalan churrasco always comes with chirmol (charred tomato and mint salsa). A typical churrasco involves marinated beef, chorizo or longaniza (spicy mint sausage), chirmol, guacamole, warm tortillas, and chilito (spicy salsa). Gallo beer is always a good pairing for this menu.
Marinating the meat in a simple marinade adds depth and a Guatemalan flair. Some of my favorite marinades are citrus-based as they are not only delicious but add quick flavor in a short amount of time. Dry rubs as simple as onion and garlic powder combined with lime, orange and lemon juice, mixed with olive oil elevate any meat to a gourmet level.
Chirmoles in Guatemala are quick salsas that can be made in minutes. My favorite is one made with vine-ripened tomatoes grilled and then chopped and combined with raw onion, mint, lime, and salt. Chiltepe (Guatemala's native and favorite spicy chili pepper) packs a punch and makes the sauce even better.
Guatemalan guacamole is made with mashed avocadoes, minced onion, lime juice, dried oregano, and salt. This dish can be a side or can be the base for tostadas (without the onion as tostadas are garnished with onion and parsley and cheese) or to accompany other dishes. Corn on the cob, grilled and rubbed with lime and salt is as simple as it is delicious.
As for virgin drinks, think naranjada (orangeade) made with freshly squeezed orange juice, water, and sugar. Or make your favorite jugos (juice) mercado-style in a blender with fresh fruits combined with a little water, sugar, and ice. Some of my favorites are jugo de mora y piña (blackberry and pineapple). Or, combine these with other fruits. Pineapple and cantaloupe make an enjoyable drink.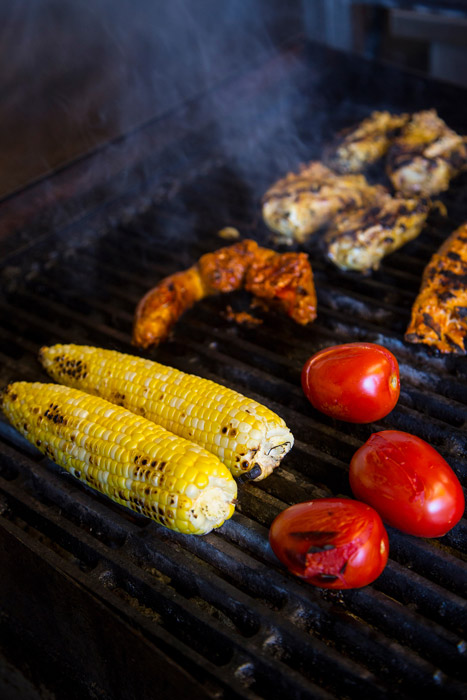 Tortillas take the place of bread in churrascos. In Guatemala, they are thicker than tortillas sold in the United States. When made at home, it is easier to control the thickness. For authentic Guatemalan tortillas, buy fresh plain masa, or make it with equal parts of corn flour and water and divide it equally and make balls. Enclose each ball in the middle of two large pieces of thick plastic and flatten with the back of a small skillet. I use 2-gallon freezer zip-lock bags and cut two sides open and leave one joining the two halves.
Un día de campo can be a special way to celebrate all the great fathers out there. Dias de campo in Guatemala involves going to a park, resort, or any other private area with grills and picnic tables. I still recall días de campo with my dad at Finca Florencia, now an ecological park. If you have not visited this beautiful estate, you are missing out on a unique place to be in touch with Guatemalan nature in an extraordinary way.
Here are two recipes to celebrate Father's Day at home or at a día de campo.
¡Buen provecho!
CARNE ASADA CON CHIRMOL
Orange and Onion–Marinated Flank Steak with Charred Tomato and Mint Salsa
Recipe by Chef Amalia Moreno-Damgaard (AmaliaLLC.com)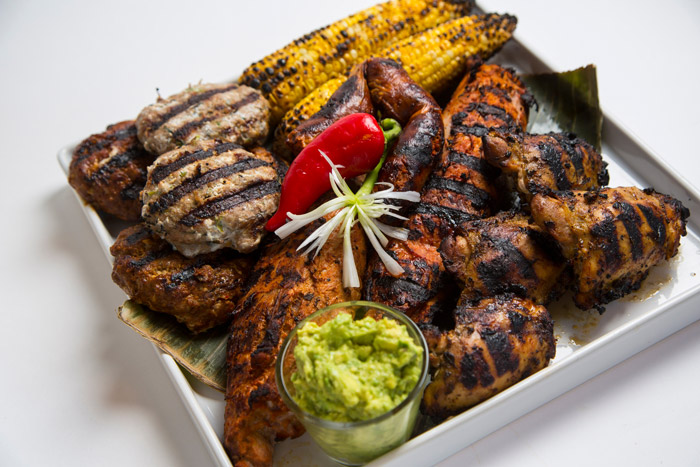 Serves 4 to 6 people
Salmuera (marinade)
2 unpeeled oranges, sliced thinly
1/2 cup julienned yellow onion
1 teaspoon crumbled dried oregano
2 tablespoons canola oil
1/2 teaspoon kosher salt
Freshly ground black pepper
1 1/2 to 2 pounds flank steak (or 4 to 6 top sirloin steaks), seasoned generously with kosher salt and freshly ground black pepper
1 batch Chirmol (charred tomato and mint salsa, see below)
Preheat the grill.
To make the marinade, combine the orange slices, onion, oregano, oil, salt, and pepper in a large zip-lock bag. Seal the bag and squeeze the ingredients with your hands to mix them and to force the juice out of the orange slices. Add the steak, seal the bag, and work the marinade into the steak with your hands, making sure it gets well coated. Marinate the steak for 1 to 3 hours or overnight.
Take the steak out of the bag. Discard the orange and onion. Grill the steak over medium-high heat for about 4 minutes on one side and 2 to 3 minutes on the other side for medium-rare. Or cook more or less according to taste. Prior to slicing, rest the steak for 5 to 10 minutes tented with foil.
Slice the steak on the diagonal and top it with chirmol.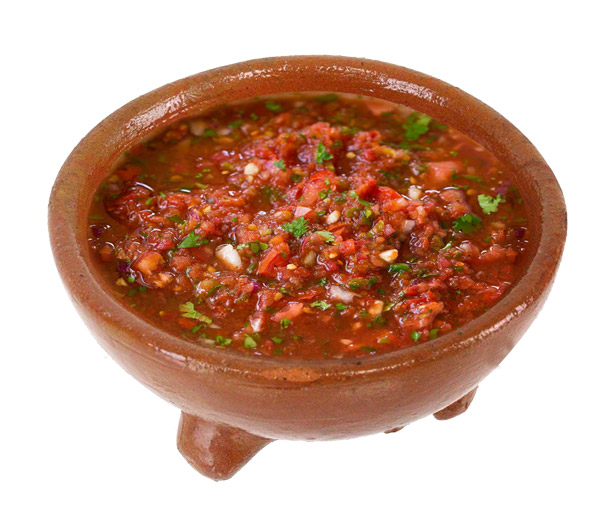 CHIRMOL
Charred Tomato and Mint Salsa
Recipe by Chef Amalia Moreno-Damgaard
(AmaliaLLC.com)
Makes about 2 1/4 cups
3 Roma tomatoes
2 tablespoons finely diced onion
1 tablespoon finely chopped mint
1 tablespoon finely chopped cilantro (optional)
2 teaspoons freshly squeezed lime juice
1/2 teaspoon minced Bird's Eye (Thai) chili (optional)
1/2 teaspoon kosher salt
Dry pan roast or grill the tomatoes until they're charred all over and soft (12 to 15 minutes).
Chop them coarsely, but do not peel them.
Combine the tomatoes with the remaining ingredients. Taste and adjust seasonings, if needed.
Amalia's Note
Use tomatillos instead of tomatoes—or use both—and follow the same steps.
REVUE magazine article by Chef Amalia Moreno-Damgaard
Amalia Moreno-Damgaard is an award-winning bestselling chef author born and raised in Guatemala City currently living in the Twin Cities. She provides individuals and companies with a taste and understanding of Latin cultures through healthy gourmet cuisine education, consulting, bilingual speaking and writing and fun culinary experiences.

Her cookbook "Amalia's Guatemalan Kitchen-Gourmet Cuisine With A Cultural Flair" has won 9 international awards. AmaliaLLC.com