Amalia's Kitchen ¡Viva la Tortilla!
A great way to enhance any menu is to include the versatile and delicious tortilla. The corn tortilla dates back to pre-Columbian times and continues to make culinary history as it passes from generation to generation.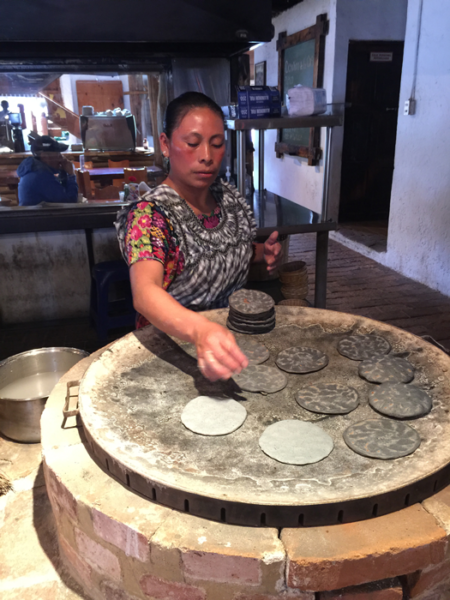 As the "bread" of the southern region of North America (Mexico, Guatemala, and other Central American countries), it is a unifying force that feeds millions providing not only high nutritional value, but great texture and flavor along the way. Tortillas are easy to make using a modern special tool, yet traditionally they are works of art in expert hands that pat a ball of dough between their palms with such precision until it reaches just the right size and thickness.
Not all tortillas are created equal. Guatemalan tortillas are smaller and a little thicker than the neighbor counterparts. Although fresh corn masa tortillas are best, corn masa harina dough continues to gain ground because of ease and convenience.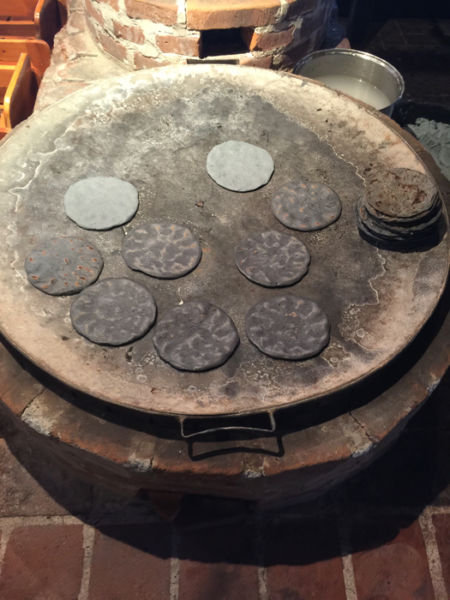 The texture and satiety of fresh versus processed corn tortillas is significant. Freshly made tortillas are doughier and because they are thicker, they are very filling and even economical.
The tortilla's versatility transcends recipes and cooking styles, lending itself not only as a meal complement, but as a base for building a delicious dish and as a conduit for thickening soups and stews, and as a tasty crunch for casual foods. Whether you enjoy a scrumptious taco bursting with all kinds of delicious toppings, or a flauta filled with savory stuffing smeared with spicy sauce, you are always in for a treat with this special food that is so common yet so special to many.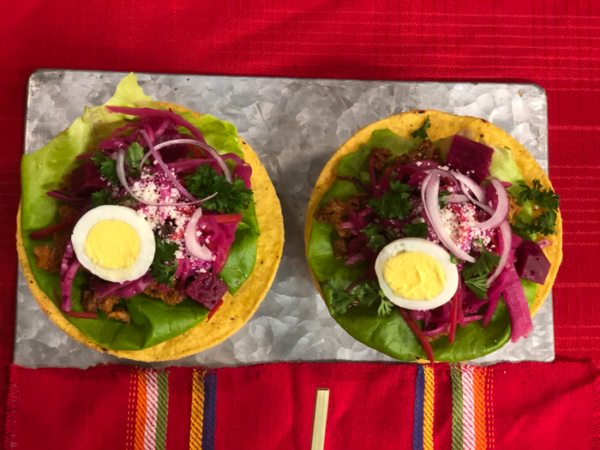 For Guatemalans, the tortilla is an important flavor that brings memories of cozy times with friends, family, and home. Eaten during the three main meals of the day, tortillas are sold in the streets, at tortillerias (small family tortilla shops), or at tiendas (small retail shops). Like bread, these tortillas are made minutes before they are sold making them a scrumptious pairing for any meal.
And speaking of tortillas, here is one of my favorite recipes which I relish from childhood. It is easy, delicious, and perfect for a couple or a group of friends for Valentine's Day.
¡Buen provecho!
Amalia
MIXTAS – Guatemalan Hot Dogs
Recipe by Chef Amalia Moreno-Damgaard
(AmaliaLLC.com)
Serves 4 to 6 people
8 to 12 corn tortillas or 4 to 6 hot dog buns, halved and grilled on the inside.
1 batch Guatemalan guacamole (recipe below)
1 to 2 packages low-fat beef or turkey hot dogs or sausage of choice, halved lengthwise, griddled until medium brown
1 batch Curtido (herbed pickled cabbage slaw, recipe below) or 1 batch Curtido Crudo (spicy lime cabbage slaw, recipe below)
Condiments:
Mustard
Mayonnaise
Hot pepper sauce
Ketchup
To make Mixtas, warm tortillas in a preheated toaster oven for about 1 1/2 minutes or heat them in a nonstick skillet for 1 minute per side.
Top each corn tortilla with 1 or 2 teaspoons of guacamole, a half or whole hot dog, slaw, mustard, mayonnaise, hot sauce, and plenty of ketchup.
To make Shucos, spread 2 teaspoons of guacamole on one side of the bun and mayonnaise, mustard, and ketchup on the other side. Add a whole hot dog and top with slaw and hot sauce.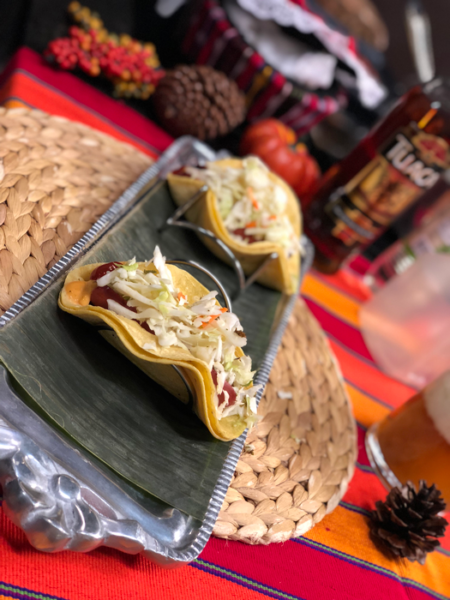 GUATEMALAN GUACAMOLE
Recipe by Chef Amalia Moreno-Damgaard
(AmaliaLLC.com)
Makes about 1 3/4 cups
3 ripe avocados, mashed to a chunky texture
2 tablespoons freshly squeezed lime juice
1 tablespoon shredded onion
1/2 teaspoon crumbled oregano
1/2 teaspoon kosher salt
Combine all the ingredients in a bowl and mix them well. Taste and adjust seasonings, if needed.
CURTIDO
Herbed Pickled Cabbage Slaw
Recipe by chef Amalia Moreno-Damgaard
(AmaliaLLC.com)
Makes 4 cups
3 cups green cabbage, shredded
1/2 cup thinly shredded carrots
3 cups very hot water
3 tablespoons champagne vinegar or white wine vinegar
3/4 teaspoon crumbled oregano
1 Serrano pepper, thinly sliced (optional)
3/4 teaspoon kosher salt
Combine the cabbage, carrots, with the hot water in a nonreactive bowl.
Add the rest of the ingredients and mix well to blend flavors. Let the curtido sit for 15 to 20 minutes before serving. Taste and adjust seasonings, if needed.
Curtido Crudo (spicy lime cabbage slaw): In a bowl, thoroughly mix 3 cups shredded cabbage; 3 tablespoons freshly squeezed lime juice; 1/2 cup julienned carrots or red bell pepper; 1 thinly sliced Serrano, jalapeño, or other hot pepper of choice; and 3/4 teaspoon kosher salt. Taste and adjust seasonings, if needed.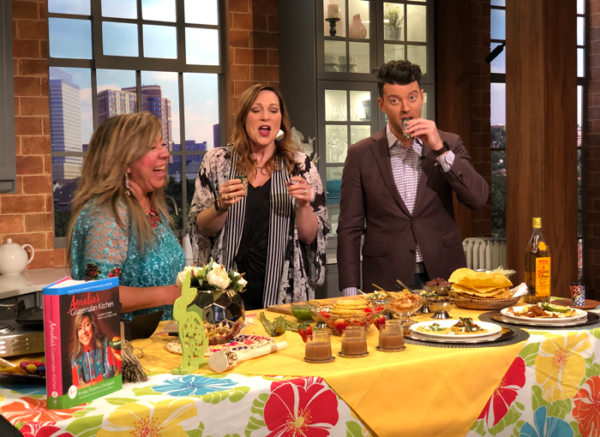 REVUE magazine article by Amalia Moreno-Damgaard
Amalia Moreno-Damgaard is an award-winning bestselling chef author born and raised in Guatemala City currently living in the Twin Cities. She provides individuals and companies with a taste and understanding of Latin cultures through healthy gourmet cuisine education, consulting, bilingual speaking and writing and fun culinary experiences.

Her cookbook "Amalia's Guatemalan Kitchen-Gourmet Cuisine With A Cultural Flair" has won 9 international awards. AmaliaLLC.com