Amalia's Kitchen – Boosting Flavor while cutting Calories
The healthier eating trend is stronger than ever in the United States. Native and African Americans and Hispanics are at the top of the risk group for Type 2 diabetes in America, according to the American Diabetes Association.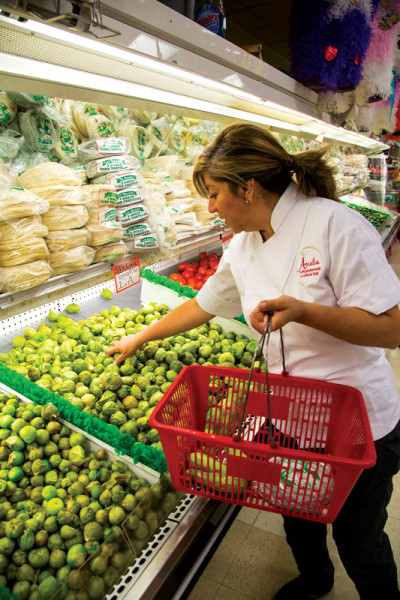 This trend will have a ripple effect on neighboring countries in the coming years, as chronic diseases related to poor eating habits and lifestyle is a growing concern worldwide affecting manufactured products and food imports and increasing healthcare costs. As the tendency picks up speed, the food industry struggles to stay on top of rising consumer demands for more transparent and cleaner labels.
The good news is that with Guatemalan food, one can accomplish not only wholesome, but delicious eating too. The country is blessed with a bounty of natural foods. Guatemalan cuisine has ancient and rustic cooking techniques, some of which are healthier than others. By combining what is established with more healthful choices, you can obtain better results without sacrificing flavor or quality.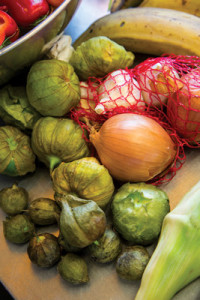 When I attended Le Cordon Bleu, I became more aware of cooking healthier after receiving intensive nutrition classes, which gave me a deeper understanding and appreciation of my own eating habits and those of other multicultural groups. With steady practice, I learned to prepare delicious meals by applying quick and easy techniques that translate into less calories overall.
Some of the most common blended techniques that I use in my home and commercial kitchen today are super simple, and this is the base I use to create foods bursting with flavor in a short amount of time. When I combine the techniques with healthy ingredients, the end result is fabulous.
Pan and oven roasting (high-temperature cooking), baking, sautéing and steaming are common techniques that can be applied to any type of cooking and food. Healthy cooking fats and sprays such as canola and olive oil are key when using some techniques. Lime, lemon or orange juice, vinegar, herbs, hot chilies and spices are quick ways to boost flavor in any food or drink.
When shopping at a market, focus on fresh vegetables and vine-ripened fruits. Add variety with tubers like yuca, ichintal or other roots, and select fresh and dry legumes like multicolored beans, lima and fava beans, garbanzo and lentils. These ingredients have powerful nutrients, contain fiber, and are a source of vegetable protein (legumes). I call all of these "waist cinchers" because while they are high on nutritional value, they are low in calories.
It is never too late to start a healthy eating style, whether you embrace it for health or personal reasons. It only takes determination and patience, as it is a learned routine that must be practiced to become a lifestyle. Start with baby steps. Here's a recipe to get you started!
FILETE DE LOMITO CON CHIRMOL DE MILTOMATE
Filet Mignon with Spicy Tomatillo Salsa
Recipe by Chef Amalia Moreno-Damgaard (AmaliaLLC.com)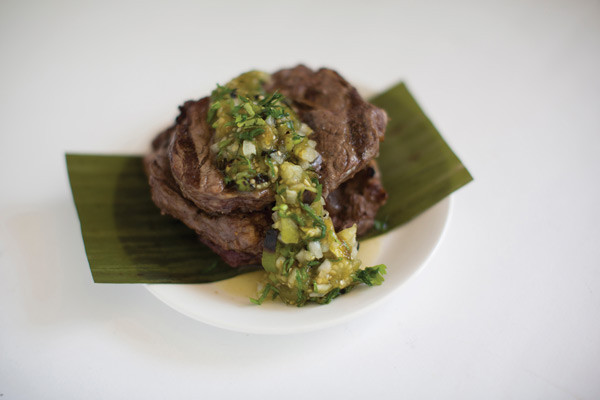 This recipe is an upscale alternative to carne asada con chirmol. Tomatillos give the salsa a different flavor dimension. This salsa's tangy flavor, chunky texture and green color look and taste great on a steak. Vary the recipe by adding other herbs and ingredients.
Serves 4 to 6 people
4 to 6 cuts filet mignon (1 1/2 inches thick), coated with canola oil and seasoned generously with kosher salt and freshly ground black pepper.
1 batch chirmol de miltomate (spicy tomatillo salsa; recipe below).
Preheat the grill.
Grill the steaks over medium-high heat for 4 to 5 minutes on one side and 2 to 3 minutes on the other side for medium-rare steak. Or cook more or less according to taste, using the guide following this recipe. Prior to cutting, rest the steak for 5 to 10 minutes tented with foil. Top with chirmol de miltomate.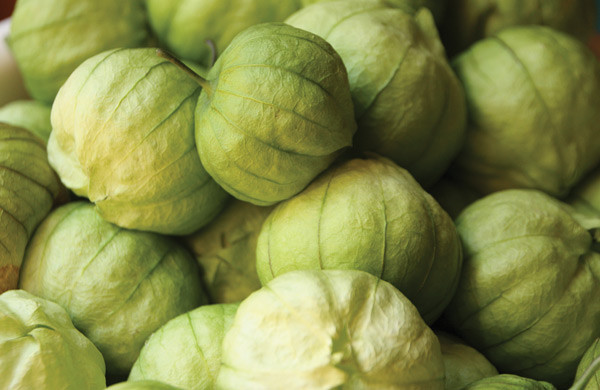 CHIRMOL DE MILTOMATE
Spicy Tomatillo Salsa
Makes 2/3 cup
8 small tomatillos, husked
1 Serrano pepper
1 1/2 tablespoons finely diced onion
1/2 tablespoon finely chopped
flat-leaf parsley
1/2 tablespoon finely chopped cilantro
1 teaspoon freshly squeezed lime juice
1/2 teaspoon kosher salt
Dry pan roast or grill the tomatillos until they're charred and soft (about 8 minutes). Chop the tomatillos finely. Char the Serrano pepper and chop it finely.
Combine the tomatillos and Serrano pepper with the rest of the ingredients. Taste and adjust seasonings, if needed.
Amalia's Notes
Steaks will continue to cook after you take them off the grill. Resting lets the steak reach the proper temperature without overcooking and helps the steak retain its juices. The following guide shows the temperature that steak would reach after resting.
To grill steaks on the stovetop on a pan or griddle, start with a medium-hot dry pan, use the following guide, and rest the steak before slicing.
Amalia Moreno-Damgaard is an award-winning bestselling chef author born and raised in Guatemala City currently living in the Twin Cities. She provides individuals and companies with a taste and understanding of Latin cultures through healthy gourmet cuisine education, consulting, bilingual speaking and writing and fun culinary experiences.

Her cookbook "Amalia's Guatemalan Kitchen-Gourmet Cuisine With A Cultural Flair" has won 9 international awards.  AmaliaLLC.com