Whispers in the Thread – Artbook presentation with Lena Bartula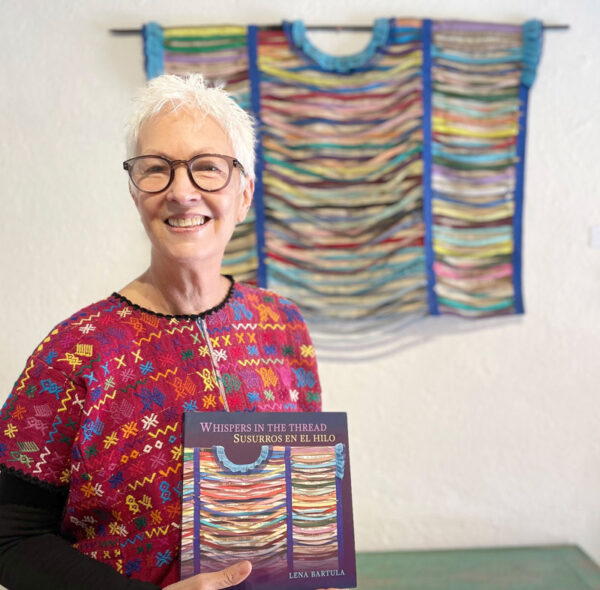 PRESENTATION SYNOPSIS: 
Whispers in the Thread recounts and celebrates a 15-year series of contemporary huipiles by Lena Bartula. It has been an inspired, deep dive into the mystery and seduction of a garment that is at once text and textile. Says the artist: "The idea of 'clothing as messenger' transformed me into a fabric and installation artist, and along the way, an advocate for women's rights. Come along on this journey that began with the woven wonders of Guatemala, Oaxaca, and Chiapas, changing my life, my art, and my heart."
Bartula returns to Antigua to present a talk, book signing and sale on Monday, March 28 at Cafe Condesa. Whispers in the Thread, with 147 full color pages of contemporary textile art, stories, poems, legends in both English and Spanish, connects the strands of ancient wisdom to contemporary artmaking with social consciousness. Included in the book are works from her 2014 exhibitions in Hotel Casa Santo Domingo, Museo Ixchel, and even her weaving collaboration with Lidia Lopez of San Antonio Aguas Calientes.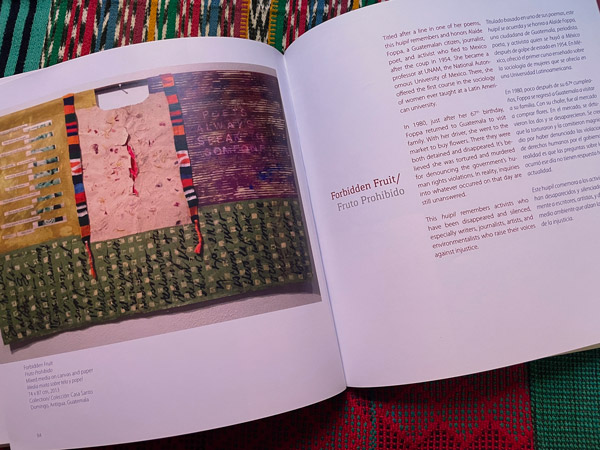 Published in Dec. 2019, Whispers features poems and essays by contributing authors and a superbly written forward by Ana Paula Fuentes, founding director of Museo Textil in Oaxaca.
While the book is bilingual, this presentation at Cafe Condesa will be given in English, the artist's first language. Afterward, there will be time for Q&A, one of the best ways to connect artist with audience. Books will be available for signing and sale both before and after the talk.
Lena Bartula is an artist, writer, curator, gallerist, and transplant from the U.S. now living in Mexico. Her textile and mixed media work is rooted in social consciousness, environmental awareness, and women's stories. Early in her career, she used text and image to convey messages in oil, acrylic, printmaking, and collage, never imagining she would travel outside that known territory. In the mid-90s while living in Santa Fe, New Mexico she fell in love with the indigenous blouse called a "huipil' and in 2003 began stitching her stories on paper and cloth.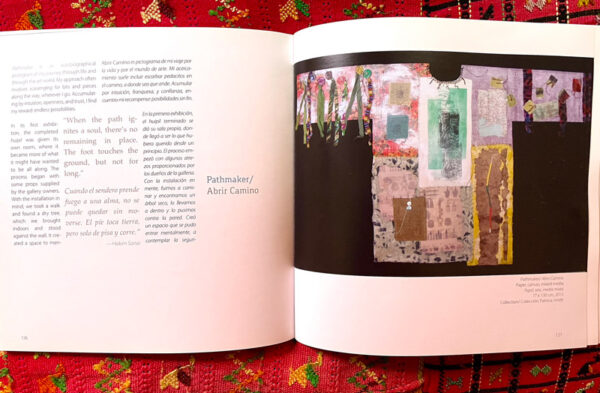 Now her studio practice revolves around reclaimed fabrics and found objects, transforming them into imaginary garments and fabric collage, inspired by the traditional clothing of diverse cultures of the world.
Her art has been shown in museums and galleries in more than 80 exhibitions and is found in collections in the U.S., Australia, Canada, Guatemala, Holland, Mexico and U.K. She moved to Mexico in 2004, and since 2008 has resided in San Miguel de Allende, Guanajuato. In 2018, Bartula opened La Huipilista Artspace, where artists, workshops, salons, readings, and every kind of artful event are held. She believes in "All Art, All the Time" and thus, she lives, works, and exhibits in her own artspace, where she is the artist in (her own) residence.
This year, 2022, she created "A Room of Her Own," a small apartment / writers' retreat for single women and is rescheduling the projects that were stalled during the pandemic.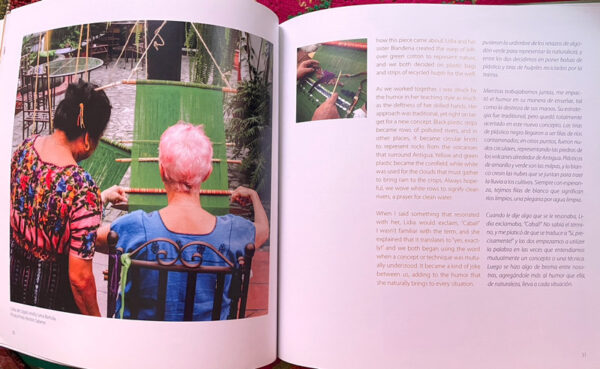 What others say about Whispers in the Thread
The intricacy and beauty of Bartula's work is unique and belongs to the canon of what a garment – especially a woman's garment – can mean.
— Jennifer Clement, President of PEN International
Lena Bartula's Whispers in the Thread, in itself, is a work of art; it satisfies and astonishes on so many levels — aesthetically and intellectually, conceptually and spiritually.
— Judith Cooper Haden, Photographer and author, Oaxaca the Spirit of Mexico:
From Seed to Salsa
This magnificent book, beautifully designed and illustrated, allows us to enter Bartula's world of motivations and leads us through her rich creative process.
—Alberto Lenz, former director of Centro Cultural El Nigromante de Bellas Artes
By embracing the Mesoamerican dress called a huipil as the vessel for her vision and story, Lena Bartula creates a bold and unexpected body of contemporary art and process thinking… In her book, images and text leap borders and sociopolitical abstractions.
— Maia Williams, Co-director, San Miguel Writers' Conference & Literary Festival