Walter White Jr. 1930 — 2011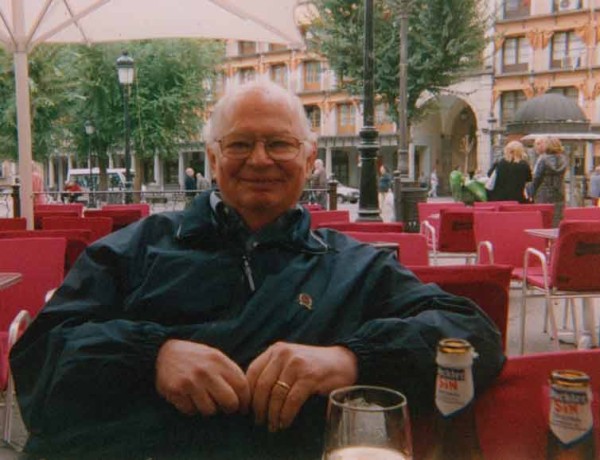 by Martin Leadbitter
Walter White Jr.—humorist, socialite and inventor—died in January this year, aged 80. Walter was the life and soul of the original anglophone ex-patriate community in La Antigua Guatemala, and his passing is felt as both the loss of a friend and as the loss of a symbol and unifying force.
For almost 30 years ("I came down for one week, 28 years ago," he told his wife, Karen) Walter charmed and entertained all those with whom he came in contact. Walter in society was low-key. He was both amusing and incisive. And you had to be intellectually nimble and alert to innuendo to keep up your end of the conversation.
Walter had some great jokes, the skill to tell them, and an astounding memory that never failed, even in the most testing circumstances. No one will ever tell the "Archibald Hasselbroke's First Day at School" joke like Walter.
Walter was a gentleman who could be curmudgeonly; never the reverse. As a self-professed animal hater he once carried an injured dog in his arms through the streets of Antigua to the vet clinic. On another occasion he had the temerity to ask a policeman in Mexico, who had just robbed him and his companion at gunpoint, for directions.
Walter cut an imposing, avuncular figure—a friend's little girl called him "Walter Columpio." Because of a certain girth, or perhaps because of his patrician bearing, he could seem much taller than his 5' 10''.
Opponents on the high school football field must have found Walter the wide receiver more than imposing, as he powered past for another touchdown, taking his team into the St. George's School (Rhode Island) Hall of Fame for completing 100 years without defeat.
Walter White Jr. was born in 1930 into a solidly respectable, well-to-do New York family. Raised according to traditional principles, Walter learned the impeccable manners and courteous behavior with which he was to conquer Antigua.
In 1948, at the age of 18, Walter headed north and spent the first of many memorable summers working in the Alaskan fishing industry—formative years that provided not only lifelong memories that drew him back 50 years later for an idyllic holiday with Karen, but also with his foundation in cookery.
Back in New York, Walter became a banker, cutting his digital teeth on those monsters of engineering that were the first mainframe computers, famously participating in the group that developed the machine-readable strip that led to credit cards.
And in November 1982, "between wives and between jobs," at the invitation of his old school friend Bud Johnson and at the height of the Guatemalan civil war, Walter arrived in Antigua. Now a gourmet cook, an accomplished raconteur, a redoubtable backgammon player, and an aficionado of loud trousers, Walter won hearts and found a home and a wife.
Walter White Jr. was a gardener, a caterer, an architect, a hedonist, a raconteur, an observer, a DJ, a lover and a cuddler. He is sadly missed.