Unlocking Samajab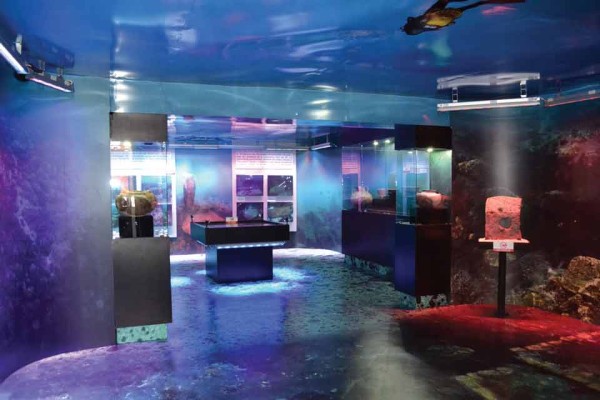 The Museo Lacustre de Atitlán stunningly presents an important underwater archaeological site
The task of conveying the wonders and rarity of an abandoned, underwater Mayan burial and ceremonial site to dry, fully clothed museum-goers on the surface was quite a challenge for the Museo Lacustre de Atitlán, the informative underwater-themed exhibit dedicated to Samabaj.
Although the actual Mayan site is under 30 feet of water about 500 meters from the volcano Tolimán, this archaeological museum is in Panajachel, housed in a building in the historic Hotel Posada don Rodrigo.
Lacustre (as it is referred to) stepped up to the challenge by using floor-to-ceiling underwater photographs, special "water lights" and ethereal mood music to convey the quiet, peaceful and almost Titanic-like ghostliness of the pilgrimage site that has been underwater since around 350 A.D.
The mood is set immediately upon entering. From the moment you remove your shoes (visitors are required to remove their shoes upon entering) and step inside, the feeling of time and space slips away. Unlike a normal, brick-and-mortar museum, the art at Lacustre is not in frames on the walls or in display cases. Rather, it is plastered in images inches above your head, and in the space underneath your toes.
Stelae, or ancient upright carved slabs or stones, can be seen in these images, including No. 1, which is the only stela to have been found standing under the lake. The artifacts —pottery, incense holders and ceremonial objects to name a few—are works of art not only because of their ancient craftsmanship, but also be-cause of the configurations ingrained in them by the mold, moss and water after being submerged for centuries.
As you view the haunting images all around you, it is easy to feel as if you are intruding on something sacred, and that at any moment, an ancient Maya inhabitant or modern-day scuba diver will drift slowly past you.
Samabaj takes its name from the first three letters of the last name of its discoverer, Roberto Samayoa, and the word abaj, which means "stone of" in Kaqchiquel.
Samayoa, an amateur scuba diver, discovered the site in 1996 after he began noticing peculiar rock formations at the bottom of the lake. In 2012, he told Prensa Libre's Ana Lucia Gonzáles, "I had noticed strange stone alignments and I thought they were natural, but after about 30 dives I found a stela (No. 1) with its front offering plate. There I said: This is not natural. It was indescribable."
The site was registered in 1998 at the Institute of Anthropology and History and work began on excavating and preserving its treasures. To date, 18 monuments have been discovered. Scientists from all over the world, including the Scripps Institute in La Jolla, California, have come to research and examine the site, as well as marvel at the museum. It is yet another jewel in the already marvelously decorated crown that represents the Maya people and Guatemala's contribution to our universal history as humans.
The significance of Lacustre cannot be understated. First, Samabaj is pretty inaccessible. Because of the altitude, diving in Lago de Atitlán is extremely precarious and even researchers can only descend twice a day for half an hour each, such a short time to see such a mysterious place. Second, with the lake quality deteriorating, even Samayoa admits the water visibility is cloudy and obscured, making it difficult to see many of Samabaj's most important sites. But most importantly, the flood of visitors to archaeological sites like Peru's Machu Picchu or France's Chauvet caves often disrupts and deteriorates the precarious balance that has helped preserve these sites for thousands (and thousands) of years. Through Lacustre, Samabaj is open to the public, and the actual site can be left for scientists to study for many more years to come.
Museo Lacustre de Atitlán is open Mon-Fri 8am-6pm; Sat-Sun 8am-7pm, inside the Hotel Posada Don Rodrigo, south end of Calle Santander, Panajachel.