The MERCADO Experience
Food aficionados and cooks know that visiting a mercado is like taking a kid to a candy store, and not until you have been to a Guatemalan mercado do you realize that there are more than fruits and vegetables there.
During my time growing up in Guatemala, my mom and grandmother routinely went to the mercados to buy ingredients for the day's menu. In small rural towns, this is still the case, as the distances that people must travel from Point A to Point B are less. As convenience has set in, supermarkets found a niche market in the more affluent Guatemalan homes that demand ready-to-eat or prepackaged foods.
While there are larger mercados, such as the Central Market in Guatemala City, there are medium and small street mercados throughout Guatemala. When I visit my family in Guatemala City, we go to different mercados every time, as each one always has something different and new to offer, making the experience unique, such as El Mercado Central de Antigua.
The mercados in the suburbs cater to the needs of neighboring households carrying mostly fresh produce, a combination of dried foods, and even pottery and clothing. One time I went in search of produce in a mercado in Zone 11 and came out with a set of gorgeous angels made in the town of Chinautla, a municipality in the department of Guatemala famous for its beautiful ceramics. You never know what is available until you visit.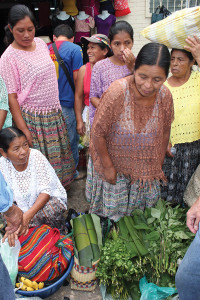 Municipal mercados can be indoor and outdoor and each type offers a different experience, whether you are in La Antigua Guatemala, Guatemala City, Cobán, Chichicastenango or elsewhere. One thing to remember is that while there are staple mercados, there also are Thursday and Sunday mercado days.
Traveling in a remote area of Coban once, I visited one such mercado where vendors offered from the freshest harvest, from pigs to tepezcuintle (a delicacy from the rodent family), off the sides of the main road. Villagers slowly moved out of the way each time a car went by and then quickly regrouped in the middle of the road afterward.
Another mercado, off the beaten path offering a variety of agricultural products, is the Mercado de Villa Nueva, where the vendors arrange their produce very attractively. It is worth the visit just to look and walk within each vendor's stall. In this market, you can buy dried beans and chiles, and even baby fruit trees.
One of my all-time favorites is the central mercado in Guatemala City. I can spend hours just looking at its large variety of products, from food items to textiles, clothing, shoes, ceramics, piñatas and much more. When visiting, you must stop by the comedores area, where you will find El Comedor de Doña Mela. This iconic eatery offers inexpensive typical Guatemalan foods in a very casual setting, where you eat at your own risk.
Speaking of street mercado foods, here is a delicious one, which you can make and modify easily at home. The idea is to visit a mercado first and shop for the ingredients, and then enjoy your own creation. This is what Guatemalan mercados are about, places where you can explore beyond foods and awaken your senses in a cultural way.
ROASTED CORN with Lime & Sea Salt
Elotes Asados con Limón y Sal de Mar
Recipe by Chef Amalia Moreno-Damgaard (AmaliaLLC.com)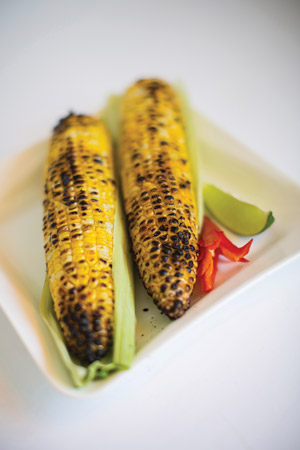 This simple way of cooking corn is quick and easy. Elotes can be a snack or a side for a barbecue. Or cut the kernels off the cob and use them as a base for a fresh salsa.
Serves 4 to 6
4 to 6 ears of fresh corn, husked (save the husks)
2 limes halved
Sea salt
Grill the corn over very hot charcoal until the corn is charred all over. Keep a close eye on the corn, as it cooks fast. Turn corn when it starts popping and charring begins. Keep the cooked corn warm.
Serve the corn on the husks, rubbed with lime and sprinkled with salt. Or do it the traditional way—dip the lime in the salt and then rub it on the corn.
Amalia Moreno-Damgaard is an award-winning bestselling chef author born and raised in Guatemala City currently living in the Twin Cities. She provides individuals and companies with a taste and understanding of Latin cultures through healthy gourmet cuisine education, consulting, bilingual speaking and writing and fun culinary experiences. Her cookbook "Amalia's Guatemalan Kitchen-Gourmet Cuisine With A Cultural Flair" has won 9 international awards. AmaliaLLC.com