The Doll Project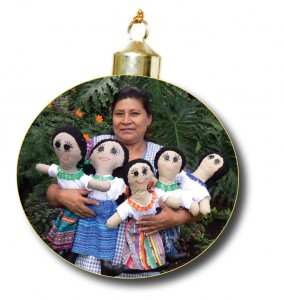 Santa's Helpers Doing it Right
"Last year, I helped with a Christmas gift delivery to the school in El Hato and it was an amazing experience. But I noticed as we drove down the mountain that there were many children for whom Santa didn't come. That was the seed—to make sure those kids weren't forgotten about again," says Catherine Humber.
Missouri-born Humber started thinking about how she could bring Santa to the deprived aldea in a way that would cater to all: aid the local community, be artisanal in nature and culturally sensitive.
Since she wanted the children to be able to relate to their gift, she embarked on a project sewing indigenous-style Guatemalan dolls using tela típica to clothe the figurines and volunteers from nearby San Pedro Las Huertas to make them.
Humber, an entrepreneur and artist, originally moved to Guatemala in 2011 for her husband's job but confesses to having had a 20-year love affair with Guatemala, a country she describes as "wild, beautiful and full of wonderful people".
Together with her full-time assistant Rosa Gil, Humber has been frantically drawing, cutting and sewing since April and admits that the first couple of weeks were challenging:
"Neither of us knew what we were doing, so everything was trial and error. I actually failed the sewing portion of home economics in school and here I am trying to make patterns for little blouses.
"There was a lot of laughter at first, but we have it down to a science now. The first doll we made was horrible and looked like an alien, so I call her 'Lady Gaga.' We keep her in the workshop to remind us of how far we've come," says Humber.
Using materials such as ribbon, lace, buttons, wool, cloth and embroidery thread, the women made the first batch of dolls 22 inches tall, before later scaling down their creations so that the project would be more financially sustainable. On average the women make 30 dolls a month and are halfway to their Christmas target of 300.
Resources are limited in their casita/workshop, which consists of just one sewing machine, plenty of newspapers to make patterns with, a couple of tables for cutting them out on and bags of dolls covering every other available space. But the women say being low-tech helps them to be more creative.
"I am learning almost everything," says Gil, "to cut, to use the sewing machine, to make patterns, to plan and to keep improving."
The project's materials are all sourced from local suppliers, including one elderly lady who provides the women with elastic from her closet-sized, unlit tiendita in San Pedro Las Huertas.
Humber says that the support from the local community has been remarkable:
"Word travels fast on the coffee-bean grapevine, so I occasionally have little groups of women who will stop by, excited to see what we're doing and eager to recruit themselves."
The project, which has so far been entirely funded by Catherine's husband, also plans to make toys for the boys of El Hato, which will be distributed alongside the dolls at Christmastime.
"Rosa and I are currently negotiating with a local craftsman to make cup-and-ball games, trompos (tops with strings) and wooden cars and trucks—again keeping in mind the culture, the environment, and helping the local economy," says Humber.
In the long term, Humber plans to hold small-business workshops for the local community and says the most important thing is to give her employees the skills they need to start their own businesses, hire their own workforce and keep the project moving forward in that way.
You can contact Catherine Humber at 4278-6255 or vallartamexicat@hotmail.com.