The Building of a Remarkable Colonial Capital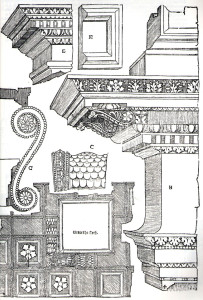 Antigua's architecture is remarkable. The capital, known as Santiago de Guatemala, was founded by the Spanish (1541) in what was then a remote valley, after the previous capital was inundated by floods and mudslides. Water, climate and fertile soil were the main factors in deciding its new location. In 1543, shortly after celebrating the first city council meeting, there was an unsuccessful effort to move the capital to the Honduran coast—certainly the location was much better for exports, but it was too hot there. With a Caribbean port, later plagued by British pirates, the colonial trade route from Spanish started in Seville, on to the Canary Islands, Cuba, Veracruz and then by land to Oaxaca and Guatemala. Architectural books and drawings took a while to arrive!
The first buildings in Santiago de Guatemala were erected as provisional structures, made out of adobe, mud-fill (barareque), thatch and tile. After 1590 it was mostly all demolished to make way for buildings designed to conform to formal architecture. Joseph de Porres (1635-1703) studied works by the Italian mannerist architect Sebastiano Serlio (1475-1554), including the "Seven Books of Architecture." Porres, born in Antigua of Spanish, Maya and black descent, incorporated local talent who produced fine workmanship that went into many of Antigua's buildings, including the cathedral (after the Spanish engineer, Captain Martín de Andújar was relieved from his position), and also Santa Teresa, to name a few. His son, Diego de Porres (1677-1741) was Fontanero Mayor and then Arquitecto Mayor de La Ciudad and built the Fountain of the Sirens in central park (inspired from the fountain of Neptune in Bologna, Italy); the City Hall palace; Santa Clara; Capuchinas; Escuela de Cristo, and others. It was remarkable as these architects had never been to Spain. The substantial difference with Spanish/Italian architecture is the city's low, squat 'earthquake architecture' that developed over the years with each mayor earthquake (particularly 1717 and 1751). With few original drawings surviving today in the Archives of the Indies in Seville we see that Santiago's architects may have not attended formal engineering school but certainly they excelled in workmanship.
Most of Antigua's structures were built by Guatemalan architects. However, one Spanish engineer, Ingeniero Luis Diez de Navarro (1699-1776) built the Palace of the Captains General; the University of San Carlos; and La Merced. The plans for the palace have survived and show professional planning.
We can all thank the Captain General Martin de Mayorga for forcing a move from Santiago de Guatemala to the new capital, Guatemala City, in 1773-1774. Santiago de Guatemala was not completely dismantled but it was completely abandoned. The fine structures, built mostly out of brick, stone and mortar in a mixture of Roman-style building techniques with ornate plasterwork and Moorish influence reflected in fountains and architectural details. Many have fallen into partial ruin over the two centuries when Antigua was sparsely inhabited. Earthquakes and the lack of maintenance took its toll. The city began to come to life again, particularly after 1969.