Team Building by BalamBe
The most important factor in achieving an organization's goals is if its members can work as an efficient team. BalamBe has improving been team building for the last eight years and now offers workshops in La Antigua Guatemala.
Guatemalan founder Axel Alburez has been a serial business entrepreneur for over 30 years, but his true passion is service and being outdoors. Alburez's experience as a river guide led him to want to build teams not just for a day of eco-adventure fun on the river, but to help any team grow.
He started BalamBe by responding to a need to train young indigenous leaders with creative techniques to help them develop their communities. BalamBe's thought-provoking and creative workshops grew popular and not just with NGOs, but many businesses also wanted outdoor leadership-development services.
BalamBe's primary teaching method is outdoor experiential learning. Being in nature helps people relax, relate better and share more. One excellent method for team building workshops is "rope courses." This is moving people from one tree to another on a course of ropes—but you can only be successful with the help of your team.
"It completely opens new possibilities outside your comfort zone," said Karen Gonzáles, who experienced a workshop with her NGO. "At first you think it looks impossible, and then when you see that your teammates are going to make it possible, you gain a whole new way of working together that lasts well after the workshop."
Businesses love it too. "I decided for the first time to try a workshop organized by BalamBe with my entire personnel. I continue to see positive results today. The dynamic generated was the beginning of a process of integration that we never had before," said Javier Burga, director of an exporting company.
"Our clients are very excited with the outcomes in their teams and have asked us for more options. This year we are launching new adventures including boot camps, rallies and treasure hunts in Antigua," said Alburez, who also offers team coaching for groups that want longer-term commitments.
"We explore how to develop, energize and improve group dynamics to create high-functioning teams through collaborative decision-making and problem solving. My goal is to coach any team to their fullest potential," said Alburez.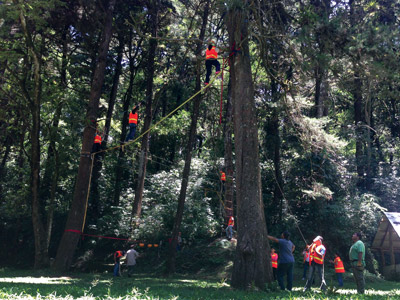 BalamBe has also been curating a team of professional, multi-generational trained facilitators. "The local talent that wants to help build teams is amazing," Alburez said. "We have teachers, communications experts, psychologists, anthropologists, international relations specialists, business administrators and performing artists to name a few.
We all share a passion to use outdoor experiential education to help grow a better-trained and more confident Guatemala. We have an immense satisfaction in serving people to provide long-lasting, impactful results."
BalamBe is currently expanding and building permanent team-building facilities in Antigua. It is a perfect location because it is one of the gems of Guatemala and lots of businesses love to get away for a retreat there. It also attracts many volunteer groups.
Additionally, BalamBe can organize events anywhere in the country. It often uses parks and fincas, "anywhere there are a couple of trees we can string together a rope course," Alburez said. BalamBe complies with international safety standards in all locations and can offer custom programs to meet specific client needs.
The groups that use BalamBe's services are primarily businesses and NGOs that want to improve how their teams work together. But really team building is for any group that wants to work more effectively together.
BalamBe's workshops are also popular for conventions, holiday parties and any kind of special events where participants want to create a memorable shared experience.
What motivates Alburez? "I want to do something to bring my country together. To be proud of the resources we have. To be in Guatemala's unique natural beauty and combine that with our most precious resource — our people. Heightening self-awareness, building confidence and developing highly effective leaders is a good start. Did I mention I love to be outside?"
Contact Balambe, ventas1@balambe.com   Tel: 5007-8181
facebook.com/BalamBe-Campamentos-Educativos-de-Aventura
balambe.com
REVUE article by Maria Westfried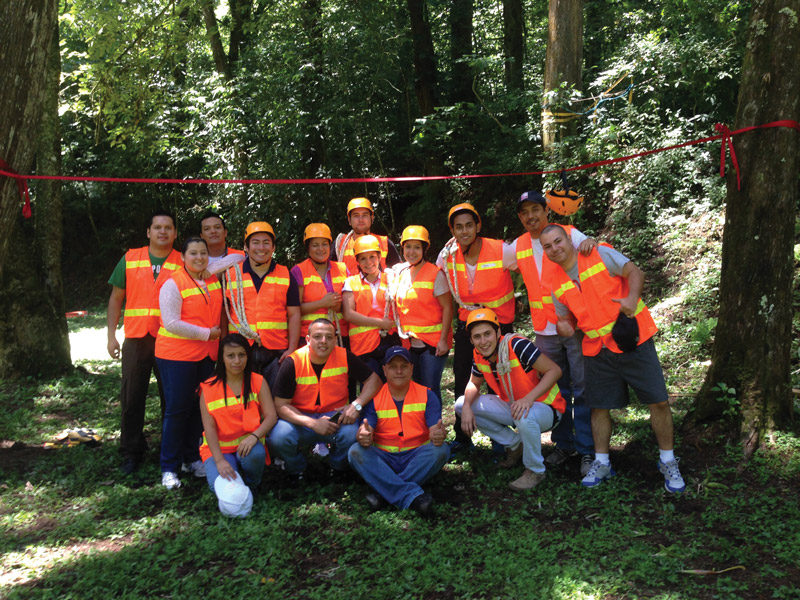 TEAM QUOTES
"None of us is as smart as all of us." —Ken Blanchard
"T.E.A.M. = Together Everyone Achieves More!"  —Author Unknown
"Play is the only way the highest intelligence of humankind can unfold."  —Joseph Chilton Pearse
"We must all hang together, or assuredly, we shall all hang separately." —Benjamin Franklin
"Never doubt that a small group of thoughtful, committed people can change the world. Indeed, it is the only thing that ever has." —Margaret Mead