Sugar Mills of Guatemala
Many things have definitely changed in Guatemala, but in some rural areas, time seems to be at a standstill. That is the case of the molienda, the old-fashioned sugar mills powered by oxen.
During a trip to Esquipulas and Quezaltepeque in eastern Guatemala not too long ago, I visited a molienda. While sugar processed commercially is one of the top industries in Guatemala, in some small towns, colonial times' sugar mills are still the way to process sugarcane and to make panela and other treats. This is raw sugar at its best.
Drawing from my childhood memories of living in Quezaltepeque with my grandmother and visiting moliendas in the region with her then, during my last visit, I saw that little had changed.
The rustic mill (trapiche), the oxen, the large cooking vessels and even the original owner were still there. Visiting a molienda is a cultural experience. The process of making panela from beginning to end is educational, fun and exciting. Tastings are possible at just about every stage of the way.
Guarapo is freshly squeezed sugarcane juice that is delicious on the rocks. It also can be a nice base for building a delicious cocktail. Cachaza is the head or foam that forms at about midpoint of cooking the juice.
Orange tree leaves are used as spoons for tastings of cachaza. Miel is the syrup resembling molasses than can be used to top fruit or for cooking. Panela is the reduced miel that has been allowed to cool and harden in rustic wooden molds.
The flavor of panela is different from refined sugarcane, even though they come from the same source. Panela, like brown sugar, has a more complex flavor than refined white sugar.
Panela is shaped differently and is popular in Latin America and in some Asian countries under different names, such as rapadura, raspadura, chancaca, papelón, piloncillo, panocha, atado and dulce, to name a few. When very fresh, it has a moist, easy-to-crumble consistency, and when older, it is necessary to use a mallet to break it into small pieces.
Panela can be used for a variety of preparations, from fudge and candied fruits and specialty desserts, to sweetening drinks. One of my favorite pastimes when visiting the local mill was to walk on the fluffy ground covered by dried, flattened processed sugarcane, which was later used for fueling the stove to cook the juice.
Watching artisans beat the warm panela into batido (fudge) was an added bonus. The beauty of this is that self-sustaining environments like these are commonplace in the countryside in other industries too.
Panela is sometimes wrapped in dried sugar cane or corn husks and tied with natural string (cibaque) and sold at the market. At grocery stores, it might be packaged in cellophane wrap. I prefer to use the freshest panela possible, the crumbly one with a strong sweet aroma.
However, in the United States, this is harder to find, so using what is available for a recipe is better than using brown sugar as a substitute. Even though they are so close, there is a world of difference in flavor.
Once upon a time, I had the fortune of living within minutes of a molienda. The scent permeated the air during the warmer months. Since then, that sweet grassy pleasant experience has stayed with me.
AYOTE EN DULCE
Squash in Spiced Panela Sauce  recipe by Amalia Moreno-Damgaard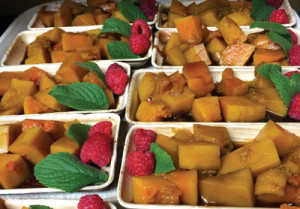 Ayote en dulce is a favorite dessert eaten after fiambre on All Saints' Day. In Guatemala it is made with a native mature ayote (squash), which is very hard on the outside and firm on the inside. This keeps the squash whole during cooking and afterward. In the United States, use acorn squash, pumpkin, butternut squash or another squash with firm flesh. A young squash is too tender and will get mushy and fall apart during cooking. The panela sauce in this dessert is very flavorful, aromatic and syrupy.
Serves 2 to 4 people
Dulce (spiced panela sauce)
2 cups water
1/4 stick canela (Ceylon cinnamon)
1 star anise
2 cloves
3 allspice berries
3/4 to 1 cup panela (raw sugarcane), broken into small pieces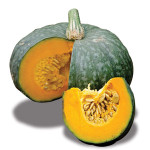 1 acorn squash, washed, cut into 12 pieces, peels and seeds included
In a medium saucepan, combine the water with the spices and panela and bring to a quick boil.
Lower the heat and simmer covered until the mixture is aromatic and the panela has dissolved and syrupy (about 20 to 30 minutes). Discard the spices (optional).
Add the squash peel side down and simmer uncovered until the squash is tender (about 20 to 30 minutes). The longer the squash sits in the sauce, the better it tastes, and the browner it becomes.
This is the traditional way. Make this dish the day before for best results.
Serve the squash at room temperature or cold.
Amalia's Notes
This is traditionally a very sweet dessert. You can vary the sweetness by adding less panela though if you use less panela, the sauce will be less syrupy.
Amalia Moreno-Damgaard is an award-winning bestselling chef author born and raised in Guatemala City currently living in the Twin Cities. She provides individuals and companies with a taste and understanding of Latin cultures through healthy gourmet cuisine education, consulting, bilingual speaking and writing and fun culinary experiences. Her cookbook "Amalia's Guatemalan Kitchen-Gourmet Cuisine With A Cultural Flair" has won 9 international awards. AmaliaLLC.com