Spotlight on Dining — Samsara Tea Lounge & Gallery
When deciding where to live in Central America any doubt was erased when I arrived in La Antigua Guatemala. Though I'm not saying that discovering a fabulous restaurant in town that features a lot of vegan dishes was a deciding factor, but certainly Samsara played a role.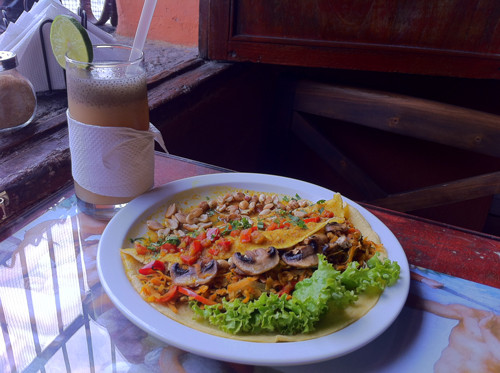 With the slogan "a place to feed your body and mind," Samsara has a food and drink menu featuring a cornucopia of delicious offerings. Even if you are a steadfast patron, you might still find yourself mulling over all the menu options before deciding what to order.
The drink menu is four pages long. Some of my favorites include the eye-opening Masala Coffee (espresso shot, masala chai and cacao with soy milk), the super-sized whipped Hibiscus Mint iced tea and the detox elixir Evergreen Smoothie. Beer and wine are also on the menu.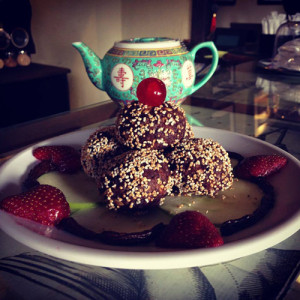 Now for the meal choices. For breakfast few can resist The Big Green: a scrambled egg breakfast with kale, avocado, moringa leaves, spirulina, chlorella and turmeric, served with guacamole, piloy (kidney) beans, plantain and black tortillas.
For a delicious and satisfying salad, I recommend Kale Salad with tofu and garbanzo. For comfort food on a rainy day or any day, try the Curry Veggie Crepe. It is packed with vegetables cooked in an aromatic creamy curry sauce, served in a wafer-thin homemade crepe. Tofu Tacos and any of the panini sandwiches satisfies just about everyone, even non-vegetarians.
Ambiance includes DMT-inspired imagery projected on screens, Kabbalah symbols and
ethereal photographs adorn the walls, a library of suggested reading for the spiritually-inclined,
pleasing music and more!
REVUE article by by Anna von Frances