Siggy Holbik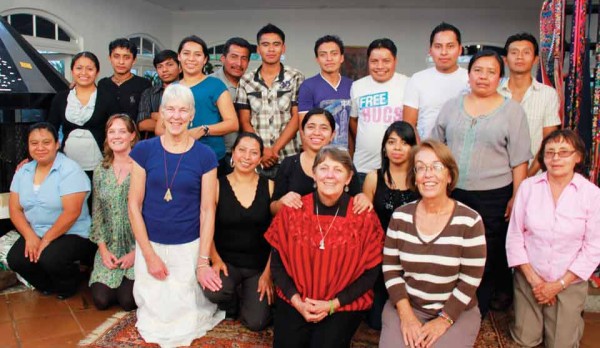 Bridging cultures and continents with Guatemalan crafts
Many of us living in (and visiting) La Antigua Guatemala love to stop by Casa de los Gigantes (7a calle oriente #18) from time to time to see what's new in the "House of the Giants." It is well worth your time to investigate every nook and cranny for some treasure or another. This unique store features Guatemalan handicraft at its best.
So who is behind all this ingenuity and who finds and brings in such beautiful things? The answer is Siggy Holbik, originally from Chile, who has been living in Guatemala since 1987 and has been in business here since 1992. I recently sat down with her over a cup of (Guatemalan) coffee. What motivated her, I asked, to create Casa de los Gigantes? She replied simply, "I had a lot of time on my hands, and I love crafts."
Of course it is more than just the crafts that keeps one in business for some 20 years. Holbik explained that the relationships she has formed are the most rewarding part of the business—from interacting with Guatemalans on a local level to the relationships she has developed with her overseas clients as an exporter of Guatemalan handicrafts. The top-selling products right now are beautiful teak cutting boards. The teak comes from a plantation in Guatemala and is turned into beautiful works of art by employees at her carpentry workshop.
Holbik loves the quality of life that living here brings—time for friends, enjoyment of beautiful scenery and her acquaintance of interesting residents and visitors here. Her favorite place in Guatemala is her house—"because it is beautiful, peaceful and welcoming to friends." And she is never bored; she works in many sections of Guatemala with many different people and materials, such as pine needles, plastic, wood, textiles and natural dyes. She claims she is always challenged but in a good way. Holbik sees herself as a bridge between cultures. She can help Guatemalans understand the perspective of other cultures and can help those from abroad understand the Guatemalan culture.
Holbik enjoys the relationship that one can have with a product. A person made what you are holding in your hand. The energy put into making that product is to be enjoyed by the buyer. It is something real.
As you browse through Casa de los Gigantes, remember everything has been made by human hands, right here in Guatemala. When you give a gift from your travels, remember that you are now acting as a bridge between cultures, transferring the energy from one country to another.