September 2013 in Revue Magazine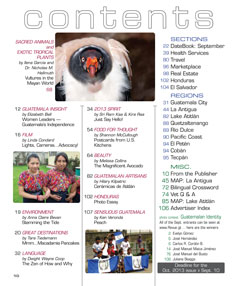 HAPPY BIRTHDAY GUATEMALA! September 15 is Independence Day. Be on the lookout for parades, fireworks, torch runners, marching bands and other fun stuff leading up to the main festivities on the 15th. Our photo contest this month carried the theme "Guatemalan Identity," and we received many great photos that depict just that. We have included several of the photographs throughout this edition, you can find the rest of the entries on our website and Facebook page.
Once again our writers have presented lots of fun things to read. A documentary was filmed of AGALI's leadership and advocacy program and Linda Conard gives us the inside scoop. Dr. Nicholas Hellmuth and Ilena García describe the vulture's influence on Mayan culture. Elizabeth Bell introduces us to two of the women leaders that were involved with Guatemala's Independence. Anna Claire Bevan reports on how a new environmental project aims to reduce the effects of climate change and deforestation in Guatemala.
Planting more trees is one of the missions of the Valhalla Project, seeking to help reverse global warming and assisting indigenous people to develop self-sustaining agriculture. Tara Tiedemann takes us to this experimental farm where they also happen to make great macadamia pancakes.
We are reminded to Just Say Hello to our fellow humans by Sri Ram Kaa and Kira Raa—Melissa Collins shows us how the magnificent avacado can benefit our hair and skin with deep conditioning—Shannon McCullough shares some Postcards From U.S. Kitchens—Hilary Kilpatric covers the artisan studio of Cerámicas de Atitlán—Ken Veronda adds Peach to the palette, and Dwight Wayne Coop explains the Zen of How and Why.
Thanks for reading the Revue and we hope you enjoy the exciting events happening this month.
—John & Terry Kovick Biskovich