San Martín Bakery Opens New Location in La Antigua Guatemala
From one small shop that opened in 1974, San Martín Bakery has just opened in La Antigua Guatemala—its 39th location. With a dream to be the best, the bakery had a modest presence at first, but, loving their work, its bakers always kept striving for perfection.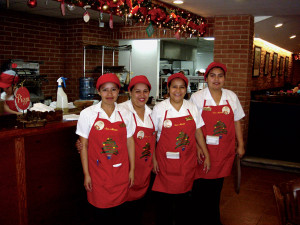 This desire, still part of the company's culture, drives everyone on the San Martín team to focus on providing a variety of products of the highest quality, including breads and other baked goods, as well as breakfast, sandwiches, pizza, desserts, confectionery and coffees.
"Our brand reaches a market as diverse as it is traditional. Many of our clients have repeatedly asked us to open a bakery in Antigua, serving residents, weekend visitors and international tourists. San Martín specializes in freshly baked bread, all day, and every day. At the new Antigua location the spectacular garden patio and vertical garden wall incorporate the San Martín icon, and views from the terrace add that special Antigua ambiance while diners enjoy food choices including oven-baked pizzas, add a glass of wine, or maybe top off a meal with dessert and a cup of fresh-brewed premium Guatemalan coffee. In addition to our bakery, we also have a pastry shop and a restaurant. Our motto is to provide quality products, combined with excellent customer service and a friendly atmosphere."
—Lara Sedano, brand manager
From the beginning San Martín decided to do things differently—from the customer, commitment to quality, hygiene, and to the way it sells and enjoys bread. The bakery's first years were of growth and innovation, making a positive impact on the lifestyle and customs of Guatemalans related to the consumption of bread.
Its ovens and trained bakers prepare freshly baked bread all day, every day. It still uses some original recipes of the first St. Martín, such as the famous pan de agua that has become an essential part of Guatemalan meals.
Regardless of location, customers enjoy the San Martín experience because each store has its own style, personality and magic. The cozy restaurants offer good music, comfortable furniture, cleanliness and quality ingredients.
The healthy and delicious menu goes far beyond breads with breakfast, soups, salads, sandwiches, pastas, rustic pizzas (baked in stone ovens) and grilled hamburgers.
A highly skilled barista runs the coffee bar, which features San Martín's own roasted coffee, ensuring customers of an export-quality cup. San Martín's sister brand, Yogulicious, offers healthy ice cream flavors in a unique, self-service concept.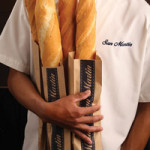 The commitment, effort and passion of those who work at San Martín led its growth from an original bakery in 1974 to a popular chain of 39 locations today. Everyone in the company adheres to San Martín's six pillars: freedom to succeed, to be the best, business ethics, passion for customers, pride and respect for others. This is why San Martín is much more than bread—it's innovation, quality, excellent service and above all: spoiling the guests.
San Martín in La Antigua, 6a calle poniente #5. Tel: 2244-1700