Refugio del Quetzal
A birder's delight, this Highlands sanctuary is home to an avian roster of more than 70 species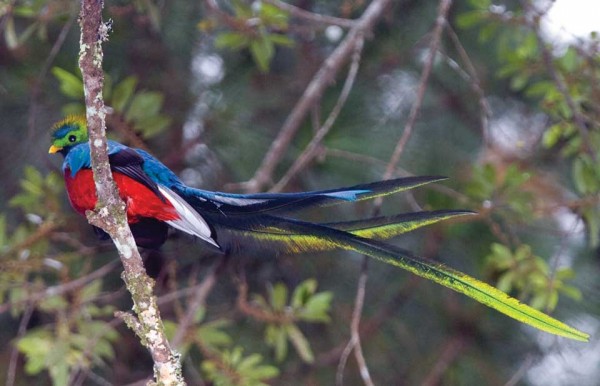 A hidden gem of the Western Highlands, the Refugio del Quetzal (Quetzal Refuge) is an 8,000-square-kilometer sea of green that's one of the few remaining habitats for Guatemala's national symbol.
Owned and managed by the nearby municipality of San Rafael Pie de la Cuesta, the sanctuary reaches an elevation of about 2,000 meters (6,560 feet) above sea level.
The park, which opened in 2005, includes about 2 kilometers of trails, which mark the way through the mist-shrouded forest of broadleaf trees. Visitors can easily spend four to five hours meandering through the verdant, humid landscape, where at least a dozen waterfalls splash down from mountain rock.
Looking like the setting of an old Tarzan movie, the refuge provides the quetzal with a habitat rich in food—one of its favorites is a mini-avocado (aguacatito), and the forest floor is dotted with fallen fruit scarred by a munching quetzal's beak. The dense canopy also helps deter the quetzal's natural enemies. And the greenery itself represents an array of colorful plant species, many having medicinal qualities.
The most spectacular member of the trogon family of birds, the quetzal is hardly the lone inhabitant. A birder's delight, the Quetzal Refuge is home to an avian roster of more than 70 species, including toucans, grosbeaks, highland guans, tanagers, flycatchers and woodpeckers. Animal life large and small also thrives in the forest.
The key to seeing a quetzal is arriving early, as the birds are most active first thing in the morning. Nesting and mating season (January through May, roughly) are the prime viewing months.
Be sure to bring binoculars, insect repellant and a bottle of water or two. The park is open daily, 6 a.m. to 1 p.m., but visits need to be arranged in advance by calling Saúl Sandoval, park manager, at 5885-1287. Admission is Q10.
For Quetzaltenango and the Highlands travel information; www.adrenalinatours.com or your local tour operator.