Pueblo Hopping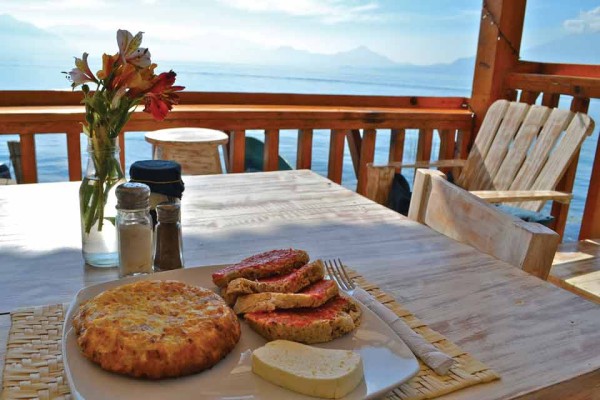 Planning an overnight in Santa Cruz La Laguna, Lake Atitlán
If you were hoping to go by car to Santa Cruz La Laguna, you will be disappointed. This quaint pueblo, separated into the lakeshore property and the Mayan village on higher ground, can only be accessed by boat. But don't fret. This is what gives Santa Cruz its relatively untouched quality, and boat (lancha) rides are easy enough to come by. It shouldn't cost you more than Q10 leaving Panajachel from the public docks.
Ask your lancha captain to take you straight to Isla Verde, an eco-hamlet tucked into the side of the surrounding mountains. Isla Verde has several charming A-framed private cabins and a few apartments to accommodate larger groups, starting from $30 a night. All are pleasantly decorated with traditional Mayan fabrics and artwork; the views are stunning. A sauna and hot tub are available for an additional fee. When you check in, make arrangements for a private sunset yoga class or a massage, all of which the friendly staff can help book.
For lunch, head over to Casa Rosa, a lovely lakefront hotel that serves home-style cooking at a communal table. It specializes in traditional Guatemalan cuisine and utilizes as many fruits, vegetables and herbs from its garden as possible.
From Casa Rosa, walk up the hill (or take a tuk tuk, Q5 per person) and explore the village that overlooks the lake. There is a 16th century church and a visitors center, Cecap, which was founded by Amigos de Santa Cruz, a local non-profit. Here you can drink a café (all proceeds support Amigos) and check out some of the projects in the works.
Tip: Do not ask a captain how much a lancha ride is. If you do, they know you don't know what it should cost. Ask a local in Pana to help you map out what every lancha ride should cost, and then hand the captain that amount when you disembark
Head back to Isla Verde for a siesta and wake up refreshed for your sunset yoga class. Dinner should be taken at the spectacular slow food café onsite offering a three-course dinner of fresh vegetables, organic chicken or fish and springy, bright greens and herbs grown on premise. A glass of Spanish wine, along with the gentle lapping of the lake, helps you drift off to sleep.
In the morning, attempt to wake up early to enjoy the views from your window. They are by far the most beautiful on the lake. From there, a quick hike into Jaibalito, another Kaqchikel (Mayan) community, starts your morning off right. Back at Isla, a Spanish omelet with tomato toast on house-made whole grain bread will build your energy back up. Oh, and a cup of Isla's robust, house-roasted coffee.
You really don't want to leave Santa Cruz, but there are 12 other pueblos to explore, so pack up, catch a lancha, and off you go to your next adventure.