PROFILE: Nery Felipe Priego Huertas
Music is my Inheritance.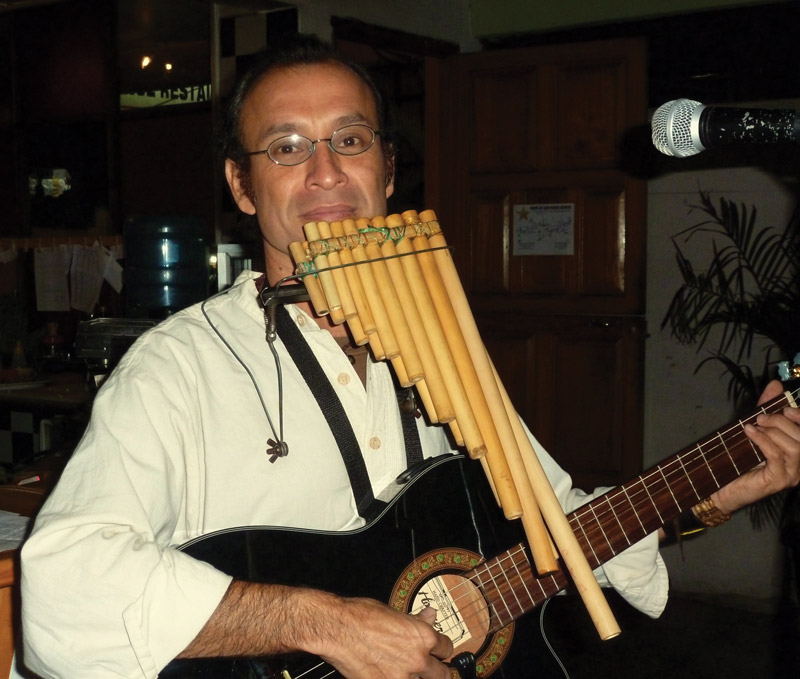 "The passion for music is in my blood, literally," says Nery Felipe Priego Huertas, who was born in Guatemala City. His mother is from the Pacific coast, his father a Quiche from Huehuetenango. "In those days," he says, "people from these different locations would not have met. But my father worked on the train.
His job was to run along the top of the moving train and climb down to tighten the bolts that held the trains together. My mother was a vendor working on the train. One day, my father was playing the guitar during his rest time and my mother came down the aisle with her goods and began singing with him." Felipe grins, "It was love. There was always music in my house, all of us, my seven brothers and sisters played music."
Felipe began playing the marimba with his father's family when he was 4. In school he learned the Guatemalan flute, then began the guitar. "It was natural for me," he said, mentioning that he started his first band at the age of 11. Today, various members of Felipe's teenage bands have been performing together for 30 years.
Felipe also discovered the pan pipes when he was 11. "We went to a concert and heard the group Rieses from Peru. It was completely new music. Outside Peru, no one had heard the pipes before. We bought all their cassettes and taught ourselves to play the pipes and their music."
"When I was 14, we decided to play on sixth avenue in Guatemala City. At this time, no one was playing music on the street in Guatemala, so we became the first.
"They were ashamed that I would play music on
the sidewalk. They thought it was not dignified."
This is a time we call 'era de oro' when it was safe to be out in the city. When we played people would wave to us from their cars and stand around us to listen. Our music made them happy. No one was rejecting it."
His family though, was not supportive. "They were ashamed that I would play music on the sidewalk. They thought it was not dignified." But Felipe continued playing. "In the street many different people can hear live music," he said.
Felipe studied to be a music teacher at the University of San Carlos in Guatemala City, paying his way by performing in the streets and working with his uncle as a carpenter. "When I attended university, we had 16 courses of music. Then almost every school in Guatemala had a piano. During the war, music became only drums.
When I returned to Guatemala three years ago, after being gone for 16 years, I was shocked at the minimum education offered music teachers now, even though Guatemala has a rich musical tradition." One of his projects is to further music education in Guatemala.
In 1996, Felipe traveled to Chile where he worked with the trabajadores del arte, professional street musicians who provide multi-instrumental concerts—not only on the streets but also on the trains and buses. "Chile's transportation is much quieter and more orderly, we would stage entire performances for the passengers." There he learned how to play a variety of instruments, some found only in South America.
After four years in Chile, Felipe moved to Argentina where he studied and performed for eight years. He then moved to Mexico where he taught music and continued performing and adding songs from Mexico to his collection.
Today Felipe's repertoire encompasses over 500 songs, including "all the songs of Guatemala, as well as many from Mexico and Latin music of all styles, from classical to cumbia to pop."
In 1996, Felipe founded the first group to play in El Parque Central in La Antigua Guatemala. He continues to perform there with Artensanos del Viente on Sunday afternoons, offering an exciting blend of Latin American music.
He also plays the marimba with Paabanck. Felipe can also be found performing on the streets and in the local restaurants of San Pedro La Laguna, where he continues to bring live music directly to the people.
REVUE article by by Louise Wisechild