Postcards from American Kitchens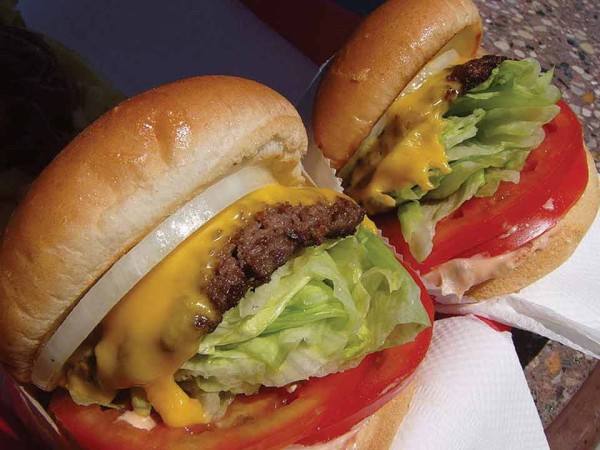 I recently returned from a long-overdue, 20-day journey to the United States. I spent the first 10 days in my hometown of Los Angeles and the remainder of time at a family reunion at our family lakeside home in Priest Lake, Idaho.
Los Angeles has changed immensely since I last lived there. I found it astonishing at the amount of fast food outlets that now line nearly every major street in Los Angeles. I would be fibbing if I said I did not crave certain fast foods that do not exist here in Guatemala.
In and Out Burger (for those of you from the East Coast, think Shake Shack) was my first stop after being picked up from the airport. The meat is ground fresh daily, is never frozen and the french fries (or freedom fries for you Fox News viewers) are fresh cut to order and in a word are "amazing." I hate to admit this but I also stopped one day while driving around town for an Arby's roast beef sandwich with horseradish cream. I loved them when I was young, but somehow they tasted less appealing than my fond memories. Fast food corporations make it so easy for today's hurried life style that even when you know better, you can lose all restraint. A French writer wrote, "At least with American fast food you know you that are being poisoned and can act accordingly." It always makes me laugh.
After two days I had had enough of drive-thru dining and came out of my self-induced fast food coma. I had come to Los Angeles to visit family and friends, go to the beach, go shopping and eat at the trendy new food spots that I have read about.
First on my list of restaurants to visit was Susan Feniger and Mary Sue Millike's Border Grill Café in Santa Monica. I worked for them in the early 1980s at the original Border Grill on Melrose Avenue.
This was a time when a woman in a professional kitchen was still a rarity. Speaking of women in the kitchen, Jodie Foster was frequently hanging out in the kitchen, as she was dating one of the women who owned the place. Anyway… there were always lines around the block to get in, and it was there that Susan and Mary Sue also became as famous as the celebrities who flocked in droves to the café. This was the start of the upscale gourmet Mexican food scene in Los Angeles. The restaurant moved many years ago to Santa Monica for a much larger venue. It is a bit pricey, but if you do not mind paying $24 for a taco or $14 for a margarita, it is well worth the dinero.
Thankfully, they have joined the food truck craze that is sweeping Los Angeles. If your idea of chasing food trucks via twitter alerts on your iPhone around the Los Angeles basin sounds fun, look for the Border Grill Food Truck!
You can purchase a carne asada taco or Baja fish tacos for under $6. Many posh restaurants have fallen in line with the food truck trend, and there is no need to beg your bank for higher over-draft protection to sample the overpriced entrees at their restaurants.
Food crazes in North America have always been amusing to me. 2011 was the year of the cupcake, and food journalists declared 2012 the year of bacon, which was most unfortunate as bacon cupcakes somehow found their way into the market.
Not to be outdone, the (former) queen of southern food, Paula Deen, introduced her version of a sloppy joe sandwich in between a Krispy Kreme doughnut. It seems the madness continues as Taco Bell has just introduced a national campaign for its new taco in a waffle. Yes, a waffle you would have for breakfast, as a taco. You cannot make this stuff up!
While in the States a friend who is in the hospitality business informed me that the current food buzz is foie gras ice cream or a daily cup of coffee laced with a quarter stick of butter (from grass-fed cows) that promises more energy and longer life. I fear most of the unfortunate persons who are putting a quarter stick of butter into their coffee on a daily basis will have died of a heart attack long before a class action lawsuit is brought before the company promoting such nonsense.
After 10 fantastic days in Los Angeles I headed to Priest Lake; it is true Americana at its best. There is not much to do there, but I suppose that is the point.
The local market at the lake is so quaint it looks like a film set. As I strolled around it, I had convinced myself that when I turned to walk down the next isle, I would stumble upon the likes of Diane Keaton filling her wicker basket with huckleberry preserves.
2011 was the year of the cupcake, and food journalists declared 2012 the year of bacon, which was most unfortunate as bacon cupcakes somehow found their way into the market.
Huckleberries are indigenous to northern Idaho and are sold in every imaginable form; preserves, pancake syrups, infused chocolate, fresh-churned ice cream, assorted candies and huckleberry pies (at a mere cost of $20 per pie). My auntie, who taught my father to bake pies, was at the reunion, and my father was happy to demonstrate his pie-baking skills, which he had learned from her. He baked a delicious huckleberry pie. However, he did send his wife Beth out into the forest to pick the huckleberries.
One night my father hosted a dinner for all the relatives in the local country café that has been run by the same family for generations. The menu, as you would expect, was filled with what could only be described as comfort food, and each entrée had enough calories to last you for a weekend. The standouts were chicken-fried steak, porterhouse steaks (at 32 ounces), meatloaf with biscuits and gravy, and baby back ribs with sweet baked beans.
The family reunion only lasted for four days, and my dear sister had thought it would be fun to stay on an additional six days to enjoy the peace. I spent the following six days at the lake wondering why people find it relaxing staring at trees in the forest, evidence that I am not much of a country boy.
When I arrived home from the States, I realized how much I had missed Guatemala. As we drove from the airport following a Zeta gas truck onto the cobblestone streets of La Antigua Guatemala, I felt my kidneys begin to rattle to the sound of the Zeta gas truck's melody, "Zeta, Zeta, Zeta Gas …"
Ah … home at last.