Paying It Forward by Chef Amalia Moreno-Damgaard
As the Lent season nears, I reflect on past, present, and current times. Lent is indeed an occasion for reflection and prayer and for refocusing ourselves to our purpose.
I have always felt a strong calling to help and support others, whether it is through teaching about food culture and healthy eating and sharing my story to inspire other entrepreneurs, or to create awareness for worthy causes.
I have been writing for the Revue Magazine for over five years and during this time I have had the fortune to work with two people I consider good friends who genuinely support my work. Terry and John Biskovich opened their doors to my writing when I had just published my first book. I am so deeply grateful for their friendship and their help in furthering my writing in my home country. It is an important good cause to me.
Other good causes that are near and dear to my heart is Common Hope. I was invited to join their Executive Board of Directors almost seven years ago. I always say there is a reason for everything and for me the connection to Minnesota and Guatemala makes so much sense and it's stronger than ever because this nonprofit was founded in St. Paul, Minnesota.
Familias de Esperanza is Common Hope's counterpart in La Antigua Guatemala. These two organizations have steadily grown in presence and influence not only Minnesota and Guatemala, but throughout the United States. Its mission and mine strategically mesh and intersect in our love for Guatemala. This also speaks of the generous character of the people who really care and support it.
Serving on Common Hope's board gives me the ability to help Guatemala by supporting its programming and efforts in Minnesota that eventually will yield an impact on Guatemalan disadvantaged families. Besides contributing ideas and more, I gladly design the menus for their Noche de Colores Gala night in the Twin Cities, held every year around spring time. This year it will be on May 16 at the Minneapolis Event Centers with about 500 in attendance. It is a uniquely colorful and delicious night.
Noche de Colores and Common Hope have developed steadily throughout the years. Supporters include friends and parents who have adopted children from Guatemala, people who directly help needy families by sponsoring one child or more, and medical professionals who graciously donate their time and talent and resources traveling from the U.S. to Guatemala at specific times. There are countless ways to give. Vision team groups travel from the U.S. to Guatemala to work on special projects and this gives them an opening to experience the culture and way of life of the families and the cause they are supporting.
It never ceases to amaze me that there are really good-hearted people in this earth and working closely with Common Hope has given me a chance to get to know the staff and all the other board volunteers who genuinely care about Guatemala. It is such a good feeling when I am around well-intentioned people working mindfully at making a real difference in a country that is not theirs supporting families that may never know of their work. This is a special gift and carries a meaning beyond goodwill.
Giving yourself selflessly to doing good with compassion is what life is about. Lent is a good time to reflect on this and appreciate the work that others do for the betterment of a society or country. We should all partake on spreading the good news. Kudos to the Huebsch's Family for founding an organization that lives up to their intentions and continues to deliver the message with heart and style.
To celebrate this season, I would like to share one of my favorite recipes because it is easy to make as it is delicious, and it makes me reflect that simple foods like dobladas can truly bring me joy as corn and black beans are two staples I grew up with and are forever in my palate.
Happy Lenten Season! ¡Feliz Cuaresma!
DOBLADAS DE FRIJOLES Y QUESO
Refried Beans and Cheese–Filled Tortillas with Spicy Tomato Sauce
Recipe by Chef Amalia Moreno-Damgaard (AmaliaLLC.com)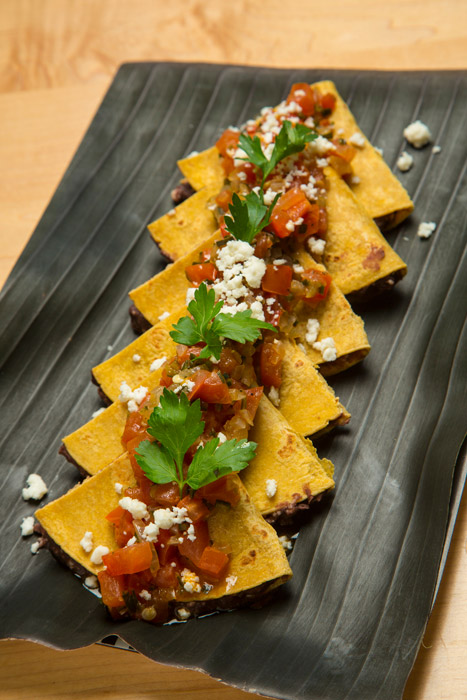 Dobladas (literally meaning folded) can be a great snack or whole meal if you eat plenty of them during Lent. Dobladas can be stuffed with anything you like. Black beans and cheese are great together with tortillas and when topped with a quick tomato sauce they are superb.
Makes 6 dobladas
Chirmol de Tomate y Chili (tomato and chili Sauce)
1 tablespoon canola oil
2 cups finely diced Roma tomatoes
1 cup finely diced yellow onion
1 teaspoon finely diced chiltepe (or hot chili of choice)
Kosher salt and freshly ground black pepper
6 corn tortillas
1/2 cup crumbled queso fresco
1/2 cup refried black beans (canned or freshly made at home)
Canola oil
Adorno (Garnish)
1/2 cup crumbled Guatemalan queso seco (or Cotija cheese)
Flat-leaf parsley
Put the tablespoon of oil in a hot skillet. Add the tomatoes, onions, chiles, and salt and pepper.
Cook until saucy, 3 to 5 minutes. Taste and adjust seasonings, if needed.
In a skillet over high heat, warm the corn tortillas for about 30 seconds per side. Keep the tortillas warm and flexible in a tortilla warmer or wrapped in kitchen towels.
Combine 1/2 cup of queso fresco and the beans in a bowl. Divide into 6 equal portions and place on each tortilla. Gently fold the tortillas in half.
Preheat a skillet or griddle. Brush the stuffed tortillas on both sides with a light coating of canola oil and place them immediately on the hot griddle for about 1 1/2 minutes per side.
Place the cooked dobladas on a platter and cover them with kitchen towels to keep them warm until you're ready to eat.
Serve the dobladas garnished with sauce, cheese, and parsley.
 
REVUE magazine article by Chef Amalia Moreno-Damgaard
Amalia Moreno-Damgaard is an award-winning bestselling chef author born and raised in Guatemala City currently living in the Twin Cities. She provides individuals and companies with a taste and understanding of Latin cultures through healthy gourmet cuisine education, consulting, bilingual speaking and writing and fun culinary experiences.

Her cookbook "Amalia's Guatemalan Kitchen-Gourmet Cuisine With A Cultural Flair" has won 9 international awards. AmaliaLLC.com