October 2013 in Revue Magazine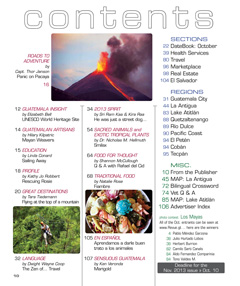 World Animal Day is celebrated every year on October 4. This date was chosen because it is the feast day of Francis of Assisi, who is the patron saint of animals. So, for us it is a pleasure to offer readers several heart-warming stories about animals in this edition: Rescuing Rosie, He Was Just a Street Dog and in Spanish, Aprendamos a darle buen trato a los animales.
For adventure seekers Thor Janson invites readers to share his experiences in Panic on Pacaya, and Tara Tiedemann takes us Flying at the Top of a Mountain. On the cultural front Liz Bell notes the importance of La Antigua Guatemala's standing on the UNESCO World Heritage Site list. The city celebrates the 34th anniversary holding this prestigious title. If you love Guatemalan textiles, you'll enjoy Hilary Kilpatric's Mayan Weavers, highlighting the work of four woman from the Highlands of Guatemala. Another artisan focus, with an adventure twist, is Sailing Away by Linda Conard. Two friends, who are also business partners, organized a team of Guatemalan artisans to handcraft sailboats, in Antigua! Then it's off to the Río Dulce where future sailors learn the art of sailing with Riovela's hands-on sailing courses.
The Zen of Travel by Dwight Wayne Coop provides some Spanish-language vocabulary; Dr. Nicholas Hellmuth introduces the little known, bizarre plant, Smilax. Food features include a Q & A by Shannon McCullough with Rafael del Cid, owner of the popular Organica markets. Fiambre explains why this is the traditional dish served by Guatemalans on Nov. 1 (Día de los Santos). Ken Veronda's Sensuous Guatemala reminds us to be on the lookout for Marigold as its flowers will be dotting many landscapes.
Entertainment? Be sure to turn to the DateBook pages where you'll find listings for many October events and activities.
Thank you for reading the Revue, in print, online and for updates check out the Revue FaceBook page.
—John & Terry Kovick Biskovich