October 2012 in Revue Magazine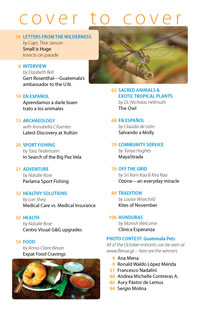 October celebrations abound but for many animal lovers Oct. 4 defines the month. It is the only day of the year that animals are honored, blessed by the Catholic Church during a special Mass, in the tradition of the patron saint of animals, St. Francis de Assisi.
This month we, too, celebrate animals, on the cover and inside the pages of this edition. To see so many homeless, starving, injured and sick animals on the streets, in the fields, on roofs gives rise to an opinion that Guatemalans don't care about the suffering of animals. Perhaps many do not, but I believe that many more do care, deeply.
Rescuing an animal is the easy part, and often that isn't so easy either. Then what? Paula found a starving dog in need of medical care which she's willing to pay for, but then what? Just the other day Kara rescued a starving and frightened dog she calls Madison. She's leaving the country in week, then what for Madison? A woman called asking if she could bring us a puppy that she'd rescued. I explained that we had no space for this little one. Her response was a constrained sob—then she said, "thank you anyway." I wonder what happened to this puppy, especially on cold, rainy nights.
If you're thinking this is a set up as a plea for help, you're right. It truly "takes a village" … we need animal advocates lobbying for laws against animal cruelty; donations and dog trainers, food and medical assistance, building supplies, dog crates, dog walkers, foster homes … it takes a village. For initial contacts with various animal rescue groups, please turn to page 50. It's not a hopeless situation.
On another subject, namely the Revue magazine, we are unveiling two new sections this month: the Marketplace and the Honduras pages; photo contest winners show off their work; plus an FYI on "self-insured" health care, and the opening of a state-of-the-art eye clinic in La Antigua.
Thank you, as always, for reading the Revue, in print, on-line and now with daily postings on our Facebook page.
—John & Terry Kovick Biskovich