Obras Sociales Antigua
A Dream Come True for the Obras Sociales del Santo Hermano Pedro Residents.
The pilgrimage for resident patients with multiple disabilities from their home at the Hospital del Santo Hermano Pedro in La Antigua Guatemala to Virgen del Socorro—on the road to Santa María de Jesús—was an event celebrated by many with great jubilee on Dec. 3 of 2016!
The new hospital has been under construction and is now ready to house up to 250 residents. This is a dream come true for thousands who have worked on this project since 1980.
These permanent residents with cerebral palsy, psychomotor impairment, convulsive syndrome and other disorders receive long-term, loving care. Many have nowhere to turn, as their families abandoned them years ago. This will also allow for more clinics and operating rooms for the hospital in town.
Fray Guillermo Bonilla was spiritually moved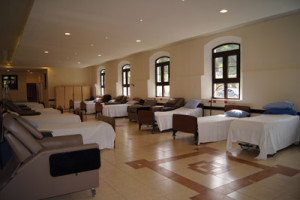 when he walked by the San Francisco Church one night as Fray Augusto Monasterio was opening Hermano Pedro's tomb to confirm his remains for beatification in June of 1980.
Fray Guillermo was overwhelmed by the fragrance of roses, known as "odor of sanctity," and was inspired to help the poor and needy, much as Santo Hermano Pedro had before his death in 1667.
Setting up various homes throughout Antigua, Fray Guillermo's project was growing quickly with many of these patients making fabulous recoveries. Locals were taking food, helping with donations for rent and staff payments, and volunteering.
When a group of us, including the mayor and experts from the National Council for the Protection of La Antigua Guatemala, toured the various houses that Fray Guillermo was renting in the early 1980s, it became clear that one better, less-expensive, location was needed.
The Obras received permission to use the old colonial national hospital in 1985. The property had been approved to house an artisans' market at that time and it took some work to convince the authorities that the hospital project "might" work!
The Obras Sociales del Santo Hermano Pedro has been home to countless patients and residents and has been blessed with a team of Guatemalan doctors, nurses and administrators. Fray Guillermo relied on donations and some aid from the Guatemalan government; medical teams from the U.S., Canada, and Europe also helped in many ways.
Faith in Practice is the largest group and has also contributed to Casa de Fe (House of Faith), where the patients' family members stay to assist their loved one in recovery.
The Obras has also grown over time to include the Guardería Sagrado Corazón de Jesús for preschool kids and mothers at the Antigua market; Hogar el Renacer (Sumpango) for men afflicted with addictions; Hogar San Juan Bautista (Jutiapa) for the elderly, outreach programs, and a special section that helps nearly 300 children with chronic malnutrition. With a staff of 350 dedicated workers today, the Obras provided specialized care to more than 350,000 out-patients with 6,000 surgeries in 2016.
A recent report by the U.N. states that almost 70 percent of the population has very limited access to health services, including hospital care when necessary. Public health services, under the Department of Health, is practically collapsed at the moment and there is limited access to medicines and infrastructure. This makes the Obras' work essential.
The need to relocate those residents with multiple disabilities living at the main hospital grew over the years. They now have a fabulous new home at Virgen del Socorro. The Guatemalan private sector, through Asociación Amigos Pro Obras Sociales, provided the land and continues to fund the new project, as it is not completed.
The association's main purpose is to support Obras Sociales in its mission of helping those who are poorest and who need support that they cannot find in the public health system or in private care facilities. One hundred percent of the proceeds from fundraising efforts and special donations are directed to Obras Sociales here in Guatemala.
Detailed information is available at amigosproobras.org/que-es-aapos.
In the United States, The Hermano Pedro Social Works Foundation, a U.S. tax deductible non-profit 501 (c)(3) organization, will receive donations.
Local donations are still appreciated—clothing, food, diapers for the young and old alike and cash—and may be taken to the hospital at 3a calle & 3a avenida in La Antigua or contact asociacion@obrashermanopedro.org
Obras Sociales estimates that it benefits over 600,000 families in Guatemala, making a miracle come true for the needy.
REVUE article by Elizabeth Bell – photos courtesy of Irene Montes Asensio and David Dean