November 2012 in Revue Magazine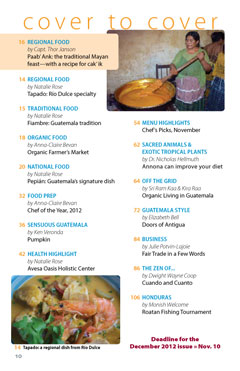 Everyone eats. Food is often a topic of our daily conversation. There are numerous books, magazines, TV shows and entire television networks covering food issues, from recipies to health factors. This month we pay homage to some of Guatemala's special meals, national dishes, traditional recipies, and regional foods.
We have articles on Pepián, Fiambre and Tapado from international food writer, Natalie Rose, who cooked up some of the dishes as part of her research.
Anna-Claire Bevan introduces us to the Golden Fork Award "Chef of the Year" and the new Organic Farmers' Market in Guatemala City.
Thor Janson's food contribution, apart from this month's cover photo, is the traditional Mayan feast of Paab' Ank, including a recipe for cak' ik, a spicy turkey soup with stewed wild herbs.
Dr. Nicholas Hellmuth brings us the Annona fruit, a very healthy choice.
The theme for our November photo contest was Guatemalan Food and the submissions we received were great. All of them can be seen at our website and some can be seen in the following pages.
There are also some interesting non-food articles inside, and as always, plenty of useful information. Have a great November.
Buen provecho,
—John & Terry Kovick Biskovich