New U.S. Ambassador isn't new to Guatemala
by Matt Bokor.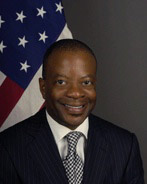 A familiar face is returning to the U.S. Embassy in Guatemala City. This time, Todd D. Robinson will carry the title of Ambassador.
Robinson, a career diplomat with extensive experience in Latin America, served as deputy chief of mission in Guatemala City from 2009 to 2011.
President Barack Obama nominated Robinson in June to succeed former Ambassador Arnold A. Chacón, who served since August 2011. The U.S. Senate confirmed Robinson by a voice vote on Sept. 16.
In his remarks to the Senate Foreign Relations Committee in July, Robinson said:
"Guatemala is at a critical moment. While the nation has made significant progress since the signing of the peace accords in 1996 that ended a three-decade long internal conflict, significant challenges remain. Trafficking of humans, weapons and drugs; high rates of violence; impunity and corruption; poor education and employment opportunities; and chronic malnutrition are all serious issues and all particularly damaging to Guatemala's youngest, most defenseless citizens. …
"The United States and Guatemala are already making some progress.
Guatemala has made advances in the fight against trafficking in persons and is committing additional funding in a constrained budget environment to its anti-trafficking efforts. There has been strong cooperation on counter-narcotics, judicial strengthening, and maternal and child health issues," he continued.
Since his transfer from Guatemala in 2011, Robinson served as deputy assistant secretary in the Bureau of International Narcotics and Law Enforcement Affairs in Washington, D.C. Previously Robinson served as consul general in Barcelona, Spain, and was chief of the political and economic section in the U.S. Embassy in Tirana, Albania.
Before that, he served at U.S. Embassies in Santo Domingo, Dominican Republic (2000-03); La Paz, Bolivia (1997-99); the Holy See, Vatican City (1995-97); Rome, Italy (1993-95); San Salvador, El Salvador (1989-91); and Bogotá, Colombia (1987-89).
Originally from New Jersey, Robinson joined the Foreign Service in 1986, one year after his graduation from Georgetown University.