New Book: Mayan Whitewater Guatemala
BOOK ALERT by Matt Bokor.
"Mayan Whitewater Guatemala" by Greg Schwendinger.
When it comes to watersports down Guatemala's scenic rivers, the just-published book, "Mayan Whitewater Guatemala," is the ultimate guide.
Written by Greg Schwendinger, a computer engineer from California turned kayak explorer, the 349-page book details more than 150 rivers or sections of rivers throughout Guatemala and gauges their suitability for kayaking and rafting.
He classifies each on level of difficulty from Class I (benign, still or moving flat water) to Class VI (severe risk of death, not sanely attempted). Flow patterns, water temperature and quality, best spots to put in, and many more essential details for whitewater enthusiasts are included.
"Each run, or group of runs, gets a write-up in this book," Schwendinger explains in the introduction. "I give each river a rating of one to three stars. A river gets three stars for superlative rapids and/or scenery. A rating of one star indicates few redeeming qualities and some unattractive ones."
He tells readers to expect the unexpected, as he has learned from nearly 15 years of kayaking down waterways in every corner of Guatemala and throughout Central America.
"Most of the rivers in this book have only been run a few times, many only once," he writes. "Some of the rivers in this book are remote, and most are far away from first-class rescue or medical services. This is a reality that we, as kayakers, face fairly often, but in a poor country, the consequences of a river mishap are amplified."
With this in mind, he includes in each chapter details about nearby medical services, accommodations, reliable drivers to hire, and tourist attractions in the area—in addition to data, history and narrative information about the river itself.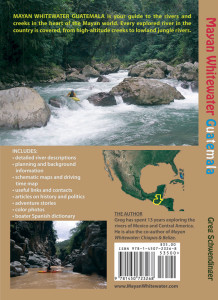 As for Ground Zero of the Guatemalan river-running scene, Schwendinger singles out the Central Highlands town of Lanquín. He describes it as the gateway to the exquisite Río Lanquín and the big green water of the Río Cahabón, where the 2015 World Riverboarding Championship will take place Oct. 16-18.
"The wonderful Río Lanquín and Río Cahabón make this area the center of Guatemala's river-running scene. The beautiful water and long season, as well as the local tourist facilities and attractions, make it a must-do on any paddling tour," he writes.
The department of Suchitepéquez (southwest Guatemala) is another hotspot for river-runners. "The highlight here is the Río Nahualate, which has several great Class IV runs and competes with the Río Cahabón as Guatemala's most popular rafting river. The Río Coyolate is also popular with rafters and kayakers. There are many other nice creeks also," Schwendinger writes.
The book also contains 26 informative feature stories about traveler's adventures, Guatemalan history, mining, dams, snakes and more. There's even a cheat sheet on essential Spanish for visiting boaters.
ABOUT THE AUTHOR 

Greg Schwendinger has been paddling Central America and the world since 1999 and has lived in Guatemala since 2002. In his previous life he was an electrical engineer for Intel Corp. in California. His passion is exploring new rivers and letting others know about them. He has survived more than 250 first descents in Central America. He has given slideshow presentations to paddlers groups and the Guatemalan Institute of Tourism and written for Paddler magazine. He was featured in the documentary "Rios Guatemala: The Preservation of Wild Rivers."
"Mayan Whitewater Guatemala" is available worldwide at Amazon.com, and is available in Antigua through Greg, just email him at mayanwhitewater@yahoo.com.
Copies will be for sale at the book launch party Oct. 26 at Rainbow Café (5:30-7 p.m., public invited).
Also visit www.mayanwhitewater.com For more about the 2015 World Riverboarding Championship see the article, and visit riverboardingworldchampionship.com