Museum of Modern Art Carlos Mérida
A journey of the individuals and events that have shaped Guatemala's art scene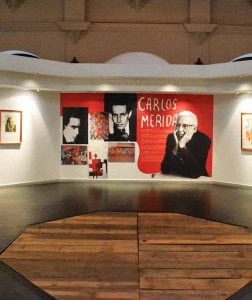 Proudly centered around the Quetzaltecan artist Carlos Mérida, Guatemala's Museum of Modern Art takes visitors on a journey of the individuals and events that have shaped the country's art scene.
Originally built as a salón de baile for President General Jorge Ubico in the 1930s, the beautifully ornate, colonial-style building didn't become a fully functional museum until 1975. Inside, it houses a varied collection of Central American paintings and sculptures, which cover all periods of modern art—from Romanticism to Cubism, and many others in between. It also hosts temporary exhibitions and contemporary displays. Some of the more eye-catching work includes a concrete wall with hands and faces imprinted upon it, and a desk of knives.
The museum pays tribute to Carlos Mérida for starting the artistic movement in Guatemala, motivating his countrymen to gain an awareness of their nation's cultural wealth and use it as a platform to initiate a dialogue with the outside world. During the Quetzaltecan's travels in France he met Pablo Picasso and later on encouraged other Guatemalan artists and architects to visit Europe. Those who did came back with new visions for their country and, as a result of what they had seen abroad, decided to improve parts of their capital, Guatemala City. In zone One's Centro Cívico the murals of Mérida and his friends still decorate such buildings as BanGuat, IGSS and the offices of la Municipalidad de Guatemala.
Located in Finca Nacional La Aurora in zone 13, the Museum of Modern Art is the perfect place to spend an hour or two before going onto the neighboring Museum of Anthropology. Hours are Monday through Friday 9 a.m. to 4 p.m. and Saturday/Sunday 9 a.m. to 12:30 p.m. and 2-4 p.m. Admission is Q2 for Guatemalans; Q10 for foreigners.