Municipal Fire Department of La Antigua Guatemala
Municipal Fire Department of La Antigua Guatemala – Historical Summary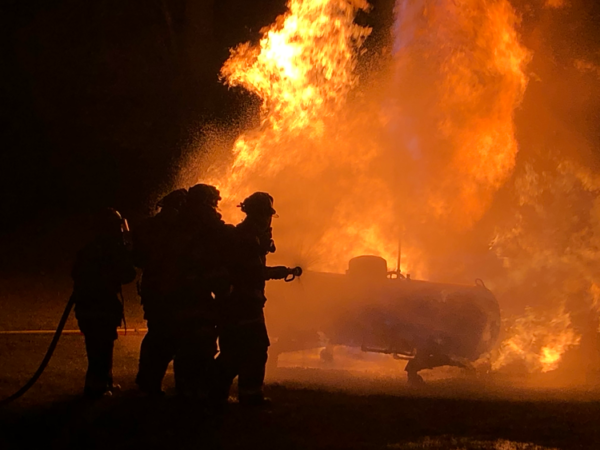 CREATION AND DEVELOPMENT
On November 3, 2004, the Municipal Firefighters of La Antigua Guatemala Association and the "Municipal Fire Department of La Antigua Guatemala" were born into legal life, as its operational body. The Municipal Firefighters of La Antigua Guatemala Association, is an autonomous public service entity, essentially technical, professional, apolitical, with a regime of special discipline, legal personality and own equity, of indefinite duration, which provides its services to the population 24 hours, 365 days a year at no cost and with the primary mission of saving lives and assisting the population in case of illness, calamity, accidents, etc.
The Municipal Fire Department of La Antigua Guatemala, is endorsed through the Agreement of the Municipality of La Antigua Guatemala, which recognizes the Association of Municipal Firefighters of La Antigua Guatemala as the only entity authorized to provide extinction services of fires and emergency assistance in the municipal jurisdiction, as established by Decree Law 81-87, Article 31, Organic Law of the Voluntary Fire Department of Guatemala.
DARK AGE
At the end of 2017, a group of dissident and rebellious personnel hijacked all the vehicles and equipment of the station, using them for their own benefit and significantly deteriorating a large number of vehicles, equipment and supplies.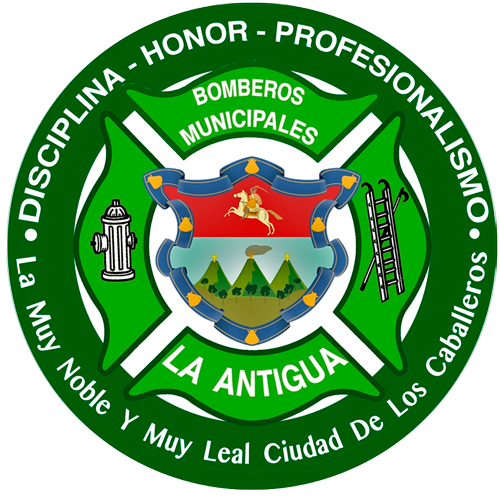 Start of a Singular Rotary Public
Benefit Project
Faced with this situation, Mayor Susana Asencio, requested the collaboration of Architect Humberto del Busto, to support Fire Officers Nur Arevalo and Ángel Díaz, founders of the Fire Department, to recover a heritage that gradually ceased to provide public service. The negotiations continued for 21 months, following the legal procedures to evict the invaders. On August 20, 2019, by order of a competent judge, they were evicted, and control of the station was again taken, which was found in a disastrous state. The Mayor and Architect Humberto del Busto has been a member of the Rotary Club Guatemala Sur for more than 30 years and also has 40 years participating in firefighter activities ad-honorem, being in turn, Commander of the Voluntary Fire Department of Guatemala and Commander First Chief of the Municipal Fire Department of Guatemala City. Given the uniqueness of the situation, Arch. Del Busto acted primarily in his own name, until the legal problems were resolved and the fire service resumed again, he presented his project to the Board of Directors of the Rotary Club Guatemala South, which agreed to recognize and support it as a Rotary Club project.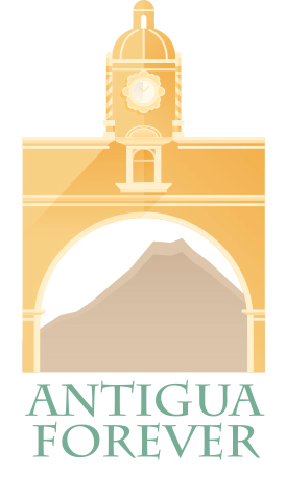 HONORING THE PAST PROTECTING THE FUTURE ANTIGUA FOREVER
SERVICES THAT PROVIDES TO THE POPULATION OF ANTIGUA AND ITS SURROUNDINGS.
– Fire prevention, control and extinction. Rescues of all kinds (collapsed structures, rescue with special equipment, rescue in ravines, mountains, volcanic eruptions, etc).
– Pre-hospital emergency services (Ambulance) at basic and advanced life support levels.
– Training for the population, educational institutions and private initiative in fire prevention, accidents and first aid.
– Prevention in events and public activities, when there is an agglomeration of people and there is a risk that requires our presence.
– All services are provided free of charge and have no cost for the population attended.
EMERGENCY VEHICLES AND EQUIPMENT
The following equipment and assets that are owned by the Association of Municipal Firefighters of La Antigua, were acquired through the efforts of the ad-honorem Directors, mainly with the Fire Corps of Sister Cities of La Antigua:
– Truck scale and motor pump (currently under repair),
– Waterfall Truck (Currently under repair)
– Two1000 Gls Ford motor pump
– Isuzu Morita motor pump with simple traction,
– Isuzu Morita Double Traction Motor Pump (Currently under repair),
– Mobile Clinical Ambulance Module (Currently under repair)
– 2000 Gls Chevrolet Water Supply Truck. (Currently under repair)
– Toyota Hi Ace Ambulance 1992
– Hino Heavy Rescue Truck (Currently under repair)
– Durango incident command unit,
– Chevrolet Blazer Directive Command Unit.
FORCE STATE
At present, there are 43 active firefighters at the station, of which only 6 are employees and the rest provide their services voluntarily without receiving remuneration.
HONORING THE PAST, PROTECTING THE FUTURE
Our Mission Is To Protect:
– An area of approximately 2 square Kms corresponding to the protection area where they are concentrated:
– 50,000 inhabitants on business days that increase to more than100,000 inhabitants on holidays.
– 140,000 HOUSES AND BUILDINGS approximately, including the 23 surrounding villages.
– PRINCIPAL REGIONAL ECONOMIC CENTER, whose income comes mainly from tourism and commerce, which in the event of a disaster would collapse the economy affecting the living standards of its inhabitants.
– 30 HERITAGE AND PUBLIC USE HERITAGE BUILDINGS.
– 15 MUSEUMS of Painting, Sculpture and Paper.
– 15 COLONIAL ARCHIVES with ecclesiastical, civil and historical themes.
– 10 HISTORICAL LIBRARIES with approximately 120,000 volumes.
– 12 PHOTOTECAS with approximately 150,000 images.
ECONOMIC SUSTAINMENT
Currently, the Association is financially supporting its operating body through collections in piggy bank on weekends, a small percentage from private initiative donations. To date, there is no contribution, support or budget from the Municipality of La Antigua, the Congress of the Republic or the Central Government, despite having repeatedly requested help from these entities. We are currently in talks with the new municipal administration to establish a reasonable allocation.
The little that is collected is scarcely enough to cover fuels and lubricants, minimum wages of 6 salaried firefighters.
On average, an annual budget of Q540,000.00 is required to operate in minimum relieved ranges, not including the purchase of rolling units and new equipment. The staff currently does not have social security coverage (IGSS), posthumous help, life insurance or risk bonus.
The station is kept up-to-date, and if it were not for the great efforts that the firefighters themselves make to repair the units themselves, collect and separately make their voluntary turn, the station would have already closed its doors.
HOW TO DONATE
Please go to cbmantigua.com where you will find several packages that describe the equipment we request as a donation.

CONTACT: Club Rotario Guatemala Sur: crguasur@gmail.com