March 2013 in Revue Magazine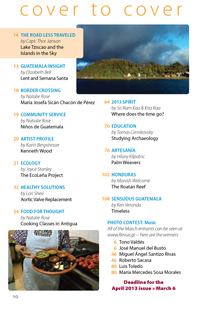 On March 27, 1992 the first edition of what was then known as the "Antigua Classifieds" hit the streets of La Antigua, Guatemala City, Lake Atitlán and Quetzaltenango. Within a couple of years we transformed the name into the "Classifieds Revue," expanding our base to include Cobán and Petén and stretching across the border with circulation in El Salvador. Finally, the publication became simply the Revue magazine. This month we celebrate 21 years providing businesses with low cost, effective print advertising, along with highlighting all the positive aspects of Guatemala via interviews, cultural activities, overviews, good news and what we hope is interesting reading to the many who pick up the magazine each month.
The longevity of the magazine comes with great thanks to our many advertisers, some have been inside these pages almost from its inception; as well, we are grateful to the Revue staff, most have been with us for many, many years. And finally we give thanks and appreciation to Revue readers whose support and encouragement has sustained us.
There have been many changes to the magazine since 1992—most recently is our expanded worldwide circulation on the Revue Facebook page (www.facebook.com/revuemagazine) and the Revue website (www.revue.gt) where you can virtually "turn the pages," search back issues, see DateBook updates, and more. How well we remember the days when we'd head to the post office sending off subscription editions, wondering how long it would take Judi S., one of our subscribers, to receive her latest copy of the Revue in far away Mozambique.
Stay tuned in April for the next big change in the evolution of Revue.
We hope you enjoy this month's edition, yet another thank you goes to our team of writers whose work graces these many pages.
Wishing you all happy travels and great adventures, at home and abroad.
—John & Terry Kovick Biskovich
[issuu layout=http%3A%2F%2Fskin.issuu.com%2Fv%2Fcolor%2Flayout.xml backgroundcolor=FFFFFF showflipbtn=true documentid=130301010142-8122f469b7f94f959b15a59a9ffbb554 docname=revue201303 username=revue loadinginfotext=Revue%202013-03 showhtmllink=false width=600 height=464 unit=px]