LOBSTER FEST 2017
Now that the rainy season has officially arrived in Guatemala, a trip to the beach for an island party may sound like a nice escape. Why not check out neighboring Belize and plan your trip around a lively and delicious June tradition – the Lobster Fest.
Three towns in Belize take part in Lobster Fest: San Pedro (Ambergris Caye), Caye Caulker and Placencia. This festival dates back many years and has always been a great time to celebrate the June 15 opening of lobster season. Before tourism became an industry these little islands and towns were humble fishing villages.
Lobster season marked a time to celebrate! These were small local affairs at first, always involving copious amounts of rich seafood, a few cocktails and, of course, live music. Now, the event has morphed into a major production, with San Pedro throwing the biggest event and Placencia hosting more laid-back, smaller-scale affairs.
San Pedro's Lobster Fest is a ten day festival, June 15-24, filled many great activities and incredible lobster-themed foods! The festival's undisputed highlight is the epic block party, which will take place on the final day.
For a smaller but nevertheless lively Lobster Fest, June 23-25, Placencia goes into full swing. There will be plenty happening during the three-day event. Judging from past events. It's a fun time for the whole family with activities for children during the day while the cool reggae beats carry through into the evening. The smoky charcoal grill scents the air as fresh lobster sizzles when the grill master squeezes a little lime on for extra flavor. Palm fronds ripple in the breeze, it's a beach party that is truly island living at its best.
The Caye Caulker festivities starts on a Friday, June 30 with the crowing of Miss Lobster Fest and last until the Sunday, July 2, with an all-day beach party and the closing of the festival. Highlights include the Grand Opening ceremonies (Saturday), weighing in of the biggest Lobster for the weekend brought in by local fishermen, the main dance event hosted that evening and of course all sorts of delicious and mouth-watering lobster dishes. The atmosphere is always festive, with activities to enjoy for everyone from the youngest to the oldest family member.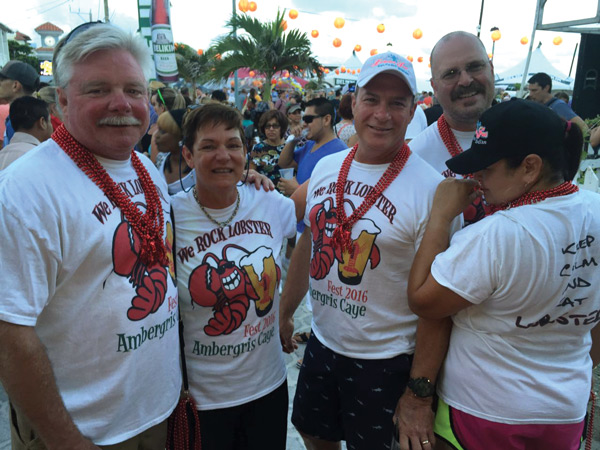 Mark your calendars and make your hotel reservations early. Space fills up quickly for this popular event. Belize can be reached fairly easily and economically from Guatemala by one of two major routes: the southern route going through Puerto Barrios or traveling east from the Petén. The most economic route involves taking the bus from Guatemala City to Puerto Barrios and then catching a boat over to Punta Gorda, Belize. This route will make Placencia the most readily accessible Lobster Fest to enjoy. The other option: Flying or taking the bus from Guatemala City to Flores, then connecting to Belize City on Tropic Air or traveling via affordable shuttle from Flores to Belize City. From there just catch a water taxi to San Pedro.
Whichever way you decide to get there – make sure you do it. It's a great festival that is fun for the whole family.
More information about the Festivity: 
facebook.com/cayecaulkerlobsterfest
facebook.com/San-Pedro-Lobster-Festival
facebook.com/PlacenciaLobsterfestBelize