Leslie Nanne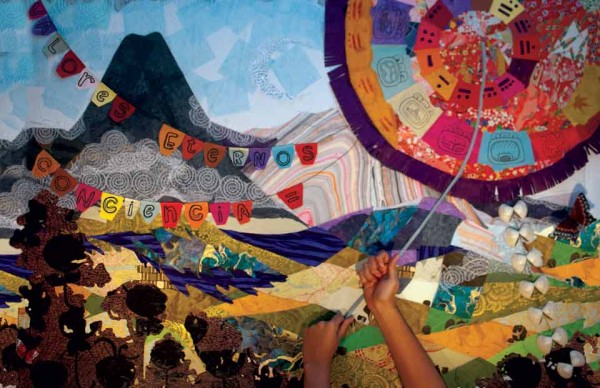 Art Exposition at Museo Ixchel showcases Guatemalan artist's book illustrations
When Leslie Nanne first decided back in high school that she wanted to be an illustrator, she admits having a few concerns: "I was afraid of becoming a starving artist," she says. "But I was even more afraid of choosing a 'safer' profession and always wondering whether I could have made it in the art world."
Now, at age 24, the talented Guatemalan has put her fears firmly behind her as she prepares for a weeklong exhibition of her work at Ixchel Museum in Guatemala City.
Nanne got her first big break in 2011, shortly after graduating from Savannah College of Art and Design in Georgia (U.S.), when she was asked to illustrate Silvia Mansilla's children's book, Bruyyí: El Origen y la Guerra de los Colores.
The exposition, which starts on Friday, April 12, will showcase some of the book's most popular illustrations, bringing the characters to life through puppet-size costumes, made by fashion designer Neigher Maximilano Reyes, and computer-generated animations by Pietro Moluko.
"The longest part of making an illustration is the time it takes to find the right idea and concept behind it. Silvia gave me the manuscript in September 2011 and I only knew what I was going to do for maybe one or two illustrations. While I was working on one illustration I thought about the next one and slowly the ideas came of their own accord. I was living inside Bruyyí's world—I had to live in that fantasy so that I could shine a light onto the world that Silvia had created," says Nanne.
In addition to the mounted exhibition on the walls of Ixchel Museum, the artist will be holding classes to show the challenges she faced illustrating this particular story, her illustration techniques and her top tips for other aspiring illustrators.
There will also be a children's workshop on Saturday, April 13 (9 a.m. to 1 p.m.), where Nanne will help young artists decorate masks and think creatively about how to interpret colors and emotions.
"I know the impact that illustrations can have on children if they manage to remain in their minds; they become the seeds that children plant in their consciousness, and they grow with them."
Nanne draws inspiration for her work from both old and new ideas: 19th century, vintage Asian art influences her work, as do modern designs that she sees on websites such as tumblr.
"We're influenced by what we are surrounded by, what we have grew up in, and what we aspire to imitate or become. I grew up in Guatemala, so I was regularly exposed to our tenacious and diverse culture. The extravagance in the indigenous people's clothing taught me not to fear color or pattern and, instead, to use it to enrich my creations.
"I love the challenge of illustrating what is complicated and what has several interpretations and layers. My wish is to make people use their brain; therefore, my work is characterized for having meanings within meanings. It's a challenge for me to communicate everything I've thought of and not lose people along the way," says the young artist.
Weaving together paper, ideas and emotions, Nanne's illustrations are said to be like a multi-layered collage with several meanings that change the longer you observe them.
"I want people to appreciate the final product, but also to take their time to pull it apart and enjoy the separate pieces as much as the whole. Illustration is my tool and my voice to reach as far and wide as I can so that all the people in this world realize that we are all connected," says Nanne.
The exhibition will start on Friday, April 12, and will run until Thursday, April 18, and will be open on weekdays from 9 a.m.-5 p.m. and Saturday 9 a.m.-1 p.m. You can find Ixchel Museum in Francisco Marroquín University, 6 calle, zone 10, Guatemala City.

The book Bruyyí: El Origen y la Guerra de los Colores will be on sale in the museum's gift shop, as well as in local book stores such as de Museo, Artemis Edinter and Sophos.