Las Fuentes Georginas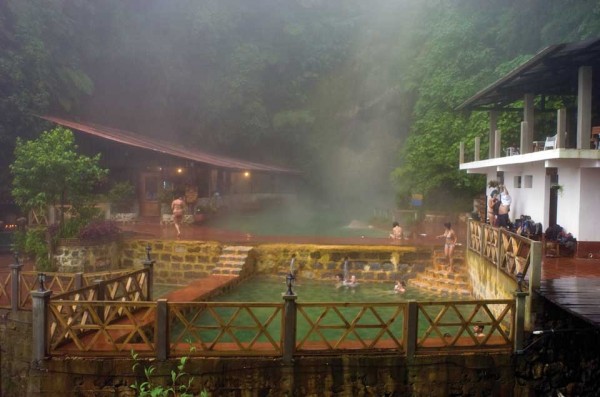 An Historic Spa in the Highlands
Whether seeking therapeutic relief or a scenic, relaxing getaway, visitors again can enjoy the thermal pools of Las Fuentes Georginas in Guatemala's Western Highlands near Quetzaltenango.
Severely damaged by Hurricanes Mitch in 1998 and Stan in 2005, the historic attraction was ruined in 2010 by Tropical Storm Agatha, which destroyed the access road and buried the site in mud and debris. After nine months of substantial rebuilding and new construction, the scenic venue reopened in March 2011.
The mist-shrouded spa offers guests an almost-surreal experience as steaming water cascades down a wall of rock, filling the first, wide pool. From there, the water flows into another pool, and then another—each a little cooler than the previous.
It's common to see parents with kids, young couples and older patrons enjoying the pools. Occasionally, crutches are left beside the bathhouse while their owners immerse themselves in the soothing, mineral-rich water.
After workers from nearby Zunil stumbled upon the thermal springs in 1902, the site quickly became a communal bath for neighboring villagers. Improvements were made over the years; in the 1930s, frequent visitors included President Jorge Ubico and his wife Georgina, for whom the destination was named.
In addition to the pools, Las Fuentes Georginas provides several newly remodeled bungalows for overnight visitors. An excellent restaurant overlooks the pools, offering a varied menu of breakfast, lunch and dinner selections, as well as a fully stocked bar.
The pools, restaurant, bungalows, changing rooms, restrooms—every inch of the attraction—underwent substantial work, if not complete replacement, since Agatha's destruction.
A short ride from Quetzaltenango, Las Fuentes Georginas is a well worth a visit.
written by Matt Bokor – photos: Thor Janson
Side note for Fuentes Georginas by Thor Janson
Overnight accommodations are available in one of a dozen or so refurbished cabins. Fuentes is located a half-hour drive from Quetzaltenango above the town of Zuníl.

Many visitor are not aware that Fuentes Georginas is also the entrance to the municipal forest reserve and for those who want to climb Zuníl Volcano. From the restaurant and main pool a path leads up into the forest. An hour or so climb takes you into true cloud forest where you may get a glimpse of the endangered resplendent quetzal. For nature lovers and bird watchers I would recommend a mid-week overnight stay to take full advantage of this beautiful, cloud-enshrouded forest.

After your strenuous hike doing some primo bird watching and nature viewing you have the added treat of soaking your weary bones in the medicinal hot sulfur waters. And if you really want to cure what ails you—if anything indeed does—do what the locals do and sip a little of the magic water directly from the rocks where it emerges. They say that it can cure just about anything!
More details are available at www.lasfuentesgeorginas.com