Lap at the Lake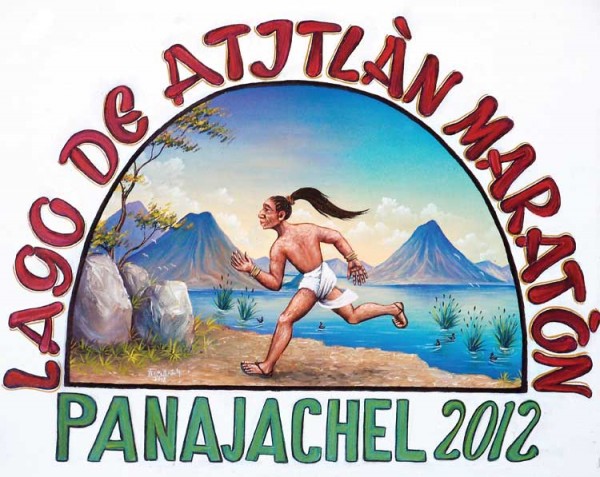 Lakeside run is Guatemala's first non-profit marathon
Marathons are not new to Guatemala, and especially not to Panajachel, where the nation's first foot race originated in 1958 as an eight-kilometer uphill slog. Enthusiasm was such that runners too poor to own shoes ran barefoot. A statue in Panajachel commemorates this early race, which soon became a footrace from Pana to Guatemala City.
Panajachel hosts another running "first" in late May. The Atitlán Marathon is not Guatemala's first true marathon—today there are four others—but it is the first that is wholly non-profit. All proceeds will support the one cause uniting every sector in the Atitlán Basin: the conservation of Lake Atitlán.
You cannot find a run anywhere with a more spectacular venue.
The event includes both a full marathon (42 kilometers) and a half-marathon. Other scheduled activities are a kids run, a "fun run" for adults, a bike race, a cayuco (native canoe) race, coffee tours, weaving and arte naif painting exhibitions, photo hikes around the lake rim and a concert blending contemporary Latin jazz and pre-Columbian music.
The Atitlán Basin's resident attractions include Guatemala's finest botanical garden (at Hotel Atitlán), a soy foods factory and Central America's only marine archaeology museum (at Hotel Posada de Don Rodrigo). And Atitlán Basin is home to great boating, paragliding, sport fishing, nightlife and international cuisine.
Altitude enhances the challenge, the half-marathon stradles the lakeshore, which is a mile high. But the full marathon ascends another 2,000 feet; the exact profile and route can be seen at the event website. But volunteers will be liberally stationed to provide water, electrolyte replenishment and first aid—and applause.
Special certificates will be awarded to "ultra-runners," participants completing both the full and half marathon over a two-day period. The marathon committee has also obtained discounts and preferential treatment from airlines for international registrants.
Runners from around the world are already signing up, but the organizers are also seeking local runners and volunteers.
The Atitlán Marathon and its associated events are scheduled from Friday, May 25, to Friday, June 1. Information is available at 7762-2326 and at www.atitlanmarathon.com, which has details about registration, the program of events, sponsorships and maps and profiles of the routes.