Kitchen Paradise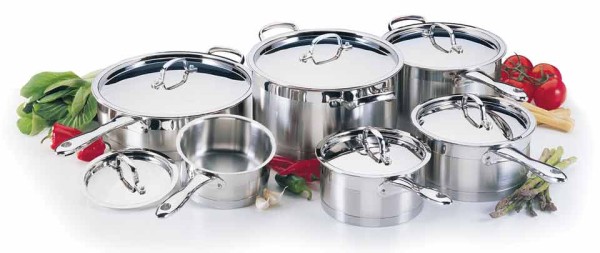 If you enjoy quality cooking equipment, House & Green in Guatemala City is the place for you
Text/Photos by Shannon McCullough
Building a great collection of kitchenware takes time, sometime years. I know, I once had the ultimate collection of kitchen gear and cookbooks. I collected at garage sales, second-hand stores, specialty kitchen stores and restaurant supply stores. My most treasured kitchen piece is my vintage Le Creuset casserole, which I found at a flea market in France for only 10 euros.
My favorite kitchen items are family hand-me-downs—my Italian grandmother's pizzelle iron from which she made cookies for us on nearly every family visit, or my mother's pasta machine, which she bought on the Home Shopping channel. Recipes that have been passed along among family and friends are also reminders of great meals and moments that have been shared over the years.
As I traveled the globe over the last few years, my kitchen collection has regrettably become much smaller. I sometimes find myself ruffling through a kitchen drawer in search of a zester or a paring knife that was most likely donated to a charity shop long ago.
Although we can't expect things to be like "back home," many of us do miss certain things. It is often a challenge to adapt to new ingredients or cook without kitchen tools that we are familiar using. I am gradually equipping my kitchen here in Guatemala to a standard that I am, once again, comfortable cooking in.
At times searching for a kitchen item can be a struggle. On my last trip to the market in La Antigua Guatemala, I was looking for cheesecloth. I would have settled for good muslin cloth (a good substitute for cheesecloth), but as I was trying to explain muslin cloth to the young man helping me, he thought I was looking for a Muslim cloth. Needless to say, I never found the cheesecloth. However, I did come home with a nice bag of mangos and a good Diane Keaton movie.
Later that week, I asked my food hipster friends to join me for a trek into Guatemala City to explore a restaurant supply store that I have seen advertised in the Revue magazine. I had to laugh as we loaded into the car as our group included a hairdresser, a decorator, a chef and a French horn player. And no, we did not merrily sing Judy Garland tunes as we weaved our way to Emerald City.
After a few missed turns and three mistaken loops around the American Embassy we arrived at our destination, House & Green. This store is a must for any serious cook. It is filled to the brim with professional quality cookware and fantastic kitchen items for the home cook. My artist friend Kevin Pantry filled his shopping cart with such speed and determination that we were certain he was channeling the likes of Martha Stewart.
If you are a baker, House & Green has a selection of cake molds and tart rings that are as good as, if not better than, Williams-Sonoma. There are rows and rows of every kitchen item you can imagine and, as every good cook needs a good knife, there are hundreds to choose from. My cookware of choice for soups, stews and braises is enameled cast iron, and the selection is impressive. It is also worth noting, when shopping in a restaurant supply store, the products are durable; most will last for years.
I had a good conversation with the manager of House & Green, Beatriz Castillo (page 32). She was kind enough to take the time to show us around two floors of the store. If you have questions on your visit, Beatriz speaks English and Spanish. The staff at House & Green is also well informed about the products and they are very attentive. If you are a chef, a baker or an everyday home cook, House & Green is well worth the visit. You will love it, we all did.