June 2013 in Revue Magazine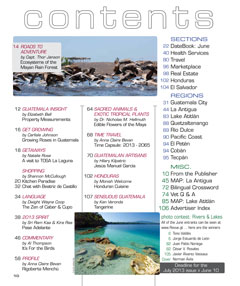 The submissions for the June Revue photo contest, Rivers and Lakes, are spectacular. They bring to mind the beauty of nature in Guatemala; water, a life-giving potion, without it there would be no survivors.
There is a renewed love and appreciation of nature when you look at photographs that beckon you to the outdoors; pictures that take your breath away like the beauty of sunlight dancing on the water, or Thor Janson's closing sentence in "Ecosystems of the Mayan Rainforest" that paints a picture in your mind.
"We end our journey standing on the sands of the Yucatán,
gazing out at the ocean, the red sun looking as though
it is melting into a molten sea of gold."
Besides our salute to nature (including "It's for the Birds"), we hope you'll enjoy the all the other articles inside this edition: everything from varas ("Property Measurements"), to "Growing Roses in Guatemala," searching for flower petals from the muc/orejuela ("Edible Flowers in the Mayan Diet"), and the color of tangerines ("Sensuous Guatemala"). There is more … shopping excursion in the capital ("Kitchen Paradise"), then to La Antigua to purchase hand-made boxes ("Guatemalan Artisans").
Next, Lake Atitlán for "Total Relaxation Ahead," on to Honduras to enjoy "Honduras Cuisine" … from there, jump 52 years ahead and rediscover life in 2013 ("Time Travel").
"The Zen of Caber & Cupo" will improve your Spanish, and "Pase Adelante" invites us to "go forward."
Our interview feature is with Rigoberta Menchú.
And best wishes to all the fathers on their special day.
Thank you for picking up the print edition, reading the Revue online (www.revue.gt) or "friending" the Revue Facebook page.
—John & Terry Kovick Biskovich