June 2012 in Revue Magazine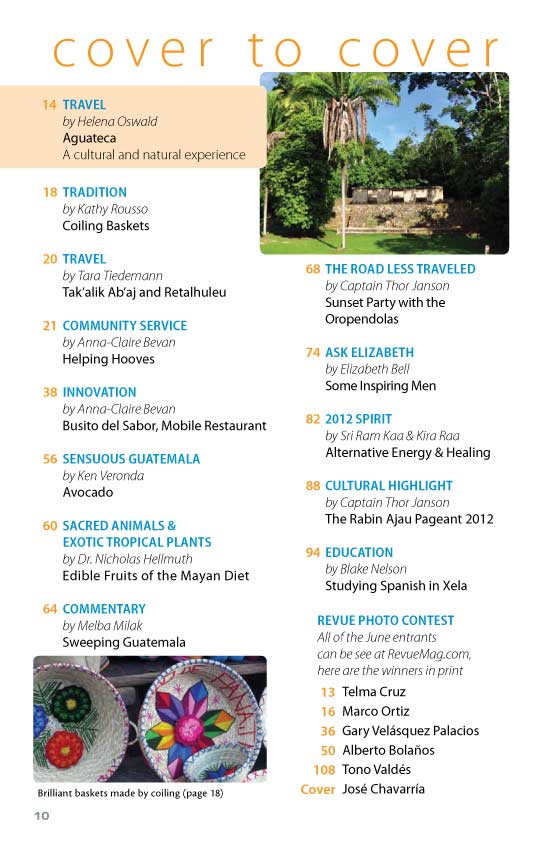 Thanks for picking up this month's Revue, how is June going for you so far? If you feel like traveling some, we've got a couple of excellent destination suggestions. Helena Oswald fills us in on a way to experience nature and culture by heading north to Aguateca. If you prefer a southerly route, Tara Tiedemann offers a quick and fun tour of Tak'alik Ab'aj and Retalhuleu.
Father's Day is in June and we received many excellent submissions for our monthly photo contest. You can see the winners throughout these pages as well as our cover photo. We have also featured a number of beautiful photographs by professional wildlife photographer and conservationist Thor Janson.
The carriage horses in Antigua have been needing an organization like Helping Hooves for some time, and Anna-Claire Bevan brings us the good news. Elizabeth Bell introduces us to two inspiring men.
And there's more! Lovely baskets made by the coiling method as explained by expert, Kathy Rousso; alternative Energy and Healing methods, outlined by a pair of experts in the field, Sri Ram Kaa and Kira Raa; some great ideas for studying Spanish under the full moon in Quetzaltenango.Dr. Hellmuth serves up some edible fruits the ancient Maya used to survive; and Melba Milak makes it a clean sweep with her observations about sweeping.
And if that's not enough, check out DateBook for cultural events and live music happening all month long. Enjoy.
—John & Terry Kovick Biskovich
By the way: The Revue main offices in La Antigua can now be found in our permanent location at 3a avenida sur #4-A. Tels: 7931-4500 or 7832-4619