January 2014 in Revue Magazine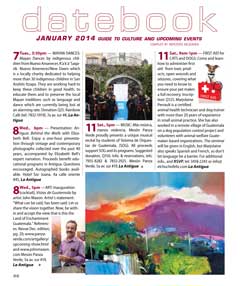 This is a time for reflection and a time to look ahead to the as-yet-unknown opportunities that await all of us. We hope everyone enjoyed the holiday season. Continuing that feeling of good will into the new year is an excellent goal to shoot for.
Welcome to our 11th Annual Photo Issue. Once again we have received stunning images from photographers throughout the country. The general theme was "Photogenic Guatemala" and what a photogenic country this is.
Take your time browsing through the over 80 photographs on these pages. Each one is a story unto itself—spectacular landscapes, people profiles, shared moments, exciting celebrations, beautiful flora and fauna. And each story contributes to Guatemala's legacy.
As the new year begins we would like to give a very big THANK YOU to all of our advertisers who have entrusted the promotion of their businesses to us. We wish them continued success in their endeavours.
To our amazing Team Revue we also give thanks. A great group of dedicated people who enjoy promoting this country as much as we do. We hope our thanks to them is sufficient in lieu of raises.
Of course, it would all be for naught without the wonderful souls who read our publication. Over the past 22 years, our goal has been to inform and entertain and we're sticking to it. Thanks for reading.
May each and every one of you find the coming year to be the best ever and may your travels be ever enlightening and enjoyable.
We dedicate this special issue to the memory of Guatemala's Gran Maestro of Photography, Juan Alfredo Menéndez Siguere
—John & Terry Kovick Biskovich