Island Cooking-Roatan
by Monish Welcome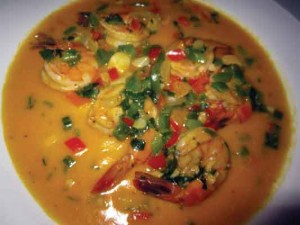 Dine on fresh seafood as you look out over the clear blue Caribbean Sea; sip a cool, tropical drink as you watch the sunset burst into an explosion of pastel blues, pinks and yellows; or enjoy a delicious island-inspired meal under the stars.
The culinary cuisine of Roatan is an amazing blend of tropical tastes and multicultural influences. It is a celebration of aromatic, sweet and tart, piquant and mild citrus flavors. Whether it is a sumptuous meal of perfectly grilled freshly-caught fish, burgers cooked to order on the beach or gourmet dining at one of the island's fine restaurants, you'll delight in island cooking. At West End you can find restaurants that feature Mexican, Creole, Argentinean, Thai and Italian gastric delights. Or how about a boat tour through mangrove forests to a floating restaurant that offers an all-you-can-eat menu, including lobster tails?
For breakfast? How about signature banana pancakes, fresh-brewed Honduran coffee and fruit smoothies, or the traditional baleada. Lunch? Delicious lobster salad, ceviche or Caribbean-style rotisserie chicken. Dinner? Who could resist Coconut Tequila Shrimp! Dessert anyone? Options include yucca cake, coconut brownies or perhaps a big slice of Key Lime pie?
For cooks, you can bring island cuisine into your kitchens with this sumptuous dish.
Roatan-inspired
Coconut Tequila Shrimp
Ingredients
1/3 stick butter
2 stalks celery, diced
2 red sweet chili peppers, chopped
2 green sweet chilies, chopped
2 medium yellow onions, chopped
4 ounces chicken stock
1 tablespoon fish consommé
4 ounces coconut milk
1 medium jalapeño (seeds and ribs removed), minced
1 bunch green onion tops, finely chopped
2 pounds extra-large shrimp peeled and deveined
4 ounces tequila
1/2 bunch cilantro, finely chopped (reserve a portion for garnish)
4 cups cooked rice
Preparation
Melt butter in a sauté pan, add 1/2 of the celery, sweet chilies and onions, cook until translucent. Remove mixture and puree in a blender, adding a touch of the chicken stock as necessary.
Return mixture to the burner. Add the remainder of the chicken stock, coconut milk, cook until it is reduced by half. Add fish consommé, green onions, remaining celery and jalapeño, simmer until tender. This can be prepped in advance.
Bring the mixture to boil, add shrimp. Once combined, add the tequila and flambé. Toss in cilantro, turn off the burner and cover the pan for 10 minutes.
Serve with rice and garnish with reserved cilantro.
¡Buen Provecho!
During the history of the slave trade many captives who escaped migrated throughout the Caribbean, and in time they developed uniquely Caribbean dishes. As well, the Caribbean was the 'spice-trade highway,' bringing exotic spices to New World islands.
As a private chef, it is my experience that many visitors to Roatan delight in ethnic, typical or local Caribbean food. From a culinary standpoint, the Caribbean is where the East truly meets the West.
The hearty one-pot meals, originating from Africa, are a treasure for the food enthusiast. Imagine having an abundance of spices, fruits, seafood, vegetables and meats to work with, using a minimum of cooking fuel. In one-pot meals, vegetables are placed in 'rounds' with raw items added slowly. Early veggies are simmered for the longest time which imparts a most wonderful flavor profile. The veggies added in later rounds provide a mouthful for an excellent finish."