In My Enemy's Service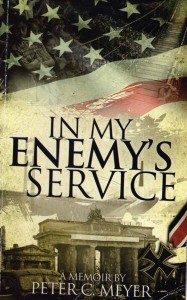 Peter Meyer, child of World War II Nazi Germany, rode his bicycle into the front line of the advancing American Army in the last days of the war. His impression was of "the backstage of a circus." Soldiers chewed and popped bubble gum, smoked cigarettes, rode in Jeeps with their legs dangling out, and saluted as if it were an inconvenience. On the other hand, they had friendly faces, didn't search Peter or his father, and didn't steal his father's watch. In fact, they gave Peter directions and turned their backs on him, unaware and unconcerned that Peter, who at 16 had practiced the German salute for hours, was their enemy.
The realization that it was this American "circus" that had defeated the German Army was a blow to what Peter would later identify as his "Teutonic exactitudes." In fact, it is the conflict between Peter's "exactitudes" and the reality of American culture that makes In My Enemy's Service an interesting read.
Survivor of abusive parents, of Berlin's night bombings, and of hunger that lasted for most of his physical development, Peter found himself in East Germany when the war was over. He needed to escape to West Germany twice, after his initial forced return to the Eastern sector. Through much of these experiences, and during the years when he supported himself in menial jobs in West Germany, Peter thought of immigrating to the United States, to get rich. His German mother had been born in the United States when her father fled there to escape German inscription during World War I—and then she had returned to Germany as a young child.
Peter's imagined the United States was a place where bicycles were toys for children whose parents bought new cars every year for transportation. After years of attempting to immigrate, an aunt in Chicago sent him the means to arrive in the United States. Now, Peter was face to face with his American relatives, who had worked themselves into the middle class. Once again, he found his preconceptions offended, this time by what he saw as American materialism.
Peter's 30-year American journey began in the era of the Korean War, when he was drafted into the American Army, and in return obtained U.S. citizenship and GI benefits that allowed him to attend college. It ended after a career that included elected office in California. By then, Peter had become financially independent, and now decided that he wanted to improve the lives of others with the rewards of his perseverance and hard work.
The final chapter of Peter's life is the story of his move to, and residence in, Guatemala, and of his attempts to improve the lives of a group of indigenous Guatemalans. Once again, those Teutonic exactitudes show themselves, but with a softened attitude toward cultural differences.
In My Enemy's Service is a candid account of a life that has spanned three cultures and some of the most important historical events of the past 80 years. It is told from a unique perspective that acknowledges these cultural differences and the effect that each had on Peter's life. It is a book that will challenge some readers' preconceptions, but will never fail to hold their interest.
Book signing in La Antigua Guatemala at Casa del Conde (5a avenida, across from Central Park), Friday, May 17th, 10am-noon: 2pm-4pm.