Hugo González Ayala, Grandes Ideas y Pequeños Formatos
by Linda Conard

As you approach the landscapes of Hugo González Ayala, you may feel enveloped by the streets of La Antigua Guatemala or the Highland countryside, but it is more of a gentle embrace than entrapment. Hard lines in street scenes curve inward yet remain in perfect perspective, so the viewer almost feels more balanced within the painting than in straight-edged reality.
Many of Ayala's oil paintings have an innate sense of motion, rolling like Guatemala's mountainsides or time-worn city streets. Some of his work lifts us up for a rare view from above Antigua's colonial streets or through rolling farmland. "When I was young, I would dream I was flying," says Ayala. "Now sometimes as I'm painting, I imagine that I'm still flying, viewing the landscape from that perspective as I fly… and at times there are places in the pueblos, with their old, curving roads, where you feel like you're flying."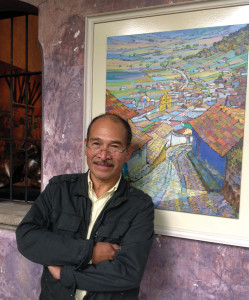 Ayala's work radiates with color, from sundrenched cornfields in the countryside to the faded hues of a country pueblo, to the broad spectrum of Antigua's cobblestone streets.
"I'm very attracted to color. Painting is color. Colors are what one feels," says Ayala. "A few years ago, my paintings were darker, with fewer colors, but I am using more color now. There are rules of color, but sometimes I just paint only what I feel. Sometimes I use the colors exactly as they come from the paint tube, because they feel good."
Within the past several years, Ayala's work moved toward a focus on night scenes. "It seems that in the night, there's no color—all is black. But that's not true. There's always color, everywhere," he explains. This year he has returned to a mix of both day and night imagery.
Unlike previous shows, the March 2014 exhibit, "Grandes Ideas y Pequeños Formatos," will feature a number of smaller paintings, but the canvas size does not limit expansive scenery. "These paintings capture enormous landscapes in a small space. That's what I'm exploring now," says Ayala.
Although Ayala's landscapes rarely feature people, one does not feel their absence. Ayala explains, "I don't use people in my landscapes because I think the person in the landscape is the viewer." He draws from experience living and painting all over Guatemala, from Antigua to Petén to Zacapa and Lake Atitlan, but what still fascinates him are the Highlands of Totonicapán and Quetzaltenango.
"My experiences have given me a deep love of the land," says Ayala. "My work reflects that love."
Hugo González Ayala's exhibition of oil paintings on canvas will open on March 15 from 4 p.m. to 7 p.m. at La Antigua Galería de Arte, 4a calle oriente, in Antigua. The artist will attend the opening. The exhibit will continue through April 4, 2014. You can see examples of Ayala's work at http://www.laantiguagaleria.com/HugoGonzalezAyala.