Holiday Pie with a Guatemalan Twist
"I like to recreate traditional dishes and give them a Twist of the season, which by the way -have you ever eaten a slice of mole pumpkin pie?"
As the holidays approach it's time to start thinking about family and office gatherings. Perhaps the first things that come to mind are food and drink, and of course, the venue.
When I create menus so often times I start with dessert. It's not because I have a super sweet tooth, it's because I like to recreate traditional dishes and give them a twist of the season, which by the way — have you ever eaten a slice of mole pumpkin pie?
I've been teaching my son how to cook simple and some challenging dishes since he was a little guy. When he was 8-years-old he began a family tradition —he would make pumpkin pie for our family's Thanksgiving. Both friends and family alike know that he uses canela, fresh ginger, and freshly ground spices to make the pie even tastier. This year he used even more flavorful spices.
As I watched him cook, I started thinking about one of my favorite desserts, mole de plátano (plantain mole). What if I married the sauce with the pumpkin puree? I said, "Why not," and the results was superb. Not only did the pie taste spicily delicious, it looked great on the plate, too.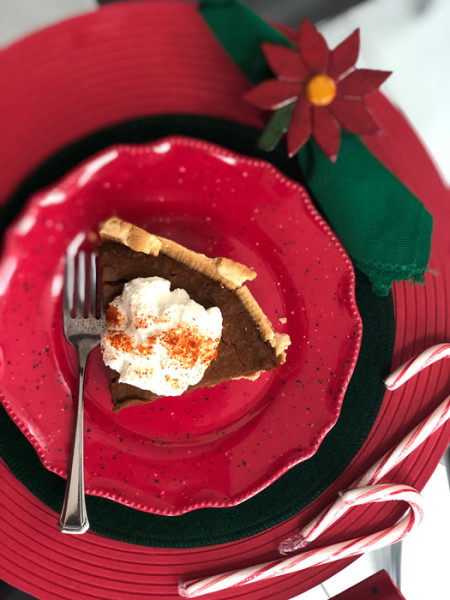 I took the plunge of combining two flavors that often don't go together. While replacing the milk for the mole sauce something interesting happened. The pie required longer cooking. I know a thing or two about baking from my Le Cordon Bleu school days and remembered some old techniques that I applied to my new creation.
When the pie was cool and firm and ready to be served, I started thinking about what I'd top it with. It certainly tastes good without a topping. But I felt the urge to make it look even more appealing and elevate it to a gourmet level. So, I made a Chantilly cream with a touch of Zacapa Centenario XO rum and vanilla and almond extract and put a dollop on top of my mole pie slice and sprinkled it with chile Cobán. It tastes heavenly with a cup of unsweetened café con leche (café au lait) or tea!
If you would like to add a culinary adventure this holiday season and surprise your family and guests with a familiar taste with a Guatemalan twist, I invite you to try my Holy Mole Pumpkin Pie recipe. It is super simple once you have the mole sauce. It is a matter of combining all ingredients and whisking them by hand or by using a mixer with the paddle attachment.
¡Felices Fiestas de Fin de Año!
HOLY MOLE PUMPKIN PIE
By Chef & Author Amalia Moreno-Damgaard (AmaliaLLC.com)
The pie takes minutes to make and it looks as if it took hours. Here's the recipe using the Famous Libby's Pumpkin Pie original recipe from 1950s as a base.
1/2 cups granulated sugar
1 teaspoon ground cinnamon
1/2 teaspoon salt
1 teaspoon shredded fresh ginger
¾ teaspoon freshly ground nutmeg
1/4 teaspoon ground cloves
2 Large eggs
1 can Libby's 100% Pure Pumpkin (15 oz)
12 fl. oz. Guatemalan mole sauce (recipe below)
1 unbaked 9-inch deep-dish pie shell
Mix sugar, salt, and all spices in small bowl. Beat eggs in large bowl. Stir in pumpkin and sugar spice mixture. Gradually stir in the mole sauce.
Pour into pie shell.
Bake in preheated 425ºF oven for 15 minutes. Reduce temperature to 350ºF. Bake for 50-60 minutes or until knife inserted near center comes out clean. If the pie appears runny in the center, it requires longer baking, in other words it is too early to test it for doneness.
Cool on wire rack for 2 hrs. Serve immediately or refrigerate.
When ready to serve, top each slice with some Chantilly cream (recipe below) and sprinkle it with plenty of ground chili Cobán.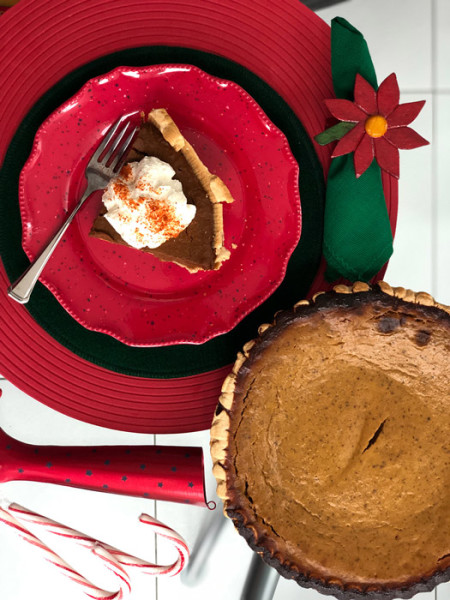 MOLE
Chocolate and Chile Sauce
Recipe by Chef Author Amalia Moreno-Damgaard
Makes about 1 1/2 cups (12 fl. ounces)
1 cup quartered Roma tomatoes (about 2 large tomatoes)
1/2 cup husked, quartered tomatillos (3 to 4 large tomatillos)
1 to 1 1/2 pasa (ancho) chiles, seeded
3 pitted prunes or 1 tablespoon raisins, soaked in very hot water
1 tablespoon ground pan-roasted pumpkin seeds
1 tablespoon ground pan-roasted sesame seeds
2 teaspoons canola oil
1/2 teaspoon ground canela (Ceylon cinnamon)
1/2 teaspoon ground allspice
1/8 teaspoon ground cloves
1 teaspoon sugar
1/8 teaspoon Kosher salt
Freshly ground black pepper
½-3/4 cup Guatemalan chocolate
Thickener: 1 to 2 tablespoons crumbled champurradas (or crumbled María cookies) (if needed)
Heat a skillet for 2 minutes over medium heat, then add the tomatoes and tomatillos. Dry pan roast until charred all over and mushy (about 8 minutes).
Separately, dry pan-roast the chilis over medium heat (3 to 5 minutes). Keep a close eye on them, as they burn easily. Soak the roasted chilis in 1 cup of very hot water for 10 minutes.
Combine the roasted tomatoes and tomatillos with the soaked chilis and 1/4 cup of the soaking water, as well as the prunes or raisins, and purée in a blender to a fine consistency. The sauce should look smooth and velvety.
Dry pan-roast the seeds over medium heat (3 to 5 minutes). Keep a close eye on them, as they burn easily. Grind the seeds in a coffee mill or a small food processor.
Heat the oil in a medium saucepan. Add the purée, the ground seeds, and the seasonings. Add the chocolate and cookie crumbs and let the chocolate melt gradually. Lower the heat and simmer the sauce for 5 minutes, stirring occasionally. The sauce should be a little thinner than spaghetti sauce and should look brown, smooth, and glossy. If it's too thick, add a little water. If it's too thin, cook it a little longer. Taste and adjust seasonings, if needed.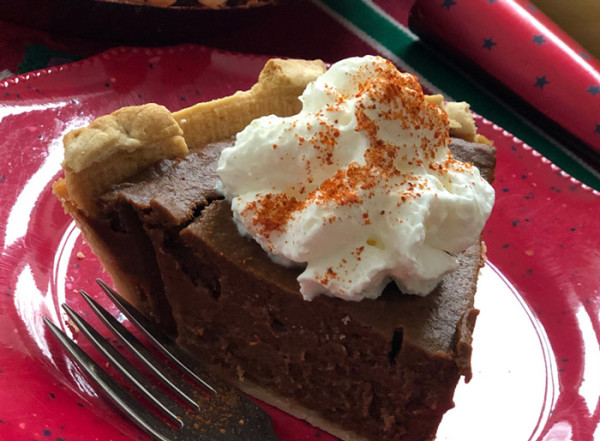 CHANTILLY CREAM
Recipe by Chef Author Amalia Moreno-Damgaard
To make Chantilly-rum cream: Whip 1/2 cup of heavy whipping cream (at room temperature) until firm peaks form (2 to 4 minutes). Add 2 teaspoons of confectioner's sugar, 1/2 teaspoon vanilla extract, 1/2 teaspoon almond extract, and 1/2 tablespoon dark rum, and whip to combine, (about 1 minute).
REVUE magazine article by Chef Amalia Moreno-Damgaard
Amalia Moreno-Damgaard is an award-winning bestselling chef author born and raised in Guatemala City currently living in the Twin Cities. She provides individuals and companies with a taste and understanding of Latin cultures through healthy gourmet cuisine education, consulting, bilingual speaking and writing and fun culinary experiences.

Her cookbook "Amalia's Guatemalan Kitchen-Gourmet Cuisine With A Cultural Flair" has won 9 international awards. AmaliaLLC.com