Guatemalan Kitchen Camaraderie
Guatemalan kitchen camaraderie with "mucho sabor" and comfort
Perhaps one of the best ways to bond with anyone is in the kitchen. After all, this is a place where people gather to create delicious masterpieces and share experiences.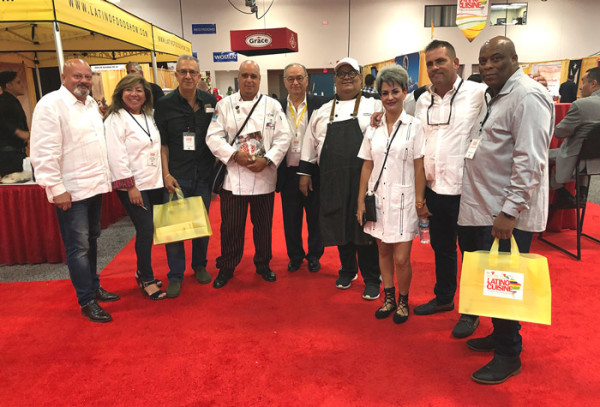 I was invited once again to present at the World of the Latino Cuisine in New Jersey recently. This is an annual event that attracts people from all walks of life of the food industry, from food manufacturers and vendors, to chefs and foodies, and more.
One of the main reasons I enjoy this event is because I reconnect with old and make new friends from around Latin America and the U.S. This year I made new special friends from Peru and Cuba. We exchanged not only business cards but good vibes full of Latin American pride.
Cooking in a kitchen with chef friends from all over is not only fun, but an educational experience for all of us as we learn from each other in the areas of cuisine specialty, unique techniques that apply to a particular dish, or discovering new ingredients.
During masterpiece show-cooking sessions, I presented star dishes like Pollo en Crema con Loroco and Arroz con Chipilin to a high energy and a hungry and diverse crowd. Between storytelling and small bites, people asked intriguing questions about the cuisine and each dish.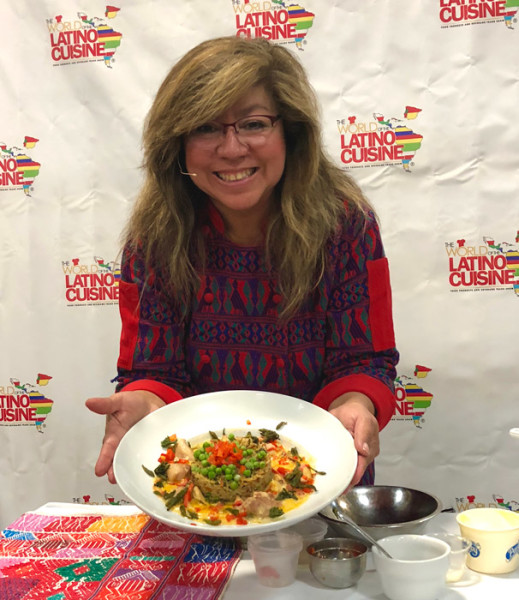 Show-cooking is an effective way to entertain while delivering culinary and nutritional value in addition to culture and history. Two key questions during my demonstrations were about the special ingredients loroco and chipilin. What an excellent opportunity to introduce people to new ingredients through a Q&A session.
Loroco (fernaldia pandurata) is the bud of a flower and vine native to the Mesoamerican region, namely Guatemala and El Salvador with a tender texture and distinctive aroma. The cuisines of these two countries use it in many preparations from stews and soups, to pupusas and tamales and rice dishes, and beyond.
Chipilin (crotalaria longirostrata) is a plant with delicate leaves used mainly in rice and tamales and other dishes. Like loroco, chipilin is native to the Mesoamerican region and it is also an ingredient in the cuisine within the area of Chiapas, Mexico, where it also grows liberally.
What I find most intriguing about these plants and culinary ingredients is that both are delicate in flavor but particularly robust in aroma. Using fresh buds and leaves is always best, but in the U.S. they are mostly available frozen or jarred in a brine (loroco). I opt for the frozen plants.
Interested in trying two beautiful dishes full of Guatemalan sabor and comfort? Here are the recipes.
¡Buen provecho!
POLLO EN CREMA Y LOROCOS
Chicken with Loroco Flower Buds and Cream Sauce
Recipe by Chef Amalia Moreno-Damgaard (AmaliaLLC.com)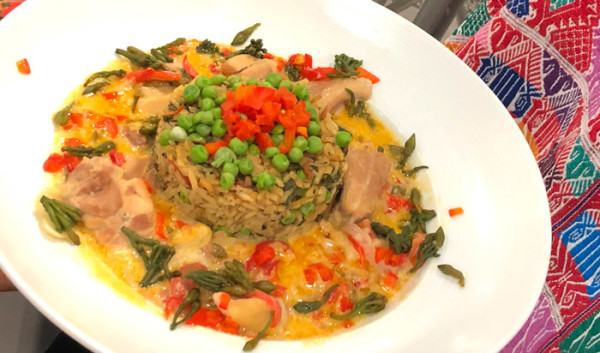 Pollo en crema y lorocos is a delectable dish from Oriente in eastern Guatemala. Loroco is the flower bud of a plant native to Central America. It is delicate, aromatic, has a strong flowery-earthy flavor, and holds up well during cooking. Loroco is best when eaten fresh. Alternatively, use frozen buds. Loroco is great in stews and when mixed with cheese, it makes an excellent filling for Empanadas de Loroco y Requesón (loroco flower buds and ricotta cheese-stuffed corn masa cakes).
Serves 4 to 6 people
4 to 6 skinless chicken thighs, visible fat removed
1-1/2 cups fat-free, low-sodium chicken stock
2 corn tortillas, torn into small pieces
1/2 cup julienned yellow onion
2 minced garlic cloves
3/4 cup julienned red bell pepper
1/2 cup small-diced Roma tomatoes
1 tablespoon butter
1/3 cup frozen loroco flower buds, thawed and separated
1/2 cup fresh Guatemalan cream (or Latino table cream)
1 teaspoon kosher salt
Freshly ground white pepper
Garnish
1/2 cup minced red bell pepper, sautéed
In a medium pot, cook the chicken in the stock with the tortilla pieces for 20 to 30 minutes.
Transfer the chicken to a dish and keep it warm. Mash the tortillas and stock until they are well incorporated. Set aside.
In a medium skillet, sauté the onions, garlic, peppers, and tomatoes in the butter for 3 to 4 minutes. Add the loroco and sauté 1 minute. Add the cream and the thickened stock. Season the mixture with salt and pepper. Return the chicken to the skillet and spoon the sauce over the chicken. Simmer covered for 5 to 10 minutes. Taste and adjust seasonings, if needed.
Serve the dish garnished with minced red and green peppers.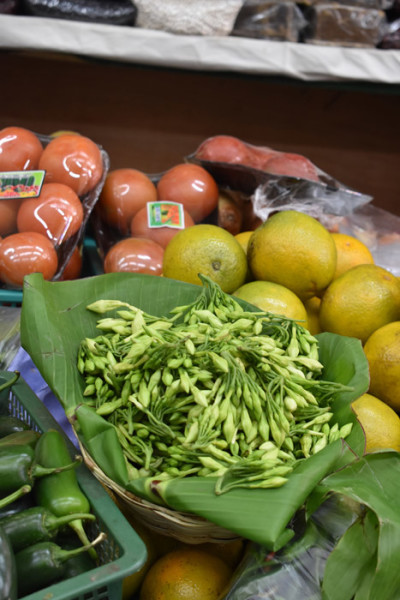 ARROZ CON CHIPILÍN
Guatemalan Vegetable Rice
Recipe by Chef Amalia Moreno-Damgaard
(AmaliaLLC.com)
Rice is a staple in Guatemalan kitchens because so many Guatemalan dishes are saucy. The rice absorbs delicious juices and flavors and provides a break from spicy dishes. Guatemalan rice can be made with all the vegetables in this recipe or with just a few. Many different versions of this recipe exist throughout Guatemala.
Serves 4 to 6 people
1 cup long-grain white rice
1 tablespoon canola oil
3 1/2 tablespoons finely chopped yellow onion.
1/2 teaspoon minced garlic
1/2 cup julienned red bell pepper
1/2 cup julienned carrots
½ cup chipilin leaves, roughly chopped
1/2 cup finely chopped Roma tomato
Pinch of ground cloves
1/2 teaspoon kosher salt
Freshly ground black pepper
2 cups fat-free, low-sodium chicken stock
1/2 cup frozen baby peas, thawed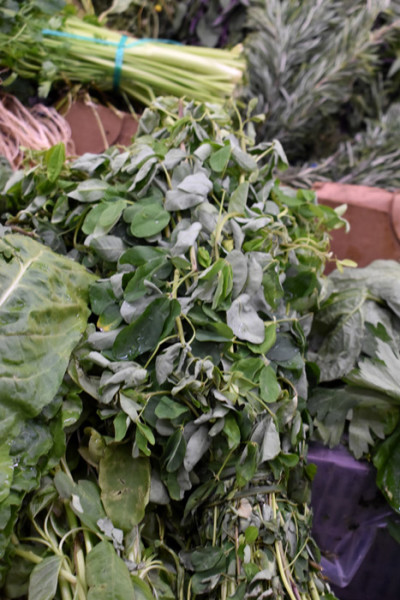 Sauté the rice in the oil for 1 minute. Add the onion and sauté 1 minute. Add the garlic and sauté 1 minute. Add the bell pepper, carrots, chipilín, and tomatoes and sauté 1 minute. Finally, add the cloves, salt, pepper, and stock and stir well. Bring to a quick boil, lower the heat, and simmer covered until most of the liquid is absorbed (15 to 20 minutes).
Add the peas, turn off the heat, cover, and steam the peas with the residual heat. Fluff the rice and vegetables with a fork right before serving.
REVUE magazine article by Chef Amalia Moreno-Damgaard
Amalia Moreno-Damgaard is an award-winning bestselling chef author born and raised in Guatemala City currently living in the Twin Cities. She provides individuals and companies with a taste and understanding of Latin cultures through healthy gourmet cuisine education, consulting, bilingual speaking and writing and fun culinary experiences.

Her cookbook "Amalia's Guatemalan Kitchen-Gourmet Cuisine With A Cultural Flair" has won 9 international awards. AmaliaLLC.com