Guatemalan Gluten-Free Cuisine
Prior to the arrival of the Spaniards, Latin cuisine was, for the most part, all gluten-free. This is still true to this day.
As a professional chef, I routinely customize menus to the dietary needs and tastes of family, friends, and clients. As a Guatemalan, this comes easily to me.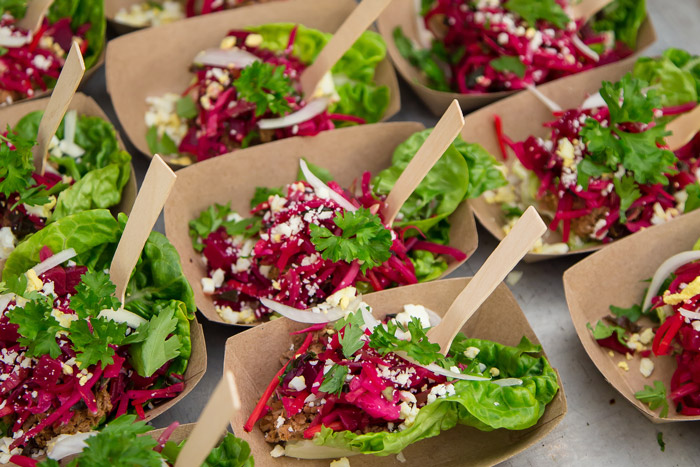 "Celiac disease is a serious autoimmune disorder that can occur in genetically predisposed people where the ingestion of gluten leads to damage in the small intestine. It is estimated to affect 1 in 100 people worldwide. Two and one-half million Americans are undiagnosed and are at risk for long-term health complications."

— The Celiac Disease Foundation
According to the U.S. Department of Agriculture, wheat, rye, and barley storage proteins are collectively called gluten proteins. Although, strictly speaking, gluten is derived only from the endosperm of wheat grain. Some of the latest research indicates that endosperm-free flours and oats from these grains can be safe to eat for some people with celiac disease.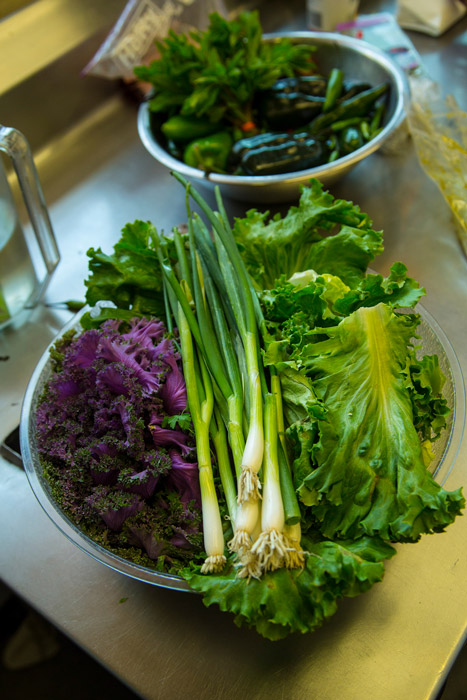 For almost a month, I shifted my kitchen style to gluten-free cooking to accommodate the needs of a visiting family member. Among many food products, I found that pasta made from corn, rice, and quinoa is as tasty as any other pasta that contains gluten. The flavor and texture are equal to regular pasta.
As well, native and staple foods on the American continent that have been around for thousands of years. Corn, beans and legumes, roots, leaves and shoots and vegetables and fruits prepared in harmony with seasonings such as herbs, spices, citric juices, vinegars, and salts are some of the most natural choices for adapting to a gluten-free diet.
When shopping for gluten-free products, it's imperative to read the labels. Many foods such as corn, rice, or other main base ingredients can contain gluten or significant traces of flour containing gluten. So, many processed foods are probably not the best choices for those suffering from gluten intolerance.
Except for the gluten-bearing grains noted above, plant-based foods can be the most logical and nutritious and an accessible source of fresh ingredients for preparing any type of gluten-free dishes.
I encourage you to consider gluten-free cooking as a challenge to explore the wonderful world of fresh ingredients!
Living in Minnesota, I have studied the diets of the United States native Americans. They traditionally cultivate and include wild rice in their diets, which is a moss-green grass that resembles rice. When cooked it is not only nutritious, it's also rich in dietary fiber.
In celebration of gluten-free foods, here is a one meal dish which is not only good for you and gorgeous to look at but equally delicious and easy to make with family or a group of friends.
¡Buen Provecho!
GUATEMALAN ENCHILADAS
Lettuce Cups with Spiced Beef, Marinated Vegetables, Tortilla Crunchies, Egg, and Cheese
A traditional Guatemalan enchilada is a delicious, messy, fancy tostada with layers of ingredients piled on top of one other. It is a popular street food at fairs, festivals, and mercados. It can also be prepared as an elegant fork-and-knife salad or in casual lettuce cups. Most ingredients can be prepped the day before, making this dish perfect for a build-your-own enchilada party.
Serves 4 to 6 people
Meat
1 pound finely chopped braised flank steak
1/3 cup finely diced yellow onion
1/4 teaspoon thyme
1 bay leaf
1 1/2 teaspoon garlic, minced
1 tablespoon canola oil
1/3 cup canned crushed tomatoes
Kosher salt and freshly ground black pepper
Sauce
1 cup roughly chopped Roma tomatoes
1/2 cup roughly chopped yellow onion
1/2 cup water
1 teaspoon minced garlic
1 teaspoon thyme
Kosher salt
Garnish
4 to 6 leaves of butter lettuce, washed and spun dry
1 batch Curtido para Enchiladas (pickled slaw for Guatemalan enchilada lettuce cups, recipe below)
1 cup finely shredded Cotija cheese
1/2 cup julienned yellow onions
1 cup finely chopped flat-leaf parsley leaves
2 hard-boiled eggs, chopped or cut into wedges
Tortilla crunchies (tostadas or broken pieces of corn tostadas)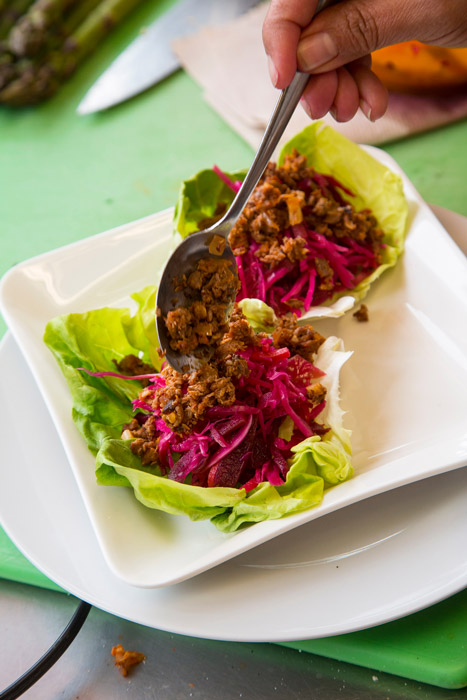 In the same skillet in which you cooked the steak, panfry the onion, thyme, bay leaf, and garlic in the oil until aromatic (about 2 minutes). Add the tomatoes and the reserved broth, taste, and adjust the seasonings if needed. Add the meat to this mixture and cook over low heat, stirring occasionally, until most of the liquid has evaporated (8 to 10 minutes).
Combine all the sauce ingredients in a medium saucepan and bring to a quick boil.
Reduce the heat and simmer covered until all the vegetables are tender (5 to 8 minutes).
Purée the cooked vegetables with an immersion blender or regular blender. Return the purée to the pan, taste it, and adjust the seasonings if needed.
Assemble the salad in individual portions (or on a platter) by layering ingredients attractively beginning with the lettuce, followed by a thin layer of curtido (drained), the meat, another thin layer of curtido, sauce, cheese, onion, parsley, eggs, and tortilla crunchies.
Curtido para Enchiladas
Marinade
2 ounces (1/4 cup) champagne vinegar or white wine vinegar
3 cups water
1 yellow onion, julienned
3/4 to 1 teaspoon thyme
2 bay leaves
1 teaspoon kosher salt
Freshly ground black pepper
Vegetables
2 cups shredded cabbage, leave raw
1 cup julienned green beans, cooked al dente
1 cup julienned carrots, cooked al dente
2 beets, cooked and diced
Prepare the marinade. Combine all ingredients in a nonreactive medium bowl.
Combine the marinade with the vegetables and toss well. Refrigerate the mixture overnight. Taste and adjust seasonings, if needed. The longer the vegetables marinate, the deeper the flavor will be.
REVUE magazine article by Chef Amalia Moreno-Damgaard
Amalia Moreno-Damgaard is an award-winning bestselling chef author born and raised in Guatemala City currently living in the Twin Cities. She provides individuals and companies with a taste and understanding of Latin cultures through healthy gourmet cuisine education, consulting, bilingual speaking and writing and fun culinary experiences.

Her cookbook "Amalia's Guatemalan Kitchen-Gourmet Cuisine With A Cultural Flair" has won 9 international awards. AmaliaLLC.com