Guatemala Profile Fernando Pinzón
Sololá Native, Fernando Pinzón, Creates Handcrafted Journals Made of Recycled Materials.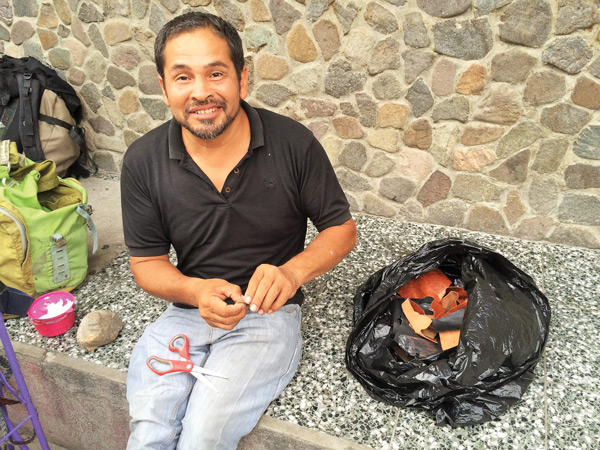 It is a hot autumn day in Panajachel and the stores selling brightly colored Mayan-threaded blankets, bags, clothing and gifts are teeming with activity. However, as we walk to the boat dock, a sidewalk display of journals unlike we've ever seen catches our eye.
We find out that each journal is a handmade work of art constructed of recycled materials. In front of us, there are journals made of leather or coffee canvas bag binding, wood, stained printer ink, nails, flowers, international postage stamps, computer disks/parts and more. Each journal is unique and reflects a piece of the artist, individually named and signed.
The maker of the journals is Fernando Pinzón, a Guatemalan native who grew up in Sololá. Diagnosed with polio at the age of 2, Pinzón's first memory is of the doctor cutting into his foot when taking off his plaster casts. He wore braces through grammar school and has struggled getting around with his atrophied legs, now using a pair of walking poles to stabilize himself.
Pinzón sought treatment at the Lake Atitlán Wellness Clinic, an organization in Panajachel that provides free medical care to those in the community. Supported by many Lake Atitlán businesses, the clinic has helped alleviate some of Pinzón's suffering. We found him selling his journals and giving out information at the clinic's location on 3-34 Calle Monterey.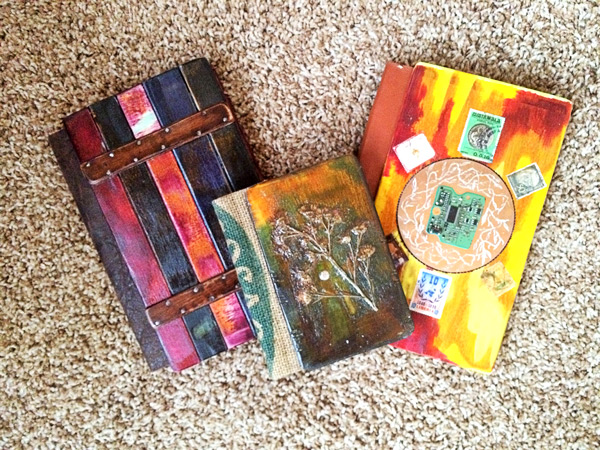 Pinzón got into making journals after befriending a guy named Mario Lanz. Employed by a factory in Panajachel that recycled clothing, Pinzón learned the concept of reusing materials to create something new. In 2001, Pinzón began constructing his own ideas of useful art. For the last 16 years, this has been his passion and a way for him to give back to the environment.
"I recycle anything that can be included in my art and on the back of my daily paper, banana leaf or newspapers as well as (using) leather pants, jackets, bicycle tubes/spokes, copper wire electrical coils, buttons, nuts, screws, tacks, electronic chips and equipment parts," says Pinzón.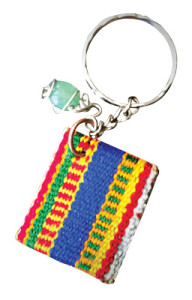 He acquires the recycled banana leaf paper and newsprint from another source (as it requires machinery not within Pinzón's reach) and then embellishes the journal structures with grass, coffee leaf and/or coconut bark.
Pinzón also finds (or is given) used bags, keychains, passports, wallets, purses and more to build upon his art and is constantly moving about various workshops that sometimes offer welding or electric equipment for him to use.
"This is my therapy, it makes me happy," says Pinzón of his journal-making. "The influence it has on me is so powerful that when I'm not focused on it I get sad," he adds. Always working to create a balance between his artwork and personal struggle, Pinzón someday hopes to do this by teaching kids in schools about how to transform solid waste creatively.
"My life has been full of ups and downs and this has led me to be misunderstood, yet I'm still in the fight. I'm hoping to someday build a small space where I can live and work at the same time," Pinzón says.
For more information about Fernando Pinzon's handcrafted diaries, Facebook.com/Diarios-Artesanales

For more information about the Lake Atitlan Wellness Clinic,
www.lakeatitlanwellnessclinic.org
REVUE article by Kayla Anderson