Golden Fork Award
Christian Rossell voted Chef of the Year, 2012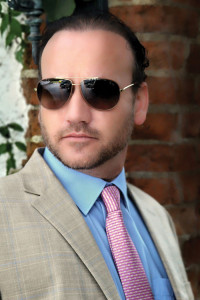 The name Christian Rossell has long been synonymous with fine Italian dining: in 2005, the chef opened the doors of his first restaurant, Pecorino, before unveiling a chain of deli's, and then launching the exquisite pizzeria Romano's, which introduced Guatemala to thin-crust pizzas. But this year, the name is also synonymous with Guatemala's coveted Golden Fork Award for Chef of the Year 2012 granted by voting members from INTECAP; the Chamber of Commerce and INGUAT, Guatemala's tourism board, after assessing each candidate's success as a chef, the diversity of their menu and their education.
No doubt Rossell's impressive culinary background, coupled with his annual trips to Italy in search of new inspiration helped him come out on top. "I started my training in New Jersey at the Academy of Culinary Arts, and then I worked at four and five star restaurants in New York before going on to be the head chef on the U.S. entrepreneur Roger Penske's yacht. It was a lot of fun: he would call me up and ask me to start preparing a meal for him and his wife and then they would fly in a couple of hours later for dinner," says Rossell.
When he finally came back to Guatemala, the award-winning chef decided to open up his own restaurant, and with his Sicilian background there was only one choice: it had to be Italian.
With the biggest cuts of meat and the largest wine cellar in Central America—stocking an impressive 830 varieties of vino, Pecorino really is a (rather large) slice of Italy, right in the middle of zone 10.
"We sell rib eye steaks and 40 oz. T-Bones—that's the Italian way," laughs Rossell, whose talent and eye for detail have also won him awards at the New York Food Show.
Not long after returning to Guatemala Rossell was given his own cooking show, which became the most popular program on Canal Antigua. During one episode the chef even ventured up volcán Pacaya and cooked from the heat of the lava.
Freshness is the key ingredient through-out Rossell's Italian franchise. From bread to mozzarella, and pasta to pastries—his 150-strong staff creates the menus fresh on site every day. Workers make daily visits to the port to bring back the freshest fish, source seasonal ingredients wherever possible and offer one of the only gluten-free pizzas in the city.
However, it looks like the Christian Rossell brand will be straying from its Italian roots; Guatemala's Chef of the Year 2012 is set to open up a Mexican eatery in March and a seafood restaurant later next year.