Game On!
Mayan Pitz videogame is fun, educational and made in Guatemala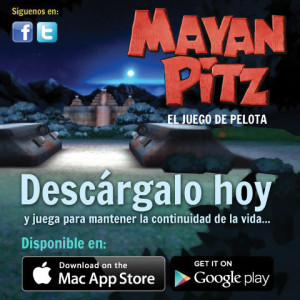 An ancient Mayan ball game has been brought back to life by a Guatemalan company aiming to encourage youths to reconnect with their ancestry through modern technology. Mayan Pitz is the first videogame for mobile phones that has been produced in Guatemala and was recently chosen from a pool of 550 other candidates to represent Central America in November as a finalist at the Latin American Congress of Culture in Spain, which recognizes projects that promote national cultures.
"I wanted to develop a product that was memorable, that would salvage the lost cultural value of our history and could be used to educate," said Daniel Monroy, creative director of Digital Partners.
The game is set at the end of each Baktun, a period of time in the Maya long count calendar, when the Mayans used to choose two warriors to compete in the ceremonial ball game.
In Mayan Pitz the contestants are Hun Hunaphu and Ixbalanque and their objective is to pass each of the 15 levels by defeating other warriors at the ballgame and arrive at Gumarkaj, the entrance to the underworld. Here they must then destroy "los Señores de Xibalbá" to be crowned the winners and save the Maya people.
Andres Salvatierra is a Guatemalan digital art enthusiast who is currently studying in South Korea:
"I really like the style of the game, the idea and the way it's been designed—our culture being shown to the world like this is something to admire.
"The fact that a Guatemalan business has created a video game for cell phones with these complicated and dynamic animation characteristics, and that it has managed to launch it, surprised me a lot. Sadly, digital art isn't common in Guatemala and there is a huge quantity of talented digital artists with no one to give them a hand. I'll keep waiting for more updates on the game so that I can enjoy it more. I think [Digital Partners] is a team with talent and potential that deserves to go far."
With its emphasis on salvaging Mesoamerica's ancestral culture, Mayan Pitz includes an educational section where players can read and learn about the story of the ancient Maya and where they lived. Each level is set in a different archaeological site, which has been made to look like the original, and contains brief facts and links to further information about each ruin.
The scoring system is similar to that of tennis with games, sets and points being awarded per set. "We tried to integrate something modern with something old so that it was more understandable," said Monroy, who hopes that there will be enough demand for Mayan Pitz that his company will be able to develop a sequel.
"We're working on launching another two games this year: one based on football and another about places in Guatemala called 'Expedition to Guatemala' that we hope to launch in December."
Monroy says that Mayan Pitz's appeal isn't just in Central America—the game has already been downloaded in an array of countries around the world.
"Since the game launched at the beginning of June we've had downloads in the USA, France, Russia, Italy, India, Saudi Arabia and Japan."
Mayan Pitz is available for download on smartphones, tablets, PCs and MACs. For more information visit: www.mayanpitz.com