Galería El Attico Celebrates 30 Years
El Attico Celebrates 30 years highlighting Art in Guatemala
Founded by Luis Escobar and Guillermo Monsanto, El Attico opened its doors to the public on April 13, 1988. The inaugural exhibition showcased work by well-known and respected artists, such as Elmar Rojas, Dagoberto Vásquez Castañeda, Ana María de Maldonado, Manolo Gallardo, Luis Álvarez, Ana María de Rademann, Walter Peter Brenner, Walter Peter Koller, Olga Arriola de Geng and Arturo Maldonado. Approximately 2,000 guests, including the general public, artists, diplomats and representatives of other national and international cultural centers attended.
Through the years El Attico has exhibited some of the biggest names in the Guatemalan art world and beyond. Among them are Magda Eunice Sánchez, Efraín Recinos, María Cristina Orive, Arnoldo Ramírez Amaya, Roberto González Goyri, Darío Escobar, Max Leiva, Daniel Schafer, Francisco Tún, David Halfon, Renato Osoy, Mónica Serra, Verónica Riedel, Moisés Barrios, Diana Fernández, Enrique Anleu Díaz, and Zipacná de León. Other artists include the American sculptress Rae FreseLeeth and Salvadoran artist Carlos Díaz, as well as many emerging talents.
In the mid-1990s the founders of El Attico began the process of recovering and preserving documentary and bibliographic material. In doing so, it opened the door to interaction with other cultural centers, thereby expanding Guatemala's artistic culture through publications, anthological exhibitions, conferences and other contributions. The process has also rescued and preserved important works from the history of art in Guatemala.
Considered unique within the cultural universe of visual arts in Guatemala, the Documentation Center shares pertinent material with researchers and students. Because of the quantity and quality of the compiled material, the center is considered the source for a wide range of cultural information, including an extensive library of arts and history representing Maya, colonial and contemporary art.
The Documentation Center also manages the MONESCO Collection, which is shared with other institutions for educational purposes. This collection consists mainly of paintings, drawings, photography and engraving, with some excellent examples of sculpture. The collections have been presented to the public at various national festivals held at the Historical Center, the Casa Santo Domingo, the Guatemalan American Institute, the University Museum and the Paiz Foundation, among many others.
Because of El Attico's solid reputation, it has also extended its professional endeavors to other areas, such as the valuation of private collections and collation of inventories, while providing a diversity of expertise for various other projects. It also works diligently within in the field of conservation and Guatemala's national heritage. A good example is El Attico's upcoming XXX Anniversary with the publication of the illustrated monograph of Justo de Gandarias, a vital link in Guatemalan art modernity of which there were no previous references in this Guatemalan cultural field.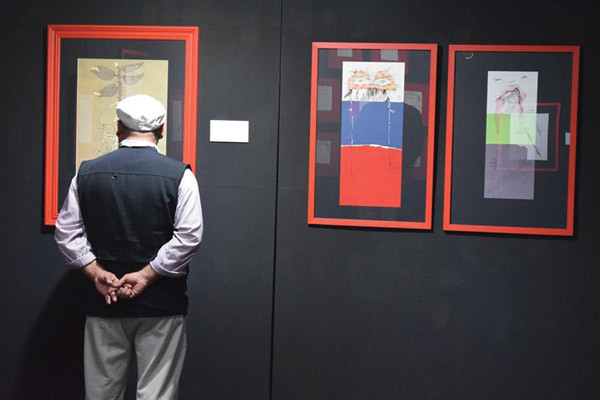 El Attico has also collaborated selflessly with nonprofit institutions such as Juannio, the Rotary Auction, Funsilec, Junkabal and Ayuvi, and has supported causes such as LGBT rights and animal protection. In the field of theater, it has supported groups including Aquelarre Teatro Contemporaneo and Thriambos Producciones.
"There is something in the human essence of the gallery that makes it an attractive point. It is a pleasant place, warm and open to the public where contact with art becomes a particular and vivid experience. From this perspective, we can say that in these 30 years its most important strength is the friendships and endearing relationships with hundreds of people who come to its facilities. Once they enter, they are friends for life." — Guillermo Monsanto
In 30 years it has never rained for an opening night. Maybe a couple of times there have been rain showers during an exhibition but never at the beginning or ending of it.

For the inauguration of the sculpture show by Rodolfo Abularach approximately 3,000 attended. There were people in the street, the garage, the halls, the garden and in their cars waiting to find a space to park even though thirty years ago, a market study determined that the gallery would never succeed in Guatemala. Thank God we did not pay attention to this.

Another of the multitudinous exhibitions in the gallery took place during a "curfew" due to the coup d'état of President Serrano Elías on May 25, 1993. People en masse, rebelling against the unconstitutional act, defied the curfew.

In 2002 the play Othello was performed in the gallery garden. More persons were there than in the theater when it formally opened.
—Guillermo Monsanto
Directorate General
Luis Humberto Escobar
Director of Special Projects & Documentation Center
Guillermo Monsanto
Administrative Assistant
Andrés Cordón
Museography
Rubén de León
Assistant Documentation Center
Selvin García
REVUE magazine article.
More information about the Anniversary event check: theantiguaguide.com/event