From the Publishers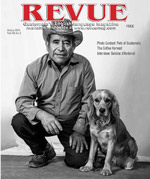 The photo cover Faithful Friend by Gerardo Elías Cotuc Pérez is our tribute to animals, coinciding with this month's photo contest subject Pets and the Blessing of the Animals/World Animal day on Oct. 4. Following this theme, we bring you Susanne Kennedy's interview with Selaine d'Ambrosi on Ayuda and its unique approach to helping animals. Also inside is The Gift of Non-verbal Communication by Kira Raa, plus "Spitters, Scratchers & Snappers," our long-running Q & A column by Dr. Cynthia Burski, DVM about animal health. To round it out, we hope you're entertained by the sprinkling of quotes about animals.
The flavors of Guatemala are represented by Thor Janson's The Coffee Harvest; Amalia Moreno-Damgaard presents Boquitas: Guatemalan Tapas and Ken Veronda's "Sensuous Guatemala" offers up Cinnamon.
Community news includes Linda Conard's coverage of Impact Hub: Antigua's New Space for Synergy; Elizabeth Bell's "Guatemalan Insight" is Adopte Un Kilómetro; in "The Tax Corner" John Ohe asks the question, Are you Compliant?" Matt Bokor explains why the New U.S. Ambassador isn't new to Guatemala.
Plan ahead alerts include a heads-up for Nov. 1: A Kaleidoscope of Color and Tradition by Kerstin Sabene and Galería Panza Verde's photographic exhibit inauguration on Nov, 5, Wide Awake and Feeling Mortal by Leslie Claxton Wilson.
Lastly, a welcome back to Robert and Carmen Prince and The Antigua Players. The live-theater season kicks off in October with Picasso at the Lapin Agile, see "DateBook" for details.
Thank you for reading the Revue, wishing you a pleasant month.

—John & Terry Kovick Biskovich