Franklin Contreras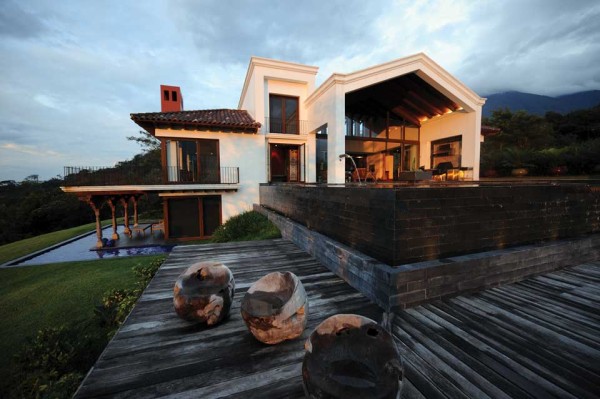 From building houses out of cardboard boxes in his parents' electrical store when he was a child, to designing candy stores at the university, Franklin Contreras was always destined to be an architect.
The talented Guatemalan now owns his own firm, which employs over 200 people, and their designs stand out as pieces of art, especially along the streets of La Antigua Guatemala.
Having grown up in the historic city, the architect long ago fell in love with its distinctive Spanish Colonial style.
"It still surprises me every time I go inside a house here; each door hides something new," says Contreras. "It's a privilege to work in such a beautiful place: There's no stress and no problem with traffic slowing down construction."
Within his work, the Guatemalan architect draws upon Moorish motifs, such as Moroccan brickwork, domed cupolas and water features, to soften the Spanish Colonial style.
After graduating from Francisco Marroquín University, Guatemala City, in the late 1980s, Contreras' first project was to build a furniture workshop on a plot of land his father had bought him in Antigua. However, it soon became apparent that the young architect had bigger plans: He constructed an elegant two-story building with a central patio and interior gardens, where his company still resides, and from there his career took off.
First he built for foreigners and then for locals, with many clients moving into their homes before they were even completed. Each of his designs is unique and intended to surpass the customers' expectations. "I like the challenging clients; when people agree with me too often, it's boring. I like it when people have their own ideas, and I have to find ways to fulfil them," says Contreras.
Contreras acknowledges his style has changed since he first became an architect over 20 years ago. "I think that over time you're exposed to different sources of inspiration. I like to travel and that has definitely changed my way of designing spaces and architectural details."
The designer remains unaware of what makes his style of architecture unique to him. "I don't know whether it's the curved ceilings, the materials we work with, or the use of axis that remains a constant, but people often tell me they recognize my designs—I hope that's a good thing!" he laughs.
Even his modern designs retain their traditional roots and the architect is able to perfect the balance between preserving the traditional and evolving with the fashions.
"Before, kitchens were closed areas for the cook, but now cooking's become a family activity so I like to design open kitchens and eating areas, which become the heart of the house."
Contreras believes in maximizing one's surroundings—he uses roofs as places to entertain friends while enjoying the mountains and volcanoes of Antigua, and internationally, glass walls to provide a contemporary feel while showing off beautiful views in Mexico City.
However, working in a World Heritage site such as Antigua, does come with a few difficulties, and failure to abide by the rules can have costly consequences. CONSEJO, an institution established in 1969 to preserve the city's heritage, imposes strict limitations on construction within the historic center. For example, there are height limita-tions, second floors are forbidden and restoration projects are closely monitored.
"It's complicated working in the center, but if we didn't have these rules we would have lost the city years ago," states Contreras. He admits he used to prefer the freedom of working outside the historic center, but now enjoys the challenge of restoring buildings inside it.
In the past, he has designed houses and hotels, many of them in Antigua, but he now wants to do something to benefit the whole community. "We have a special treasure in our country as people still know how to work with their hands," states Contreras. He hopes that an upcoming project will help artisans to promote their crafts and goods around Antigua.